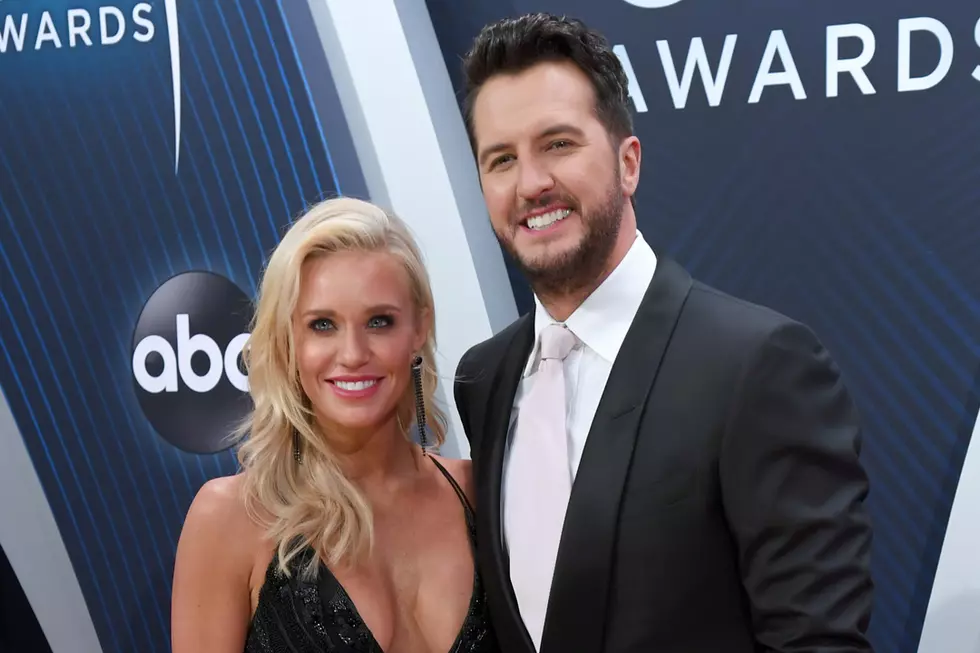 Caroline Bryan Just Had an Epic Mom Fail
Jason Kempin, Getty Images
Luke Bryan's wife Caroline faced an epic after-school pickup nightmare recently, when a bottle of Tito's vodka fell out of her car.
Of course, the bottle shattered on the ground, and on Instagram, Caroline gave fans the play-by-play of how she ended up in this situation. She was leaving the office and grabbed alcohol to share with friends she was hosting at the Bryans' house that evening.
"I put it in the backseat … forget about it all day," she recalls.
Three o'clock rolls around, and it's Caroline's turn to pick up not just her two sons, but the neighborhood children, too.
"Kids start hoping in the car and I'm in the middle of the pickup line," Bryan explains. "I'm around parents, teachers, students, everybody."
There was no hiding it — before Caroline knew it, the bottle of Tito's had slipped out of the car as the doors were being opened, crashing to the ground, right in front of a teacher.
Flustered, Caroline says she couldn't find words as the teacher came to aid her in cleaning up the broken glass. "I wasn't thinking and I went … it's liquor!" she exclaims.
"There's no telling what these people think of me. I'm mortified."
All in all, Caroline took it like a champ, hoping other parents could find the fiasco relatable.
"I don't always embarrass myself, but when I do, Tito's is typically involved," she admits in the caption of her video, asking fans to tell her their embarrassing stories to make her feel better.
Clearly, her "mom fail" moment found the right crowd: After hearing her story, fans took to the comments section of her video, sharing similar laughable failures as a parent.
Caroline is always quick to show the "messy" of being a mom, especially a "boy mom." Before her vodka debacle, she gave fans a little peek at what life with boys looks like. With a series of videos, she showed that life absolutely isn't boring over there at the Bryan household.
"I've seen a lot of people doing the 'Boy moms add your boys'" she says of a recent social media trend. "Well … here's a little view of mine."
"And yes … I include Luke as a child. Most days."
Pictures: See Inside Luke Bryan's Stunning Beach House
Luke Bryan
listed his 4,600-square-foot beach house for sale in December 2022. The stunning Florida mansion includes four bedrooms and bathrooms and comes furnished. The master bedroom overlooks 95 feet of water frontage, but if you don't want to descend all four floors to get there, you can absorb the warmth of the private, heated pool. This Santa Rosa Beach property is on sale for $18 million, among the most ever for a
country star's house
.
See Inside Jason Aldean's Spectacular Florida Beach House
Jason Aldean
's beach house in Santa Rosa, Fla., sits right on the Gulf of Mexico.
Aldean paid $4.1 million for the new 5-bedroom, 5-bathroom, 4,452-square-foot beach house. The spectacular property affords the singer and his family the opportunity to walk out their back door and down a bridge to their own private beach, and the exterior of the villa features a courtyard with iron gates that includes gas lanterns, a swimming pool and a fountain.
The home's interior includes a downstairs with an open floorplan and oversized windows, chiseled stone floors, a gourmet kitchen, a bedroom and study and a fireplace, with coffered ceilings throughout. The upstairs of the home includes two separate master bedrooms that both overlook the Gulf, as well as two more bedrooms that each have their own attached bathrooms.
The stunning home is also set for whatever weather might blow in from the Gulf. Built in 2005, the house features all-impact windows and doors, as well as Geo-Thermal heating and cooling, cellulose insulation, foam ceiling and floor insulation and more.