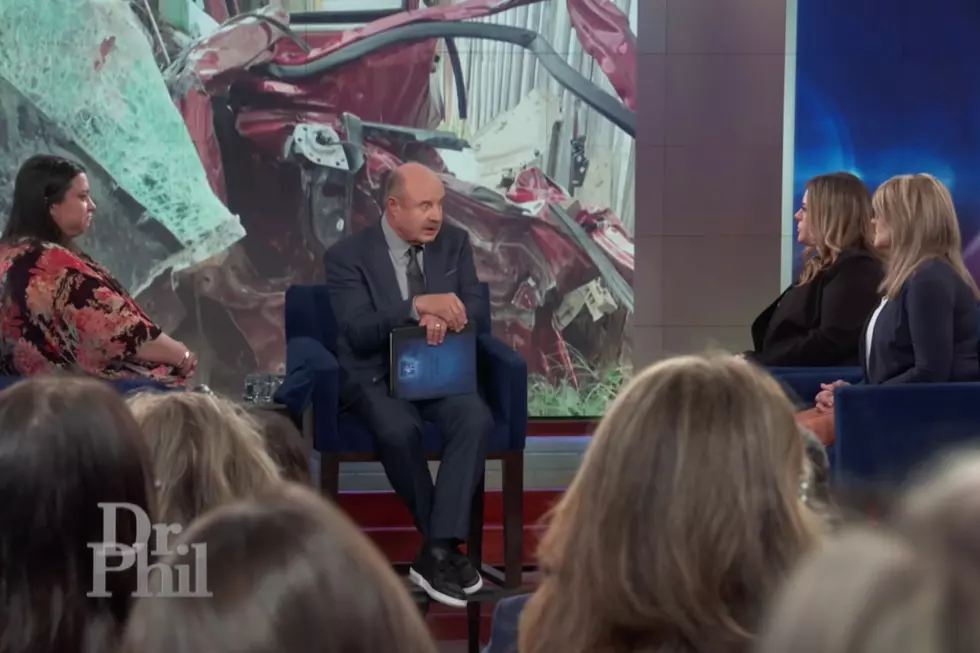 Louisiana Women Whose Family Members Were Killed By a Drunk Driver Appear on Dr. Phil
Dr. Phil, YouTube
A mother and daughter from Louisiana are hoping that sharing the details of their tragic experience with Dr. Phil can help to save a life.
Katie Derouen and her mother Dawn Simmons had their lives turned upside down back in December 2021. Just a week before Christmas, a drunk driver recklessly drove down the wrong side of I-49, crashing head-on into another vehicle.
That vehicle was occupied by a family who was on their back home to Jeanerette after a high school basketball game.
Louisiana Police confirmed that John Lundy was intoxicated when his Chevrolet pickup truck slammed into the family's SUV.
20-year-old Lindy Simmons was pronounced dead at the scene. Her two younger siblings, Christopher (17) and Kamryn (15) were rushed to separate hospitals, but both succumbed to their injuries. The mother of the three siblings, Dawn Simmons, and Christopher's girlfriend, Marissa (16), were both hospitalized with injuries.
Dawn—57 years old at the time—was in the hospital being treated for a bleeding spleen, a punctured lung, and two broken ankles; completely unaware that three of her children were gone.
When Katie Derouen got the call that her family was involved in the horrible crash off I-49 near St. Landry Parish, it was somewhat of a wild goose chase for her to track down family members who weren't clearly identified in multiple hospitals.
Once the full scope of the tragic incident was realized, it was like the entire world had been pulled out from beneath her feet. Three of her siblings were gone in a flash and her mother was critically injured in a hospital. Imagine having to deal with the loss of family members while also being the person who would ultimately have to inform your mother that her children were gone.
At the time, DeRouen set up a GoFundMe, with no clue how her family would even move forward from this, but knowing their lives would be completely halted while dealing with this tragedy.
My mom proved that she is as resilient and beautiful as we all thought she was, and she will survive and one day live a mostly normal life
Fast forward to today and both Katie and her mother, Dawn have done a lot in memory of their family members since that tragic crash that changed their lives forever.
A memorial basketball tournament named after Christopher was just played on the weekend of the one-year anniversary of his passing. A blood drive was hosted in Kamryn's name at the tournament while managers from Kendra Scott were sent to set up a pop-up shop in honor of Lindy.
Proceeds from that pop-up shop will be going toward a sports complex at the school where Kamryn and Christopher attended; the Simmons Family Sports Complex.
Cleco—the company where Katie's husband works and from which her father retired—donated lights for the softball field at the school.
Recently, Katie was featured in a report from The Advocate for helping an elderly man, something she did in the name of her baby sister who "had a big heart."
He was old and crippled and I felt so bad for him. When I learned he had walked to the store I pretty much forced him to let me bring him home. He didn't want to but eventually gave in. I went to TikTok later that night to try and raise money to get him a scooter to travel to the store more easily. We ended up raising $15,000 and were able to completely change his life we got him moved into a much better apartment and got him all new furniture and all the medical equipment he needs.
The family also started a non-profit called 'Simmons 3' where they aim to travel to as many high schools as possible to share their story with students to "make an impact on these young kids' minds at the most vulnerable time."
Speaking of sharing their tragedy in hopes of making an impact, Katie and Dawn recently appeared on an episode of Dr. Phil where they told their story to a worldwide audience in an effort to help a woman who claims to have driven drunk "thousands of times."
Both women delivered emotional messages about the reality that families face as a result of drunk driving. Dawn even revealed that it's hard for her to drive to this day without looking over for her youngest daughter who passed away in the crash they were both involved in.
We've reached out to Katie to tell us more about her experience on the Dr. Phil show, and we will be interviewing her once the second part of the episode airs on Monday (Jan. 23).
You can see Part 1 of the episode below and Part 2 is set to air on Jan. 23 at 4 p.m.
LOOK: What major laws were passed the year you were born?
Data for this list was acquired from trusted online sources and news outlets. Read on to discover what major law was passed the year you were born and learn its name, the vote count (where relevant), and its impact and significance.