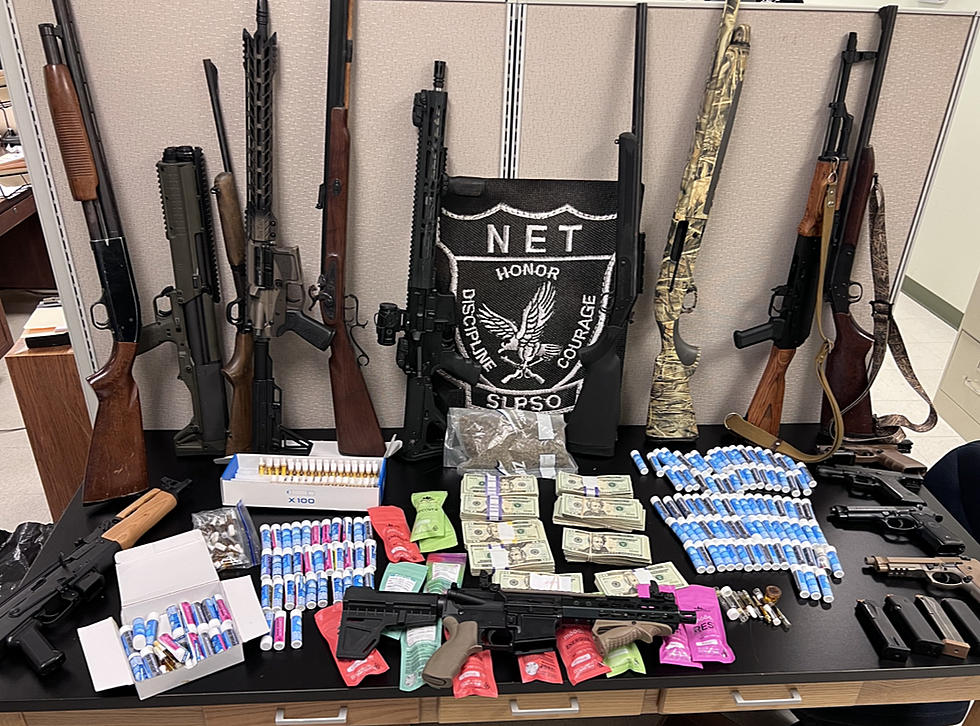 Lawyer From Opelousas, Louisiana, Caught Allegedly Storing Drugs and Guns in Her Home
photo from St. Landry Parish Sheriff's Office
OPELOUSAS, La. (KPEL News) - A licensed practicing attorney in St. Landry Parish now finds herself on the other side of the law after a traffic stop turned into a big drug and gun bust of her home in Opelousas.
"On May 12, 2023 narcotics detectives with the St. Landry Parish Sheriff's Office discovered that Laura Marler was doing more than practicing law," said Sheriff Bobby J. Guidroz in a press release. During a traffic stop, Sheriff Guidroz says detectives conducted a probable cause search of the vehicle and allegedly found 50 T.H.C. cartridges.
Authorities then went to Marler's home and searched it after detectives say she admitted to having more T.H.C. cartridges there and gave them permission to conduct the search. It was there that detectives say they located the following:
170 additional T.H.C. cartridges
multiple bags containing marijuana
multiple bottles of T.H.C wax
$19,320.00 in US Currency
15 guns including: 4 assault style rifles, 6 shotguns, 4 semi automatic handguns and one .50 caliber black powder rifle
The estimated street value of the illegal narcotics is valued at $8,800.00.
Marler has been charged with the following:
Possession with Intent to Distribute Schedule I CDS (Marijuana)
Possession with Intent to Distribute Schedule I CDS (THC Cartridges) (2 counts)
Possession with Intent to Distribute Schedule I CDS (THC Wax)
Possession with Intent to Distribute Schedule I CDS (THC Dosed Oral Spray)
Illegal Carrying of Weapons; Crime or CDS (15 counts)
Transactions Involving Proceeds from Drug Offenses
Marler has since bonded out of the St. Landry Parish Jail after it was set at $90,000.00.
The investigation continues as authorities say "further arrests are pending in the near future."
If you have any information about illegal weapon or drug activity you are encouraged to call the St. Landry Parish Sheriff Department's hotline at 337-948-0970 or 948-1030. All callers and information are kept strictly confidential. You may also call Crime Stoppers at 337-948-TIPS, download the P3 app on your mobile device or simply dial **TIPS on your mobile phone to tip. All calls are anonymous and you can earn a cash reward for information leading to an arrest.
✅ Here's How To Behave When Police Stop You
LAFAYETTE, La.. For many, getting pulled over by law enforcement can be an uncomfortable experience. Because knowing better leads to doing better, we're exploring the do's and don'ts of getting pulled over.
10 Alternative Rock Songs Written Under the Influence of Alcohol or Drugs
Drugs are a part of life. They are also a part of rock — even alternative rock. So because heavy metal and classic rock already have so many inebriated tales of their own, here are a few from the alt-rock end of things.
Parents Should Familiarize Themselves with These Illegal Drugs
Knowledge is power, especially when it comes to recognizing and understanding when your child becomes involved with illegal drugs.