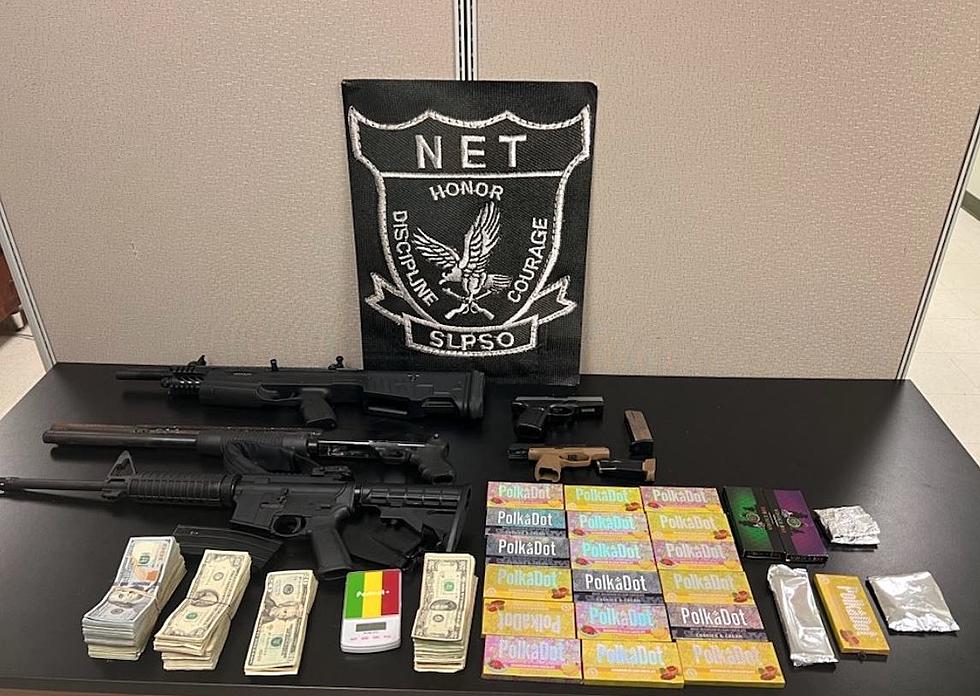 The 'Candy Man' Caught in St. Landry Parish Drug Bust
Facebook via St. Landry Parish Sheriff's Office
OPELOUSAS, La. (KPEL News) - Criminals sure find some interesting ways to get their product out.
You may remember a recent story out of Rapides Parish when the smell of marijuana turned into a massive discovery during a traffic stop on I-49: 487 psychoactive mushroom chocolate bars. That's 70 pounds!
Well, in a bust dubbed "Operation Candy Man" in St. Landry Parish, deputies with the Sheriff's Department say an Opelousas man has been arrested after 21 individually-wrapped chocolate mushrooms bars and a semi-automatic handgun were allegedly found in his vehicle during a traffic stop on Tuesday, May 16. Detectives then say they went to 41-year-old Earl Johnson's home and found an AR platform rifle, 2 shotguns, and a total amount of $18,080.00 in US currency. Meanwhile, the estimated street value of the illegal narcotics is $880.00.
Johnson was booked into the St. Landry Parish Jail and has been charged with the following:
Possession with Intent to Distribute Schedule I CDS (Psilocybin)
Illegal Carrying of Weapons; Crime or CDS
Transactions Involving Proceeds from Drug Offenses
Possession of Drug Paraphernalia
Johnson's bond was set at $25,000.00.
If you have any information about illegal weapons or drug activity, you are encouraged to call the St. Landry Parish Sheriff Department's hotline at 337-948-0970 or 948-1030. All callers and information are kept strictly confidential. You may also call Crime Stoppers at 337-948-TIPS, download the P3 app on your mobile device, or simply dial **TIPS on your mobile phone to tip. All calls are anonymous and you can earn a cash reward for information leading to an arrest.
Parents Should Familiarize Themselves with These Illegal Drugs
Knowledge is power, especially when it comes to recognizing and understanding when your child becomes involved with illegal drugs.
The Most Common Medical Marijuana Questions In Louisiana
Multiple pieces of legislation dealing with medical marijuana and expansions to the current structure have been or will be introduced in the upcoming legislative session that begins March 14, 2022.
Attitudes are shifting about recreational use as well. In last year's session, lawmakers passed a bill that changes
penalties
for a small amount of marijuana.
At the beginning of 2022, s
mokable medical marijuana
also became legal. Many people have asked questions about how and where to get medical marijuana. Here is the current information available.