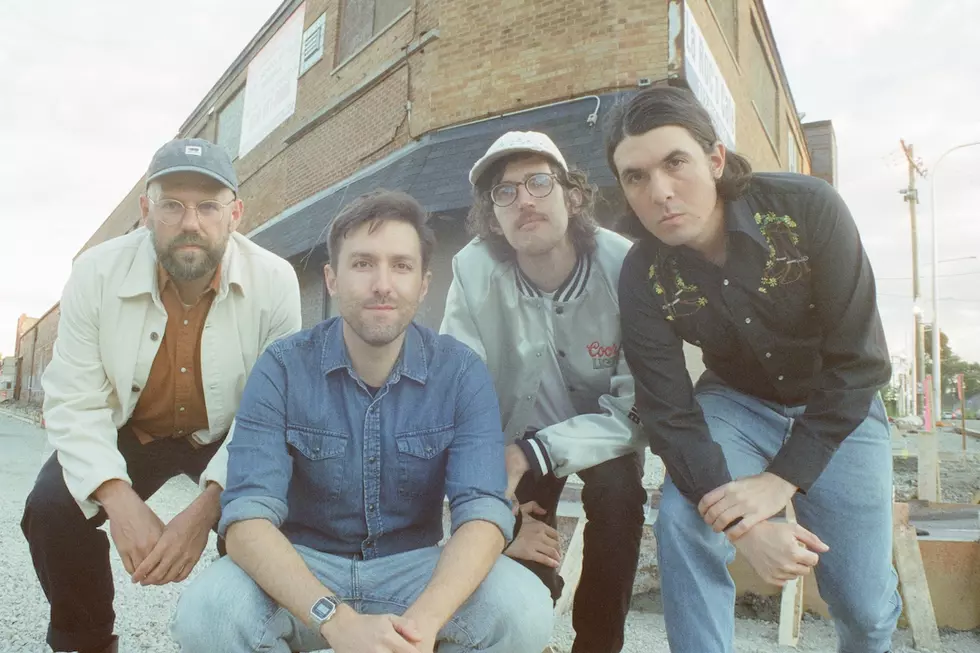 Chicago's Dogs at Large Face the Music in 'Feels Like This Is the End' [EXCLUSIVE PREMIERE]
Andrew Marczak
From the first peal of the pedal steel, Dogs at Large's new song "Feels Like This is the End" delivers what it promises: an upbeat melancholy number with a gentle swing that evokes sun-faded billboards on a lonely back road. The Chicago band evokes "vintage" Americana acts like the Gin Blossoms, Gram Parsons, and Big Star.
That sound is intentional, as "Feels Like This is the End" explores what happens when people who have been striving so long die a spiritual death -- that moment when you lose your youthful spark.
"It might be the case that some people are happier after the death of the spirit because the struggle of life is somewhat more muted," explains frontman Sam Pirricello. "In this song, I'm also thinking about all of these now washed-up people I looked up to in my younger days and how I feel like a fool for believing in them more than I believed in myself."
To get that sunwashed sound, the band opted for a minimalist setup.
"We recorded this one in my friend Robby's home studio as he was packing it up to move to North Carolina. We were surrounded by cardboard boxes full of canned margaritas while we tracked this one."
That sense of leavetaking colors the "Looks Like This is the End," a song with tightly contained energy that allows itself to dissipate.
Get an exclusive first listen to the song below:
Dogs at Large's upcoming album, County Lines, is the band's seventh album in as many years, with each album shifting through the modern rock and Americana canon. 
Members Sam Pirruccello (vocals, guitar, keys), Adam Gilmour (vocals, bass), Chris Kolodziej (drums), and Jamie Yanda (guitar) have become mainstays in Chicago's indie scene. The band's talents caught the attention of Whitney's Ziyad Asrar, who released Dogs at Large's 2019 album Delusions of Paradise on his former label Fine Prints.
County Lines, the band's first album on vinyl, will be released on March 2, 2023. You can keep up with Dogs at Large by following them on Instagram and Facebook. County Lines is currently available for pre-order via Bandcamp. 
Top 10 Billy Strings Songs
Billy Strings
is one of those once-in-a-generation artists who revitalize their genre with the scope of their talent and original perspective.
While to some, it may have seemed like Strings appeared on the bluegrass scene suddenly, his connection to the genre was far from new. Strings began playing guitar at five years old, thanks to the influence of his father, Terry Barber. Strings learned the bluegrass songs that were the soundtrack to his rowdy family's life, along with metal and classic rock favorites.
Born and raised in a small town in Michigan, Strings' childhood was marked by difficult losses and hard times as his parents struggled with meth addiction. As a young adult, Strings dealt with his own addiction issues but was later able to find sobriety.
He eventually left home and found his way to Nashville, where he gained his first exposure playing with mandolin player Don Julin. After four years with Julin, Strings went solo. Critical acclaim quickly followed.
From 2016 to 2022, Strings released one EP and four albums. Two of his records, 2019's Home and 2021's Renewal, have been nominated for Grammy Awards, with Home earning the top prize. He has also won an Americana Music Award and numerous International Bluegrass Music Awards, among other significant accolades.
At the young age of 30, Strings has created a remarkable legacy, and we can't wait to see where he goes from here.