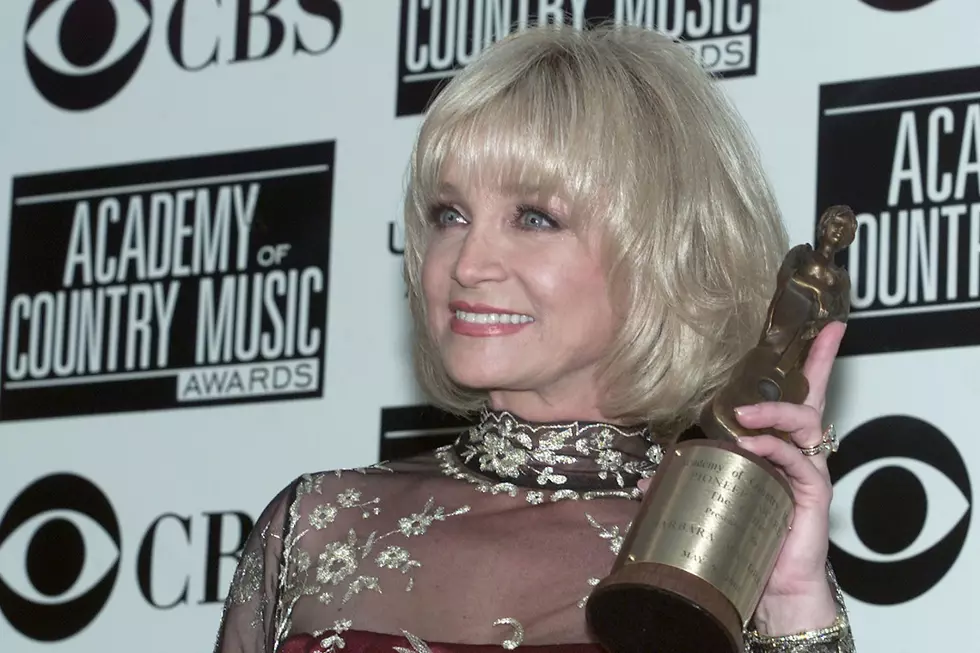 Top 5 Barbara Mandrell Songs
Kevin Winter, Getty Images
For whatever reason, nostalgia for Barbara Mandrell's music seems minimal in comparison to the fame she earned as a recording artist and variety television show host. Nowadays, the common narrative on her peak commercial years (1977-1986) takes us from the celebrity appeal of Kenny Rogers to Randy Travis' role in a classic country revival. At best, Mandrell, a true country music lifer with her own pop success and old-school credibility, gets treated like a side note despite a varied, colorful and successful career.
Born on Dec. 25, 1948, in Houston, Texas, Mandrell was raised around country music. By a young age, her dad had taught her to play lap steel, banjo, saxophone, accordion, bass and mandolin. Eleven-year-old Mandrell earned the nickname "Princess of the Steel" and began touring with the likes of Joe Maphis and Patsy Cline.
At age 14, the Mandrell Family Band formed, featuring Barbara, her parents and sisters Louise and Irlene. The band's drummer, Ken Dudney, became Mandrell's husband in 1967. In a business where divorce isn't limited to song lyrics, Mandrell and Dudney remain married to this day.
Mandrell launched her solo career at age 21, while Dudney was away with the Navy. A working relationship with Tammy Wynette and George Jones' producer Billy Sherrill slowly but surely netted chart success. Eventually, Mandrell matched the widespread success of Conway Twitty, the Oak Ridge Boys and other contemporaries. In 1980 and 1981, she became the first artist named the Country Music Association's Entertainer of the Year in successive years.
The awards and hits kept coming as Mandrell juggled recording and touring commitments with NBC's prime-time variety show Barbara Mandrell and the Mandrell Sisters (1980-'82), but circumstances slowed Mandrell's momentum into the 1980s. First, voice problems cut short her television show; then, in 1984, a car wreck briefly separated her from the stage and studio. Mandrell bounced back from both setbacks, however, and continued to cut quality music and thrill live audiences until her 1997 retirement.
With all of that in mind, check out these five select cuts before deciding for yourself if Mandrell deserves way more credit for keeping country cool.
5

"I Wish That I Could Fall in Love Today"

From 'I'll Be Your Jukebox Tonight' (1988)

First off, let's shatter the myth that as Mandrell's career hit its stride, she became nothing more than the pop-leaning singer of "Crackers" and "Sleeping Single in a Double Bed." She cut a tradition-bound version of this Harlan Howard-penned Ray Price classic during her post-car crash comeback.

4

"Almost Persuaded" with David Houston

From 'A Perfect Match' (1972)

Now underrated hitmaker David Houston revisited the chart-topping success of this 1966 hit on A Perfect Match, his 1972 duets album with Mandrell. Her silky-smooth vocal delivery and harmony vocals add to Houston's already potent sense of longing. The country song "Almost Persuaded" is not to be confused with the equally well-aged gospel song.

3

"There's No Love in Tennessee"

From 'Greatest Hits' (1985)

For another example of how well '80s polish suited Mandrell's sentimental songs, check out this ode to the Volunteer State. Mandrell's chart success survived different waves of neo-traditionalists because, at the heart of her persona and music, she wasn't so different from George Strait or Ricky Skaggs.

2

"The Midnight Oil"

From 'The Midnight Oil' (1973)

To grasp the appeal of Mandrell's early, rootsy solo material, look no further than the rare cheating song from the guilty woman's point of view. Had fellow Sherill charge Tammy Wynette recorded this incredible song instead, it'd be a huge part of the story of country music's transition into a new decade.

1

"I Was Country When Country Wasn't Cool" Featuring George Jones

From 'Barbara Mandrell Live' (1981)

Feel-good memories of dropping peanuts in Coca-Cola bottles and crowding the living room radio when it came time for the Opry's weekly broadcast made this one Mandrell's signature song. Fans knew she'd lived it all and never forgotten those roots at the peak of her crossover stardom.