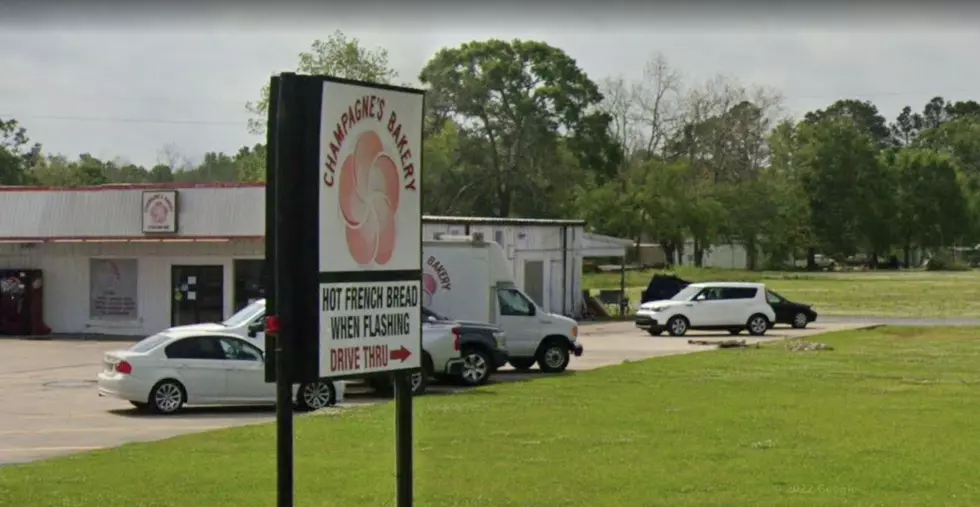 Champagne's Bakery in Henderson Closing its Doors
via Google Street View
The owners of Champagne's Bakery in Henderson have announced that they will be closing their doors.
The bakery began in Breaux Bridge has been operated by the Champagne family for some 134 years.
The family did say that the Breaux Bridge location will continue to produce wholesale bread. But: what about the pink cookies?
Champagne's Bakery in Henderson will be closing its doors to the public on July 24, 2022, according to Paul Champagne, owner.
A FAMILY TRADITION
Breaux Bridge Bakery was established in 1888 and has been operated by the same family since then.
The original location on Poydras Highway in Breaux Bridge was a full-service bakery, with cakes, cookies, and other delicious baked goods. It also provided wholesale bread service for many businesses in Acadiana.
7 years ago, when Paul decided to open a full-service location in Henderson, they kept using the Breaux Bridge location just for the ovens, as they moved all of the retail operations to Henderson.
WHY ARE THEY CLOSING?
Now that the Henderson location is closing, what will happen to the business? Will we still be able to get the pink cookies? And why are they closing?
I spoke to Paul at length this afternoon, and when I inquired as to why they decided to close, his initial response was quick, and to the point: the economy.
Then he offered an explanation.
Paul said that, like most places, the bakery took a hit during the COVID-19 pandemic. Business slowed, but Paul said it wasn't terrible.
The bakery was still recovering from the pandemic and things were looking pretty good until, he says,  the economy began to turn.
When I pressed him for more, he said that inflation is killing the business.
3 years ago, Paul was paying around $15 for a case of eggs. Today, he is paying around $60. A few years ago, shortening for the baker cost Paul about $28 for shortening. Today, that same package of shortening sets him back $90.
WHAT HAPPENS NOW?
Well, the Henderson location will close (he set July 24th as the target date to give his employees plenty of notice), but the Breaux Bridge location will continue to make bread.
How much bread do they bake every day? A lot.
Have you ever had a poboy at Bourbon Street Deli at any of the local ShopRite stores? Then you've had Champagne's bread.
Have you had the bread at Pat's in Henderson? Again, Champagne's bread.
Have you had the bread at Crawfish Town USA? Bon Temps Grill? Chris's PoBoys? All of those restaurants use Champagne's bread. There are literally dozens of restaurants and other businesses in Acadiana where Champagne's delivers.
WHAT ABOUT THE PINK COOKIES?
Have you never tried Champagne's famous pink cookies??
Ask most anyone in Breaux Bridge or Henderson about the pink cookies, and you'll probably get a story, as the pink cookies are something of a tradition in the area.
From grandparents bringing their grandkids for a special treat to families ordering dozens for their special celebrations, the pink cookie is a staple there.
Paul describes the pink cookies in this way:
Light, fluffy sandwich cookie with frosting filling
I asked him to tell me more, and he declined; he didn't want to rile up his ancestors by giving away the family secret!
WHAT HAPPENS GOING FORWARD?
Paul told me that the family will continue to operate the bread baking operation for now and, he said, they are looking into re-opening a retail shop in the future.
He wouldn't give me an idea about a timeframe, saying that the family is just in the planning phase and will concentrate on the bread they are baking.
NO, SERIOUSLY: WHAT ABOUT THE PINK COOKIES??
Just before we got off of the phone, I asked, "So, the pink cookies are gone after July 24th?
There was a long enough pause for me to know the answer, but he said, "Again, we are in the planning stages, so we'll have to see what happens."
Whatever happens, I hope that the business can stay afloat in some configuration.
Lafayette's Choices of '5-Star' Restaurants in Acadiana
Don't Ever Cook These Things in Cast Iron