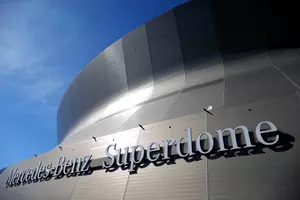 College Football Playoff Will Be In New Orleans In 2020
Chris Graythen, Getty Images
While the excitement for this year's college football playoff has just begun officials in New Orleans are already getting pumped about the 2020 version of the college football finale. The city of New Orleans was announced as the host for the title game for that year. While it might seem like a long way away organizers say now is the time to get plans in order for the game, the fans, and the party.
The Saints stepped up, the Superdome Management Group stepped up, the Tourism and Marketing Corporation stepped up. The hotel community, the Convention and Visitors Bureau, the Convention Center. It was truly a community effort.
Those are the words of Jeff Hundley as reported by the Louisiana Radio Network. Hundley is the Executive Director of the New Orleans Host Committee for the CFP Championship. He says this win for New Orleans will not only showcase the sports community but the continued growth the city is experiencing.
That weighed heavily I think with the committee that made the ultimate selection. One of the men on the trip even told me that this isn't the same ole New Orleans.
The city had recently lost out on bids to host the Superbowl and the Final Four in NCAA Basketball so the hosting of the biggest night in college football was something community leaders had really been focused on.