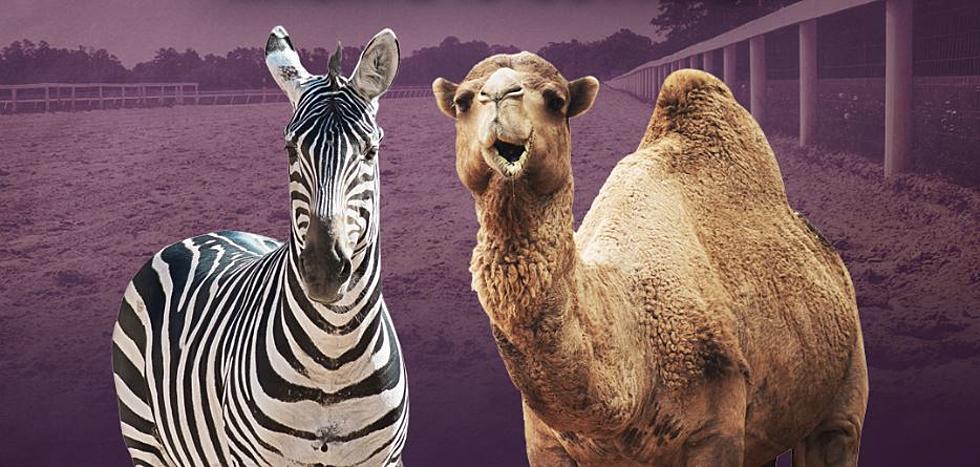 Evangeline Downs Hosting Camel & Zebra Racing This Saturday, April 22
Evangeline Downs Racetrack & Casino
Evangeline Downs in Opelousas just kicked off its thoroughbred season a couple of weeks ago and they're already switching gears -- well, sort of.
This Saturday, April 22, the St. Landry Parish-based horse racing track and casino will host some different kinds of four-legged racers.
In between the horse races, the public is invited to come out and enjoy live Camel and Zebra races.
Live racing starts at 5:30 pm that day. Admission and parking are free, and local food trucks will be there offering delicious treats for sale.
Evangeline Downs said that the best parking for the races will be in the parking lot behind the hotel.
Now, if you want to bring the kids over to actually meet the stars of these "wild" races, you'll be able to do so the day before.
On Friday, April 21, in the paddock area at Evangeline Downs by the racetrack, you'll be able to meet and take photos of the zebras and camels that will be racing the exotic races.
This is a free family-friendly event and it will take place from 2:00 pm to 4:00 pm that day.
If you can't make it out this weekend for the camel and zebra races and love thoroughbred racing, you still have plenty of time. The 2023 Thoroughbred season at the track runs every Wednesday through Saturday and concludes on August 26.
LOOK: Here are the pets banned in each state
Because the regulation of exotic animals is left to states, some organizations, including The Humane Society of the United States, advocate for federal, standardized legislation that would ban owning large cats, bears, primates, and large poisonous snakes as pets.
Read on to see which pets are banned in your home state, as well as across the nation.