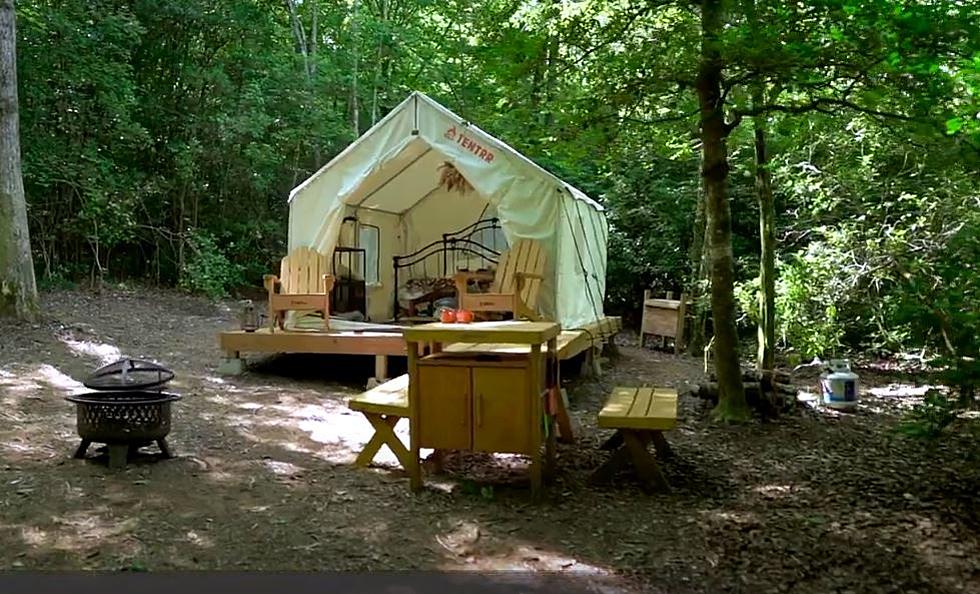 Glamping Sites Now Available at Louisiana State Parks
Tentrr via YouTube
One of the main reasons Louisiana residents love to camp is the connection that we feel with the outdoors. When you're "the Sportsman's Paradise" there is a certain amount of "outdoorsy" that you just have to be. But not all who roam the vast natural and unspoiled acres of our state are outdoorsy, some of us didn't want to come. And it's for those who'd prefer to be at home we proudly remind you that all of the comforts of home can be yours in the great outdoors.
It's called "glamping". It's glamorous camping and if you're not "outdoorsy" this just might be the kind of camping trip you'd want to take. Glamping at Louisiana State Parks is made possible through Tentrr.com. They are the folks that make sure your "glamping" adventure comes with all of the comforts of home.
What kind of comforts are we talking about? How about a queen-sized bed with memory foam and end tables? How about a pre-constructed tent set up on a solid wooden platform? How about a picnic table, fire pit with grill, solar shower, and portable camp toilet right outside your door?  Heck, that's better than some apartments I have lived in.
If you click the Tentrr.com site, you'll see what amenities are available at each Louisiana State Park. You'll find the rates are equitable with most interstate hotels and motels but you don't have the sound of traffic to deal with. There are "glamp sites" at Toledo Bend for as low as $85 an evening. Or you might opt for something with a little more room and a little more "glamp" for $139 a night in Chicot State Park or Tickfaw State Park.
The registration process is easy your "luxury" getaway camping trip won't be too far for your to travel either. Now, you will have to bring your own bug spray, but I am sure you expected that since you're used to "roughing it".
10 Handy Home Remedies to Take the Itch Out of Mosquito Bites