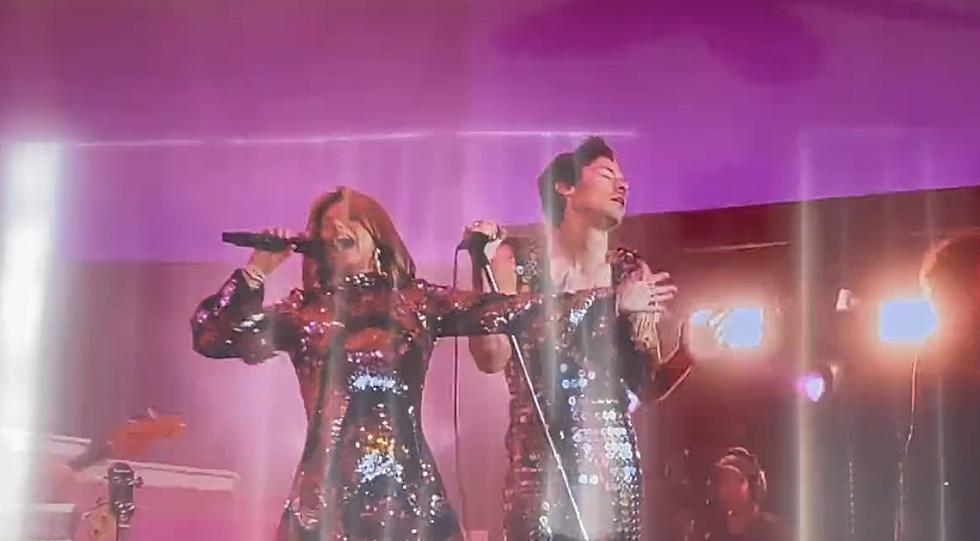 Harry Styles Surprises Fans, Brings Out Shania Twain to Perform at Coachella
Coachella, Youtube
Week one of Coachella brought the big names and even bigger surprises!
Harry Styles headlined night one of the California music festival, and along with debuting some new songs from his upcoming album Harry's House (out May 20th), he had one very special guest that came out to sing a couple of songs with him: the one and only Shania Twain.
Shania came out from under the stage halfway through Harry's set and sang just two of her many hits: "Man, I Feel Like A Woman" and "Still the One". Harry sang with her, and they looked like they were having the time of their life.
With sequined coordinated outfits, they made the crowd go wild. Harry seemed to get sentimental when they sat down to slow it down, telling the crowd and Shania that she taught him to sing when he was a little boy when he was listening to the radio with his mom in the car. He also said that Shania taught him the most important lesson that transcends time: men are trash.
Watch the sweet moment between Shania Twain and Harry Styles at Coachella:
Shania echoed Harry's sentiments with some very sweet post-performance tweets and Instagram posts. Shania said SHE was starstruck by performing with Harry and gave him and his band nothing but praise. I think this was a special moment for both artists in very different ways.
This tweet below was immediately after she got off stage. Yes, I watched the live stream of Harry's performance from 1:35 A.M. local time until 3 A.M. -- watching this live was so worth the lost sleep. One of my absolute favorite childhood artists meets my current favorite artists. What a beautiful combo...and Shania agrees.
Also, people were quite literally running to the stage Shania and Harry were performing on after hearing the iconic intro to "Man, I Feel Like A Woman" -- this Tik Tok is gold.
Twitter BLEW up with excitement and shock. There were no leaks of who was coming out during his set, or even if there was a special guest. No one was suspecting the queen of 90's country to set Coachella on fire.
This surprise performance just shows that music transcends age and time. Young and old, everyone was singing and dancing at the top of their lungs. I loved seeing this as a long-time Shania Twain fan, and a forever Harry Styles fan. This moment defined week one of Coachella and set the bar for surprise guests at festival sets.
I Can't Wait To Go To These Festivals Again