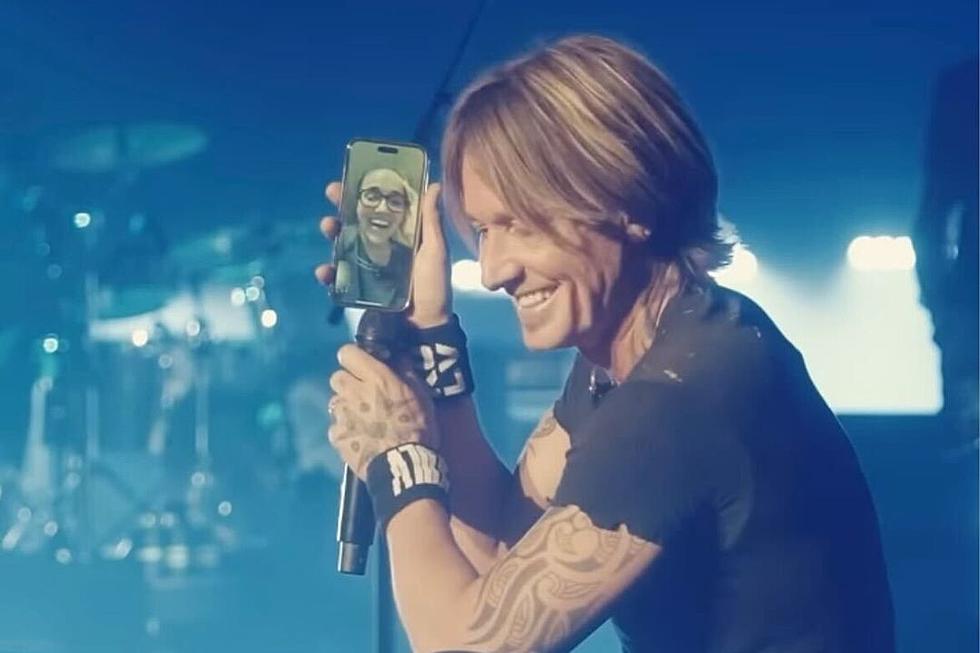 Keith Urban Hilariously FaceTimes a Fan During His Show [WATCH]
@KeithUrban, Instagram
Country fans are already very familiar with Keith Urban's witty sense of humor and love for his fans, and this past week, he put both on full display during one of his shows at Planet Hollywood Resort & Casino.
During his set, Urban knelt down on stage to talk to some fans in the front row. One of the fans asked if he could talk to her daughter on FaceTime. To Urban's surprise, the woman's daughter picked up the call. Keith said shockingly, "Oh, sh-t, she did FaceTime!"
The woman, Lindsay, on the other end of the FaceTime call was elated over the "insane" surprise. She told Urban that she was just sitting at home on the couch with her boyfriend. Per Urban's request, Lindsay then tilted her phone towards the boyfriend, who was just as surprised as she was to see the country star -- or as Urban joked, he looked "high as a kite."
In the comment section, there are hundreds of fans that have nothing but love and support for this gesture from Urban. A lot of the fans were shocked that a star of his caliber still takes the time to do things like this with his fans.
@nannersest2016 says, "I was there for this FaceTime call! Lindsay was the cutest on the other end of the line. Love how KU takes time to make fans feel like a part of the show. Incredible musician and a class act!"
@mary.embrey writes what we are all thinking: "Is there anything that man can't do!?"
@stenoryter adds, "I love him. He is so good to his fans. He isn't bad to look at either."
Urban shared the video, along with a group of show photos, on his Instagram. The singer's most recent string of shows is taking place at Zappos Theater. Keith Urban's residency is ongoing through mid October of this year.
Evan Paul is the host of Taste of Country Nights, a syndicated radio show heard on more than 120 country radio stations nationwide, every night from 7PM to midnight. He plays the best new country music and interviews today's top stars, like Luke Combs, Miranda Lambert, Dan + Shay, Keith Urban, Carrie Underwood, Luke Bryan, Chris Stapleton, Lady A, Morgan Wallen, + more! 
Pictures: Keith Urban + Nicole Kidman at the 2023 Met Gala
Country singer Keith Urban and his wife, actor Nicole Kidman, attended the 2023 Met Gala in New York City on May 1. The couple is seen arriving in black tie attire for the annual celebrity event.
PICTURES: See Inside Keith Urban + Nicole Kidman's Luxurious Tennessee Farmhouse
Keith Urban and Nicole Kidman were living it up in their 5,086-square-foot, 4-bedroom farmhouse in Franklin, Tenn., a rural community 30 minutes outside of Nashville. The house is beautifully well-appointed. The master bedroom features a very large walk-in closet, and the gated, 35-acre property also includes a gym, recreation rooms, an office and a three-car garage, as well as a utility barn. The couple sold their rural farmhouse in 2018 for $2.7 million.
Pictures: Keith Urban, Nicole Kidman Misbehave On the 2023 Oscars Red Carpet
Keith Urban and Nicole Kidman could hardly keep their hands off one another while walking the red carpet at the 2023 Academy Awards on Sunday (March 12) in Los Angeles. Kidman was a presenter during the Oscars.