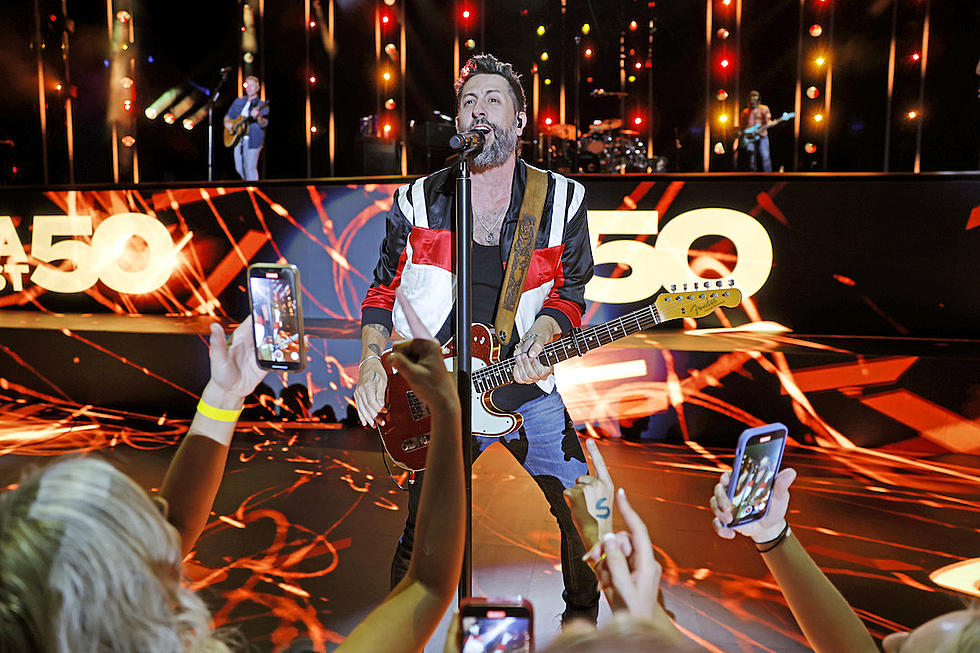 Old Dominion Get 'Emotional' About One Career Joke They Can't Make Anymore
Jason Kempin, Getty Images
For years, Old Dominion used to make self-deprecating jokes to each other about never becoming successful in country music.
"In an effort to protect ourselves, we would joke about it not working, and we're never gonna make it — and we can't ignore [our success] anymore," lead singer Matthew Ramsey told press backstage at CMA Fest, before the band's set on the Nissan Stadium main stage.
Earlier in the week, they'd hosted a fan party, and the band couldn't hold back their emotions when they came face to face with the love from their fans.
"I think as you get older, you get more emotional," bandmate Brad Tursi reflects, pointing out that they've reached a point where they're mature enough to feel the full impact their music has on listeners.
But part of that emotion also comes from the group's overwhelming, sustained success. Old Dominion have not only had radio hits, but they consistently win industry trophies at events like the CMA Awards and the ACM Awards, and their crowds are getting bigger and bigger when they play live.
"We're just so lucky. And we feel that every time we walk out onstage. It's hard to ignore now," Ramsey continues. "... Because of the size of the crowds that we're playing for and the hits that we have, we can't [make jokes about not making it] anymore. We can't ignore where we are, and it's a pretty great place to be."
The band will continue that momentum with a new leg of their No Bad Vibes Tour, which will run throughout 2023.
"We did the first leg, and now it's growing into bigger rooms and bigger opening acts. We've kind of figured out what the message is, with the No Bad Vibes Tour," Ramsey reflects. "It really has turned into this big, joyous experience [for us and for] the fans. So we can't wait to keep it rolling."
Top 22 Country Songs of 2022, Ranked
There are plenty of feel-good country jams on this list of the
top country songs of 2022
, but the No. 1 song is one of the best love songs of the decade. These 22 songs are ranked by critical acclaim, radio and sales success, and importance to the genre.
Seven of the 22 artists made our
Top Country Songs list from 2021
, as well, but there are no song repeats. If a song made a previous list (or didn't spend most of its time on the charts in 2022), it's not eligible. So, before you ask where your favorite song is (i.e. Cody Johnson, "'Til You Can't"), be sure the miss isn't just a technicality.