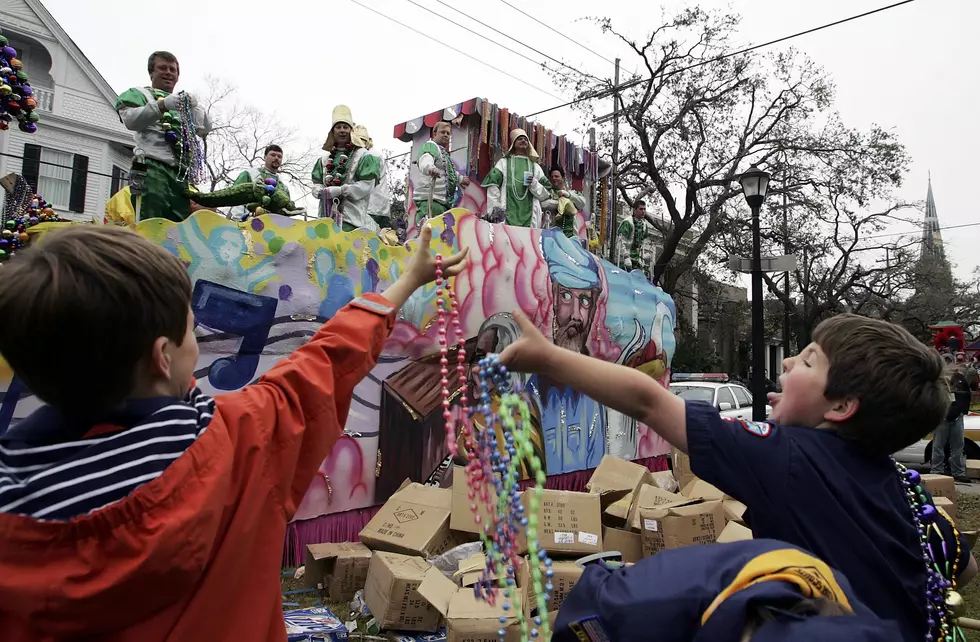 Carencro, Scott Issue Public Announcements on Changes, New Policies Ahead of Mardi Gras Parades
Getty Images
As Carnival season ramps up, city officials in Carencro and Scott are reminding paradegoers of policies and a few new changes for their upcoming Mardi Gras celebrations.
Both Carencro and Scott will roll their annual Mardi Gras parades the weekend of February 11 and 12, 2023. On Saturday, The Carencro Mardi Gras Association will host the city's annual Mardi Gras parade on Saturday, February 11 with a few changes that were announced in late December.
One big change will be the start time for the Carenco Mardi Gras Parade; beginning at 10 a.m., an hour earlier than in previous years. This means the roads around the route will close at 9 a.m. on Saturday and motorists will not be able to travel on them until the parade is concluded.
A public service announcement from the Carencro Police Department detailed all the information that paradegoers will need to know for the big Mardi Gras celebration.
Scott Mardi Gras also announced changes for their Mardi Gras parade as well—especially in regards to the recent construction on Apollo Road.
The Scott parade will kick off at 1 p.m. on Sunday, February 12, 2023, and the Scott Business Administration is reminding residents and visitors to not use Apollo Road "for parking or walking for safety issues."
Officials also reminded paradegoers to not park along Interstate 10 or its on/off ramps nearby. "Saved spots" was also a topic of discussion along with rules surrounding parking near private driveways.
While people sometimes frown upon rules and changes, both Carencro and Scott (along with other municipalities around south Louisiana) have identified ways to be proactive as their "small town" parades continue to grow in both size and attendance.
Mardi Gras will continue to be celebrated as it has been for generations, but safety and providing a family-friendly environment will continue to be priority #1.
LOOK: Here are the best small towns to live in across America