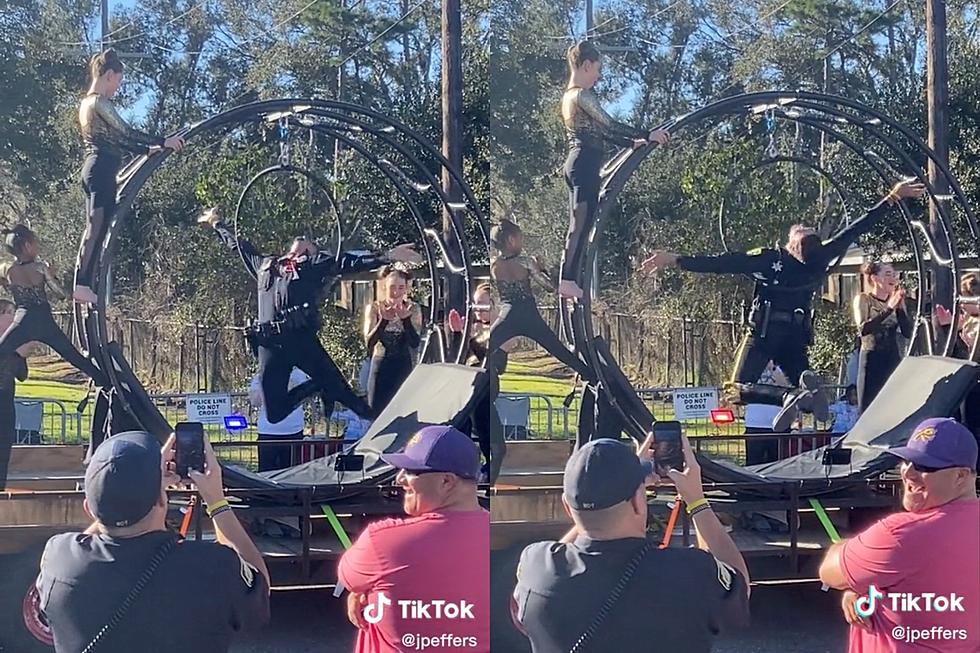 Louisiana Police Officer Shows Off Impressive Aerial Acrobatic Skills at Thibodaux Mardi Gras Parade
TikTok, @jpeffers
You really never know what you might see at a Louisiana Mardi Gras celebration.
From John Weatherall's infamous Mardi Gras parade recaps to New Orleans Mayor LaToya Cantrell flipping off a float in Krewe of Tucks, it's already been an eventful 2023 carnival season and we're still in the midst of Deep Gras (is that still a thing?).
The sights and sounds of local Mardi Gras parades have seen a different lifespan with the rise of social media—specifically on platforms like TikTok and Instagram where short-form videos are the focus.
For instance, even with his full parade recap videos, John Weatherall will usually release a few short clips of the highlights used in the overall video compilation of every respective parade that he covers. A clip from his Scott parade recap featured local pole fitness instruction and business owner Magnolia Love.
Magnolia brought her portable fitness pole to multiple parades which made for some unique photos and videos for paradegoers and those watching at home.
While Magnolia has definitely gotten a lot of reaction on social media with her Mardi Gras acrobatics, a police officer out of Thibodaux is also getting noticed for his aerial skills.
TikTok user @jpeffers shared a clip of a police officer jumping onto a contraption with a large ring in the center, proceeding to take a spin like he's been doing these acrobatic moves his entire life.
The comments lit up with reactions from those who took pride in how unpredictable our Mardi Gras celebrations can be to others who wanted to know more about the good-looking officer who was showing off his skills.
By the way, to all the commenters asking: this officer is reportedly spoken for.
Who knows what other exciting and entertaining things we will see and hear before Mardi Gras 2023 is over, but here's to hoping you enjoy the safest and most fun carnival possible.
LOOK: What major laws were passed the year you were born?
Data for this list was acquired from trusted online sources and news outlets. Read on to discover what major law was passed the year you were born and learn its name, the vote count (where relevant), and its impact and significance.