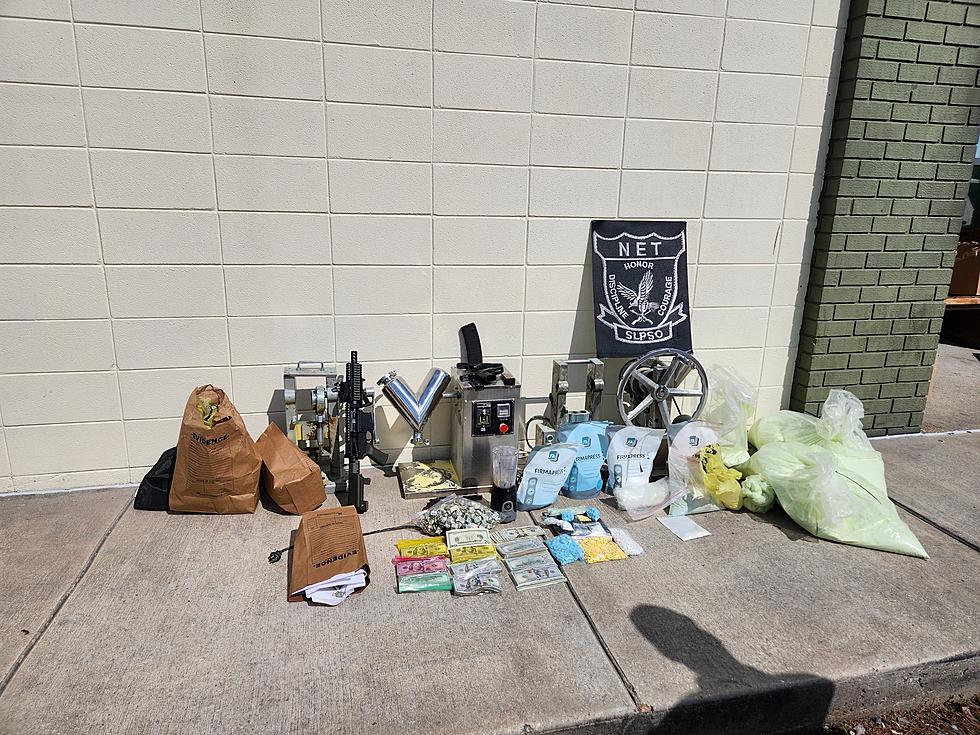 Drug Operation With Enough Fentanyl to 'Kill Approximately 1,250,000 People' Busted in Sunset, Louisiana
Credit: St. Landry Parish Sheriff's Office
SUNSET, La. (KPEL News) - St. Landry Sheriff's Office narcotics investigators uncovered a massive drug operation in Sunset, discovering enough fentanyl to "kill approximately 1,250,000 people," according to SLPSO. It is the largest pill-manufacturing operation investigators have busted in the parish's history.
The Narcotics Enforcement Team (NET) at the sheriff's office had been conducting a major investigation on a Sunset man believed to be behind a major drug production operation, both in terms of manufacturing and distributing. Based on information from the investigation - including surveillance, undercover work, and tips from the public - the man behind the operation was arrested.
That man, Benjamin I. Pittman, Sr., 43, of Sunset, was charged with the following:
Possession with intent to distribute schedule I CDS (Fentanyl)
Manufacturing of a schedule III CDS
Possession with intent to distribute schedule III CDS
Illegal carrying of a weapon in the presence of a CDS (four counts)
Felon in possession of a firearm (four counts)
Transactions involving proceeds from drug offenses
Possession of drug paraphernalia
Possession with intent to distribute schedule II CDS (Hydrocodone)
After obtaining a search warrant, investigators found a massive amount of drugs, including "suspected 'crack' cocaine, suspected marijuana, suspected illegal manufactured Xanax, hydrocodone, an assortment of other types of pills, 5.2 pounds of suspected fentanyl and packaging materials for distribution," according to the sheriff's office.
Detectives also located four guns, pill presses, and the ingredients needed to make the pills.
"Benjamin Pittman was in possession of 5.2 pounds (2 ½ kilos or 2358.68 grams) of suspected fentanyl," the sheriff's office noted. "This amount of fentanyl has potential to kill approximately 1,250,000 people."
"This is, by far, the most significant and largest fentanyl confiscation and also the most elaborate pill manufacturing operation in the history of St. Landry Parish," Sheriff Bobby Guidroz said in the statement.
Fentanyl's Impact
The Drug Enforcement Administration (DEA) fact sheet on fentanyl explains a bit more.
Fentanyl is a potent synthetic opioid drug approved by the Food and Drug Administration for use as an analgesic (pain relief) and anesthetic. It is approximately 100 times more potent than morphine and 50 times more potent than heroin as an analgesic.
According to the St. Landry Sheriff's Office, fentanyl is devastating in the impact it has on the people who use it. In their press release, they note:
2 milligrams can be considered a deadly dose to a person;
1 gram is equal to 1000 milligrams and can cause death to 500 people; and
55.6 % of drug overdoses are primarily due to fentanyl.
The DEA also notes that, similar to other opioids, fentanyl "produces effects such as relaxation, euphoria, pain relief, sedation, confusion, drowsiness, dizziness, nausea and vomiting, urinary retention, pupillary constriction, and respiratory depression."
Have a Tip on Drug Activity?
Anyone with information about illegal drug activity is encouraged to call the St. Landry Parish Sheriff Department's Drug Hotline at 337-948-0970 or 948-1030. All callers remain anonymous and the information is kept strictly confidential.
You may also call Crime Stoppers at 337-948-TIPS, download the P3 app on your mobile device or simply dial **TIPS on your mobile phone to tip. All calls are anonymous and you can earn a cash reward for information leading to an arrest.
Fighting Fentanyl: Important Arrests Made Across Acadiana in 2022
The fight against fentanyl is a daunting one as the highly potent drug continues to take lives every day across the country. From Lafayette to the surrounding areas, law enforcement agencies have their hands full as they fight to get fentanyl off their respective streets.
Let's take a look back at headline-catching cases involving fentanyl in 2022.
The Most Common Medical Marijuana Questions In Louisiana
Multiple pieces of legislation dealing with medical marijuana and expansions to the current structure have been or will be introduced in the upcoming legislative session that begins March 14, 2022.
Attitudes are shifting about recreational use as well. In last year's session, lawmakers passed a bill that changes
penalties
for a small amount of marijuana.
At the beginning of 2022, s
mokable medical marijuana
also became legal. Many people have asked questions about how and where to get medical marijuana. Here is the current information available.