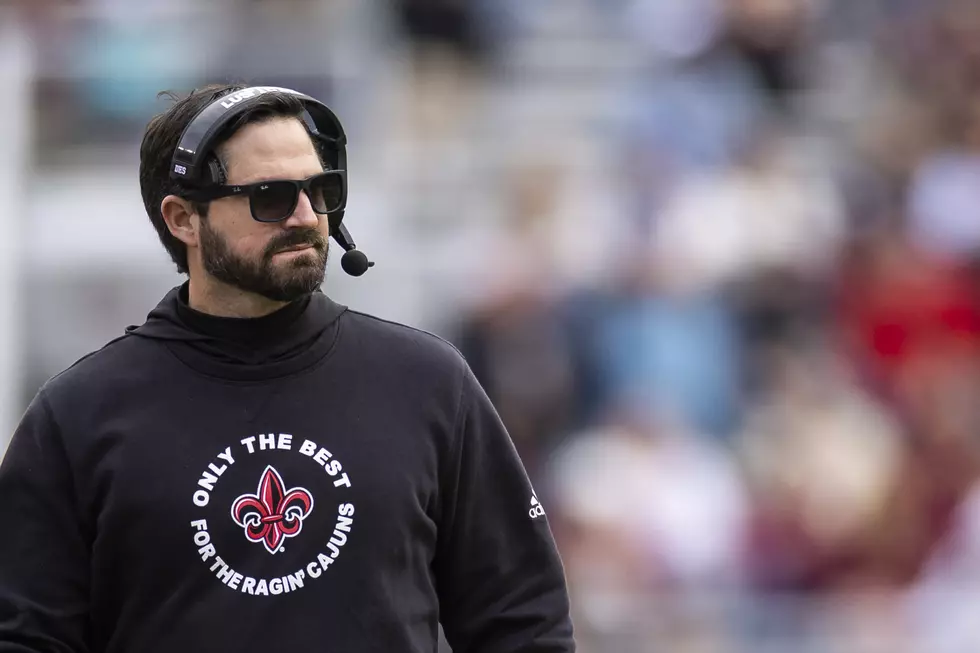 Louisiana Ragin' Cajuns Treating 2023 As Revenge Tour (VIDEO)
Photo by James Gilbert/Getty Images
While it may not have the same cache as the Taylor Swift Eras Tour, make no mistake, the Louisiana Ragin' Cajuns are out for revenge in 2023.
After winning the Sun Belt's West Division four straight years (2018-21) and finally winning the elusive Sun Belt Championship in 2021, the Ragin' Cajuns finished 6-6 overall and 4-4 in the Sun Belt in 2022.  That was good for 4th in the West Division.
And apparently the opposing teams relished in the Cajuns struggles.  So much so, the team, players and coaches have said publicly 2023 is the Ragin' Cajuns Revenge Tour.
Louisiana's Head Coach Mike Desormeaux spoken openly about the team's mantra for the upcoming season.
MIKE DESORMEAUX - I DON'T EVER FORGET ANYTHING
I don't ever forget anything. So I'll just leave it at that. I remember the reactions and a lot of those games when they didn't go our way. I remember the way people reacted, I remember what people said.  So I don't forget anything. 
We are a chip on our shoulder operation over here. And I don't care what we've got to do. If we've got to fabricate it, if it's really there, whatever it takes. But I noticed it certainly motivated me and this staff, as well as these players, to go out there and go put a product out there on the field that we want to see.
MIKE DESORMEAUX -TALK THE TALK, YOU BETTER WALK THE WALK
Because it's what our kids believe in. That's the way they feel about it. And the thing I told him, I said, you when you take these types of things, and you make it public, like they have, like we have, well, then you really got to be about it.
There's a lot of people that say a lot of things and there's a lot of people that you know, will talk the game, you have to walk it.  And so for us that's what I tell him every day, you when we have a period or we have a practice that I don't feel is up to our standard, I'll tell him. These things that we're talking about,  it's nothing more than talk unless if we're willing to work towards it.
Our kids are extremely motivated, and they took that thing and kind of ran with it.  And like I told him, I said, well, that's the way we feel and we got to work to a certain level and we got to be prepared to go out there and have everything that comes along with it. 
At the end of the day, it really comes down to executing and focusing on what's in front of you. And you know, we have a game this week and that's the most important game of the year for us right now. You know, if you're worried about all that other stuff, then you know, you won't play very well when it's time to. 
Places You Want to See Come Back in Lafayette, Louisiana
We wanted to know from you which places you would love to see come back to our area. There were more than 600 answers on our Facebook page. This gallery provides you with the top ten choices for a return.
Things Lafayette Adults Get Excited For That Kids Find Ridiculous
Buckle up, because we're about to explore 8 things that make Lafayette grown-ups jump for joy while leaving kids scratching their heads and thinking, "Wait, seriously? They're excited about that?"