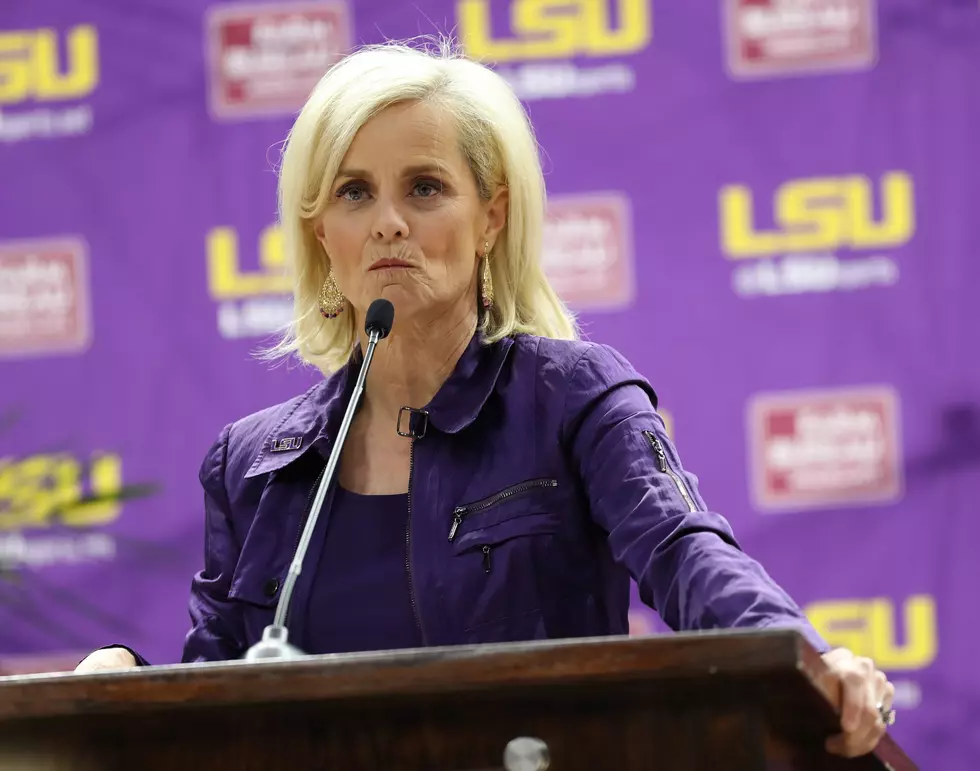 LSU's Kim Mulkey Had A Heart Procedure During The Off-Season
(Photo by Peter Forest/Getty Images)
Kim Mulkey, Head Coach of the defending national champion LSU Tigers Women's Basketball team, underwent surgery inserting a pair of stents due to 95-99% blockage of her coronary artery.
Following her team's improbable run to the title and prior to their White House visit, Mulkey was experiencing numbness in her middle finger on her left hand. This led to x-rays from disc-replacement surgery in her neck and eventually a radiologist found plaque in her carotid arteries.
As ESPN.com reports
"He (the doctor) said, let's put you on the treadmill and do a stress test," Mulkey said. "Then he said, 'I don't like the way this isn't pumping faster; it looks like there's a little blockage going on. We've got to do a cath.'"
Monday afternoon LSU held its first official practice for the upcoming basketball season with about 2500 fans showing up at the PMac Center to watch the open practice.
With All-American and Final Four most outstanding player Angel Reese and SEC freshman of the year Flau'Jae Johnson returning and the additions of transfers Aneesah Morrow and Hailey Van Lith, expectations will be extremely high for the defending national champs.
LSU Coach Kim Mulkey's Outfits
LSU's National Champion and Hall of Fame Women's Basketball Coach Kim Mulkey has some of the best style in the game. Here are some (not all) of the highlights. We even dug back for some "greatest hits" she had before she got to Baton Rouge.