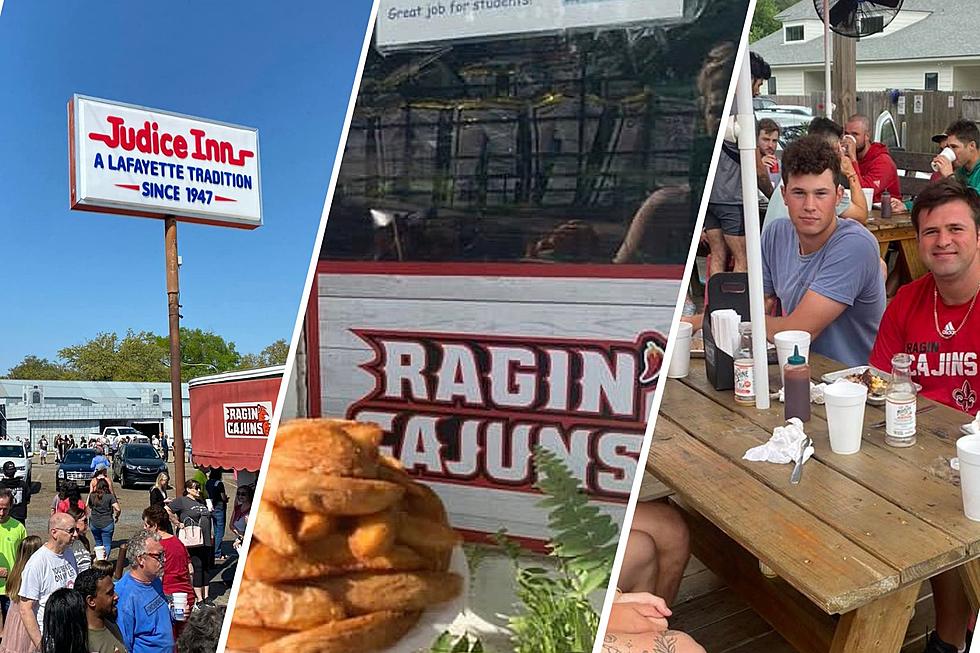 5 Best Restaurants Near the Ragin' Cajuns Campus in Lafayette, Louisiana
Judice Inn/ Olde Tyme Grocery/ Tchoup's
When it comes to the state of Louisiana and specifically the Acadiana region, one thing is for sure and that is there is incredible food. With Lafayette being considered a "college town," one would assume there should be great food around the college.
We asked our audience where is the best place to get grub that is in the vicinity of UL's campus. We compiled the data left by you and we now have a top 5 best food spots near Louisiana's campus.
With this list, we will also mark down the affordability level of each location. That way you can know hey if I go here will I break the bank? So without further ado in the words of Mulan's Li Shang "Let's Get Down To Business"!
Honorable Mention: Borden's Ice Cream Shoppe
1103 Jefferson St.
Lafayette, LA 70501
Borden's Website
So normally with these lists, I'm not particularly eager to put honorable mentions. However, this place received enough votes that it was almost number five while having more votes than the rest of the field that didn't make the list. Borden's is great if you're looking for a sweet treat. Location-wise it's right on the corner of Jefferson Street and Johnston Street. Borden's offers some of the best ice cream in the city while being very affordable. A single scoop on a cone or in a cup would cost about 3 dollars. Also if you're hungry they also offer pretty good hot dogs that will cost you around 4 dollars but that includes chili on the dog. So when it comes to affordability then Bordens is very affordable and it's right by campus. Also if you have a dog they offer pup cups or ice cream made for dogs.
5. Johnson's Boucaniere/Pete's
Johnson's Boucaniere
111 St. John St.
Lafayette, LA 70501
Johnson's Boucaniere Website
Pete's on Johnston
3903 Johnston St.
Lafayette, LA 70503
Pete's on Johnston Website
We had a tie for the number five spot. Coming in at number 5 we have Pete's on Johnson and Johnson's Boucaniere. Pete's offers great bar food at a reasonable price. While Johnson's is a bbq spot. Johnson's is very affordable being that is a bbq spot. You can get a bbq boudin grilled cheese sandwich for 6 dollars. And Pete's I would say isn't pricey but it isn't cheap. You can get a burger for 10 dollars which is very solid for an amazing burger. It won't break your bank but expect to spend at least 20 dollars while there. But both are amazing places that if you're near campus you can enjoy. Johnson's is off university street while Pete's is on Johnston Street a little ways away from UL's campus.
4. Cafe 20.3
Cafe 20.3
1500 General Mouton Ave.
Lafayette, LA 70501
Cafe 20.3 Website
Coming in at the number 4 spot is Cafe 20.3. This is a spot that serves breakfast, lunch, and dinner. Very affordable and has a wide array of options. Location wise it's on Gen Mouton and within walking distance of UL. If you want a good breakfast burrito before class then this is the best option for you. Also if you're of age then they have affordable beverage options come dinner time.
3. Tchoup's MidCity Smokehouse
Tchoups MidCity Smokehouse
117 S. College
Lafayette, LA 70503
Tchoups MidCity Smokehouse Website
At the number 3 spot, we have MidCity Smokehouse. In my opinion, this is the best bbq spot in all of Lafayette. Now I will say upfront that MidCity isn't cheap. When you go, you need to be prepared to spend anywhere from 20-40 dollars. For example, a one-meat plate with two sides costs $17 dollars. That's why I say be prepared to pay between 20-40 dollars minimum. But the quality of the food is absolutely fantastic. Every bbq sauce offered is amazing and the quality of the meat is out-of-bounds good. And then every starter they offer is great and their signature items are a hit around town. This place is located on South College which isn't far from UL's campus but it's not within walking distance. But if you want a great spot to go eat bbq with the homies or a date place then Tchoup's MidCity Smokehouse is the place for you.
2. Olde Tyme Grocery
Old Tyme Grocery
218 W. St. Mary
Lafayette, LA 70506
Old Tyme Grocery Website
At the number 2 spot, we have a local specialty with Olde Tyme Grocery. This is a UL staple. Olde Tyme is a po'boy spot across the street from UL's campus on St. Mary Street. When it comes to Poboy's Olde Tyme is arguably number 1 in Acadiana. It is an affordable spot where you will spend between $15-$25 dollars. But if you want a great shrimp po'boy then look no further than Olde Tyme. They also offer a sweet treat with their snowball stand. And in south Louisiana, there's nothing better on a hot day than a snowball.
1. Judice Inn
Judice Inn
3134 Johnston St.
Lafayette, LA 70503
Judice Inn Website
And finally, in the top spot, we have the legendary Judice Inn. Judice Inn has been a local establishment since 1947. When it comes to burgers in Acadiana, Judice Inn is the standard. When it comes to affordability Judice Inn is very affordable. Especially for the quality they offer, the burgers are cheap. A single cheeseburger is $4.50. Now I will say one downside is that there is no ketchup or fries at the establishment. But for them to be around since 1947 without fries or ketchup, it shows how good their burgers and sandwiches are. Whether it's a double or a single, you can't go wrong choosing Judice Inn as your burger spot. It is located on Johnston Street across from the movie theater and about 2 miles from UL's campus but it is worth the drive.
There were many other places that received votes, on the 103.3 The Goat Facebook page. And I think that goes to show how many great places there are in Lafayette. If you're a student or live around UL's campus there is no reason you shouldn't eat local because, to be honest, the local choices are much better than the chains.
Iconic Pro Wrestling Venues In Louisiana