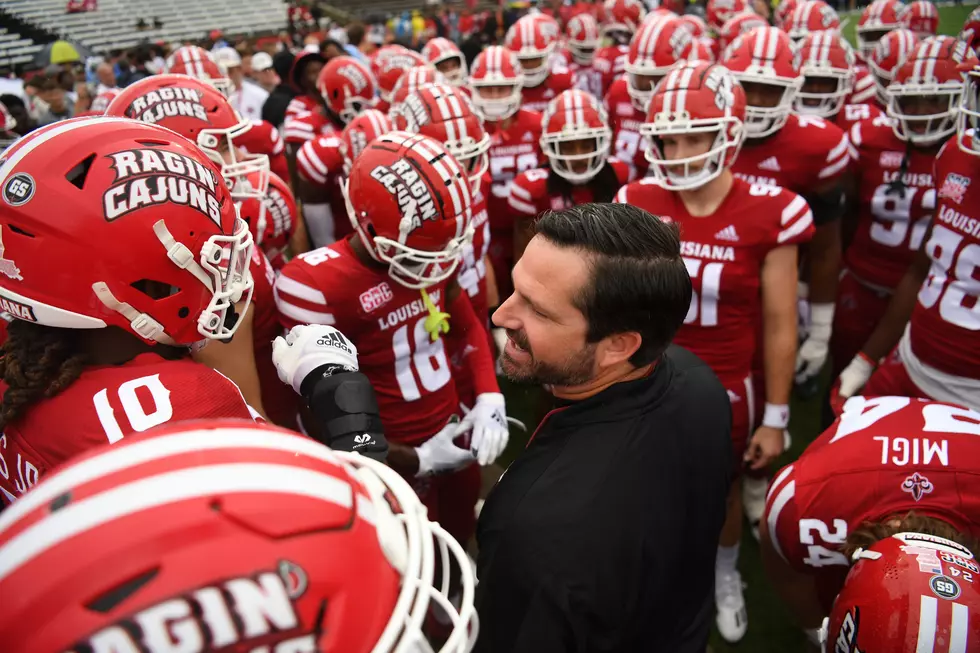 What To Expect From Louisiana Ragin' Cajuns Against Northwestern State
Photo by Benajmin R. Massey/UL Athletics
The Louisiana Ragin' Cajuns are looking for improvement in Year 2 of the Mike Desormeaux ERA.  Last year was marred by coaching defections, player transfers and injuries, and an unsettled quarterback position.
That's not the case this season. Last year started out with Chandler Fields and Ben Wooldridge splitting time.  Then Fields was banged up so Wooldridge started.  Wooldridge was out for the season with a torn knee so Fields took over again.  Eventually, even Zeon Chriss played well in the Independence. Bowl.
Coach Desormeaux is hoping for a less stressful situation this season as Wooldridge, recovering from knee surgery in just 8 months, was named starting QB heading into training camp.
The Cajuns also hope their now-experienced offensive line will be much improved as Louisiana has mostly been a run-first offense over the last decade or so. We'll see if Zylan Perry and Dre'lyn Washington can take advantage.
So who will Wooldridge be throwing to?  Tight End Neal Johnson is the team's leading returning receiver, but he'll have help from experienced wide receivers Peter Leblanc and Jake Bernard, but redshirt sophomore Rob Williams turned heads in camp and could the deep threat.
Defensively, the scuttlebutt coming out of camp was the defensive line was dominant.  And that's good news, having to replace Zyon Hill-Green and Andre Jones Jr.  Look for Mason Narcisse and Antoine Baylis to be the difference makers up front for the Cajuns.
Having said all of that, Louisiana needs to get off to a good start in 2023.  Especially with an early Sun Belt Conference game on the road next week against Old Dominion.  So what should you be looking for against Northwestern State?
RUN THE DAMN BALL
Most of the Cajuns' recent success has come from running the football effectively.  Two seasons ago Louisiana ran out the clock, literally with a 20-play drive against Arkansas State.  19 of those plays were on the ground.  The Cajuns should start there.
WOOLDRIDGE TAKES THE NEXT STEP
This will be Wooldridge's last season of college football and the first time in his career, he's ever been the starting quarterback from the get-go.  Let's see if knowing a mistake or two won't get him replaced, gives him the confidence to lead the Cajuns.
TIME FOR THE DEFENSE TO MAKE PLAYS
Last season Northwestern State averaged just over 21 points per game. The Cajuns' defense needs to come out fast and finish strong. Hold the Demons to less than 20 points.
CAJUNS ROLL 45-14.
Best Gas Stations for Food Near Lafayette
Sometimes, we're on the road for a trip. Sometimes, we're craving something you can only find at a local gas station. Here are the best gas stations for food according to y'all.