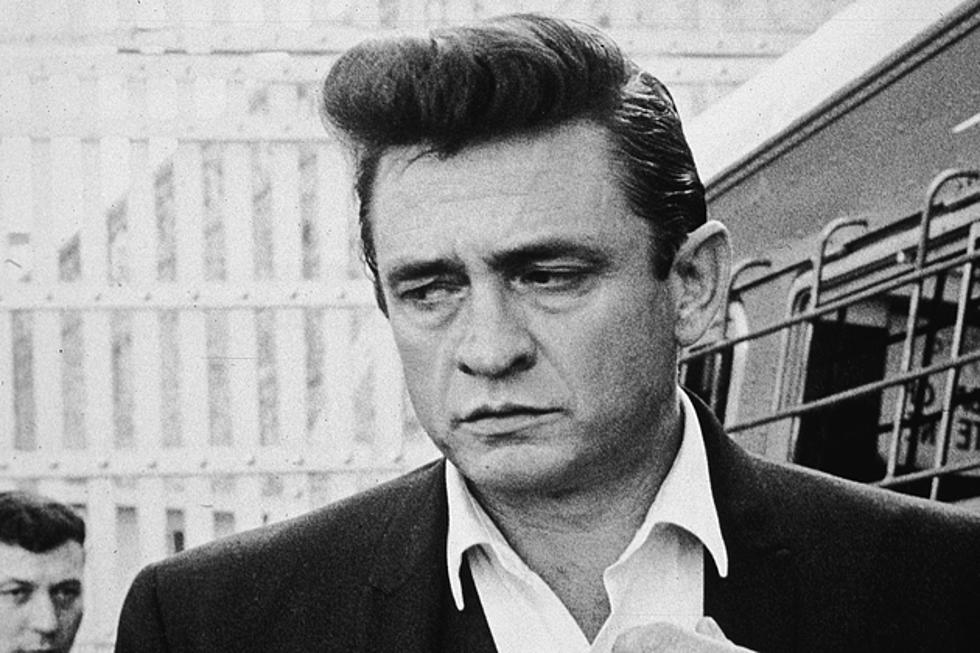 Hulton Archive / Getty Images
Johnny Cash songs are some of the most iconic in the history of modern music. Beginning with "Cry! Cry! Cry!" in 1955, Cash enjoyed an almost unprecedented run of hits that crossed many genre lines.
The Man in Black began his career at the legendary Sun Records as a rocker, but he would go on to record serious folk songs about social issues, as well as a long line of country hits. Cash also hosted a television show that brought together some of the most diverse musical talent in the world. After a dry period, he returned with a late-in-life career resurgence that reminded everyone all over again why he held such a place of prominence in American culture.
The Boot's list of the Top 10 Johnny Cash songs draws from the different eras of his career.
10

"Man in Black"

From: 'Man in Black' (1971)

Cash's penchant for wearing all black clothing onstage was so pronounced that it became a part of his legend over time, earning him the permanent moniker "the Man in Black." Cash felt compelled to try to explain his wardrobe choice in this 1971 hit, which reached No. 3 on the Billboard country charts. It's as appropriate a choice as any to kick off the Top 10 Johnny Cash Songs.

9

"Rusty Cage"

From: 'Unchained' (1996)

Cash had a latter-day resurrection with a couple of releases in his later years. This 1996 single, from the Grammy-winning Unchained album, is a re-recording of a Soundgarden song from 1992. Even at his advanced age, Cash demonstrated that he not only had his ear to the ground of popular culture, but that he could still cover virtually any style of music effectively. The album also contained songs by Tom Petty, Beck and Hank Snow.

8

"A Boy Named Sue"

From: 'At San Quentin' (1969)

Though much of Cash's music was dark and brooding, his sense of humor was also in evidence in some of the lighter fare that he recorded. "A Boy Named Sue" was the juxtaposition of both; the comical song, written by Shel Silverstein, tells the story of a man who runs out on his wife and infant son, but names the boy Sue so that he'll have no choice but to toughen up to face a hard life. The boy grows up to hunt down his father and confront him, culminating with the classic line, "My name is Sue! How do you do?" The song won a Grammy for Song of the Year, and a CMA Award for Single of the Year.

7

"One Piece at a Time"

From: 'One Piece at a Time' (1976)

More than 20 years after he scored his first hit, Cash was still going strong in the mid-'70s. "One Piece at a Time" was pure light entertainment, telling the story of a man who works in a car factory and steals an entire car, piece by piece, by smuggling out the components in an oversized lunchbox. The resulting vehicle is so unique that he brags, "I'm gonna ride around in style / I'm gonna drive everybody wild / 'Cause I'll have the only one there is around."

6

"Jackson"

From: 'Greatest Hits Vol. 1' (1967)

Johnny Cash first began singing with June Carter in 1961, but by the time they released "Jackson" in 1967, their relationship was romantic. They collaborated on a string of duets that also included "It Ain't Me, Babe," "If I Were a Carpenter" and "Long-Legged Guitar Pickin' Man." The couple married in 1968, and remained married until Carter Cash's death in 2003. Cash passed away just four months later.

5

"Sunday Morning Coming Down"

From: 'Sunday Morning Coming Down' (1972)

Johnny Cash was among the first contacts Kris Kristofferson made when he first came to Nashville as a struggling songwriter. Cash cut Kristofferson's "Sunday Morning Coming Down," a song about being hung over and "wishing, Lord, that I was stoned." The song became Cash's 11th No. 1 hit, and helped to establish Kristofferson as one of the leading songwriters in Nashville in the '70s. The two would later join with Waylon Jennings and Willie Nelson in a supergroup called the Highwaymen.

4

"Hurt"

From: 'American IV: The Man Comes Around' (2002)

In 2003, in the waning days of his life, Cash released a cover of "Hurt," originally written by Nine Inch Nails front man Trent Reznor. Another bold and seemingly unlikely choice, it re-invented Cash yet again. The searing track received little radio support, but the video was in heavy rotation, propelling the song to double platinum sales. 'Hurt' also won Single of the Year at the CMA Awards.

3

"Ring of Fire"

From: 'Ring of Fire: The Best of Johnny Cash' (1963)

Cash's future wife, June Carter Cash, wrote "Ring of Fire" with Merle Kilgore. The song addresses her feelings about becoming involved with Cash despite all the obstacles to their being together, which included both of their marriages, as well as Cash's longstanding struggles with addiction. The track was an anomaly at country radio, with a trumpet fanfare as one of its main production elements. That didn't stop it from becoming a No. 1 hit single. It was later included in the Grammy Song Hall of Fame.

2

"Folsom Prison Blues"

From: 'At Folsom Prison' (1968)

Cash originally recorded "Folsom Prison Blues" in 1956. It was released as his third single on Sun Records, where it reached No. 4. But it is the live recording from 1968's seminal At Folsom Prison album that has become iconic, with the palpable energy of Cash performing the track to an audience of inmates at the prison it made famous. The line, "But I shot man in Reno just to watch him die" is one of the most instantly-recognizable in popular music.

1

"I Walk the Line"

From: 'With His Hot and Blue Guitar' (1957)

What other song could reasonably top the list of the Top 10 Johnny Cash Songs? Cash wrote "Walk the Line" for his first wife, Vivian. He scored his first No. 1 hit with the song in 1956 on Sun Records, and it has since become inextricably interlinked with Cash and his legacy. The song inspired the title of an Oscar-winning movie about Cash's life, and also earned a spot in the Grammy Song Hall of Fame with its unique sound, which became a Cash signature.