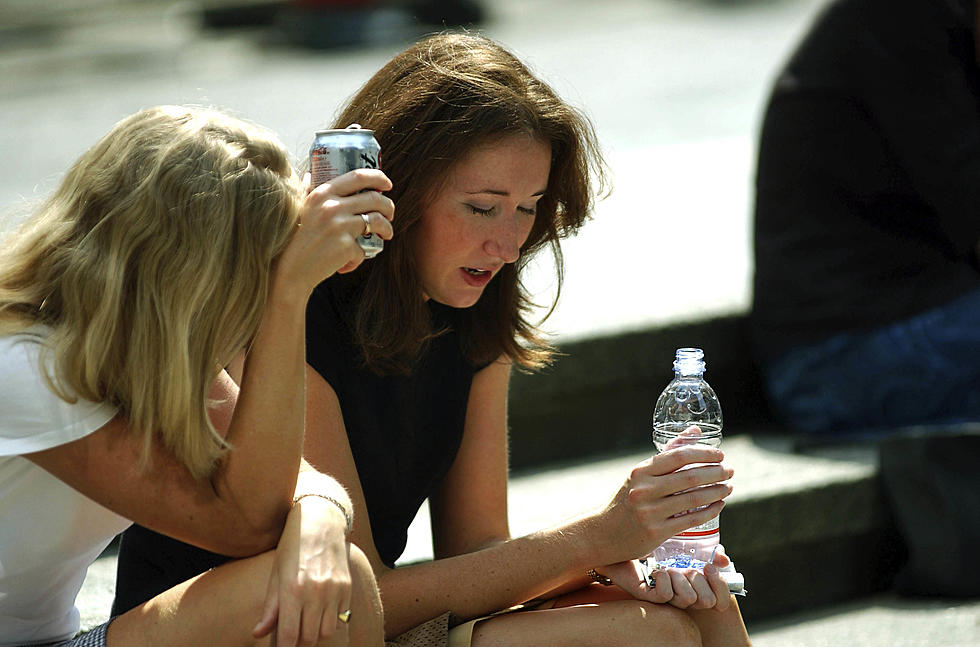 Lafayette Women Reveal The 11 Clothing Items They Absolutely Hate Wearing in the Louisiana Heat
Photo by Bruno Vincent/Getty Images
As we transition from the cold season into warm (and eventually sweltering) weather, the women of Acadiana are already dreading the heat.
To be fair, the heat is pretty much dreaded by most of the guys in Acadiana too, but fellas—we're gonna sit this one out.
Earlier this week on the morning show, we opened up the phone lines for ladies to tell us what they absolutely HATED wearing.
We heard just about every answer—from "clothes in general" to inanimate objects like "the weight of the world on their shoulders."
When all was said and done, we had a full list of things that our local female audience was absolutely dreading having to wear—especially as the temps begin to warm up and humidity begins to show its ugly face in south Louisiana.
Here are the ones that were mentioned the most.
Spanx & Shapewear
Springtime also means wedding season, and wedding season means dresses. A lot of ladies complained that form-fitting shapewear in warm temperatures can feel like absolute hell on earth. To quote one listener, "that thing needs to breathe."
Rompers
This one was unique because it was less about the temperature and more about the inconveniences that come with looking cute in this spring/summer favorite. For those who don't know (aka men) a trip to the bathroom in a romper will almost always require a complete disrobing. Apply that to port-a-lets and it's very easy to understand why some women dread wearing these, regardless of how cute they look in them.
Stockings
This one shocked me, but in professional settings, women often wear stockings with their skirts, and if the layers don't sound miserable enough, just apply the clingy complaints from the Spanx entry from earlier. Some women even said the dress code at their job required them, so in some cases, there is no option but to suffer from success.
Swimsuits
This was another interesting one because I figured swimsuits were the answer to all the other complaints that I heard when we broached this topic. As it would turn out, the ladies who dreaded wearing swimsuits during activities that required them during the warm season hated them because they were either self-conscious or could never find one that actually fit them in all of the areas where swimsuits need to fit. So, even though they dreaded wearing them for a different reason, I felt like this one was definitely worth throwing in.
Socks
Where there is heat, there is sweat—and a lot of the women we spoke with brought up socks. I think it's obvious that undergarments never had a chance of winning in this swampy scenario and socks are the official undergarment of the foot—another unpopular part of the body (depending on who you ask.)
Bras
I probably should have led with this one out of the gate, but I'm glad that we've finally reached the most popular and most obvious clothing item when it comes to what women are dreading this warm season. over 90% of the women we spoke to either said "BRA" (in all caps) or mentioned it with the other garments that collect sweat or provide a general lack of comfort in our south Louisiana heat. It's so bad that most ladies admitted to keeping a spare in their car at all times for those extra sweaty situations.
Makeup
Not a literal clothing item, but definitely something that a lot of women choose to wear on a daily basis. In the words of one female listener that we spoke to "it feels like you're wearing an insulated blanket on your face and no makeup company has figured out how to make products that are made for south Louisiana heat." Others told us that they literally have to take different steps and change their entire makeup routine for the spring and summer months to ensure that their makeup doesn't drip off of their faces.
Underwear
Remember when I told you that we weren't done with undergarments earlier? We've covered socks, stockings, and the treacherous bras, but right now we're gonna play clean up and lump in every other form of underwear—specifically down there. The best way for me to explain it, once again, is through the words of another female responder who said "sweaty parts—plus underwear gets wet... probably a southern thing." I think that may be the poetry we didn't know we needed for this post.
Wigs
We're going to step away from clothing garments again but stay in the "wearable" category as we talk about wigs. Whether we're talking lace front, extensions, or the whole shebang—whoever said "long hair, don't care" clearly never visited the hellish depths of a south Louisiana summer.
Denim Jeans
I always thought jeans were cooler to wear in warm temperatures, but that couldn't be any farther from the truth. Specifically, tight denim shorts with no stretch that stick, ride and creep in all the worst ways. One responder claimed that her body tended to eat more of her jeans as the temperatures rise and that high-waisted shorts were the absolute worst.
"Clothes in general"
Last but not least, any clothing at all seemed to be a problem for most of the ladies we polled. We heard things like "full t-shirts," bandeau bras, eyeglasses (that fog and slide), and any material that "sweats" or "itches." This is the reason why the bra comes off as soon as they enter the front door. This is the reason why spare garments are kept in the event that they are needed at any moment's notice.
Oh, and as far as maternity wear or any clothing worn by our local moms to be? We didn't even go there!
As temperatures begin to rise in the coming months, just know that you're not alone when you're packing that extra pair of panties for that important sales call later in the day, or fear for your life as you stand butt naked in a port-o-potty at Downtown Alive!
We stand in solidarity with the women (and all people) who dread the necessary clothing items they have to wear to look their best (or at least decent) in our south Louisiana heat.
LOOK: Here are the 50 best beach towns in America
Every beach town has its share of pluses and minuses, which got us thinking about what makes a beach town the best one to live in. To find out,
Stacker
consulted
data from WalletHub
, released June 17, 2020, that compares U.S. beach towns. Ratings are based on six categories: affordability, weather, safety, economy, education and health, and quality of life. The cities ranged in population from 10,000 to 150,000, but they had to have at least one local beach listed on TripAdvisor. Read the
full methodology here
. From those rankings, we selected the top 50. Readers who live in California and Florida will be unsurprised to learn that many of towns featured here are in one of those two states.
Keep reading to see if your favorite beach town made the cut.