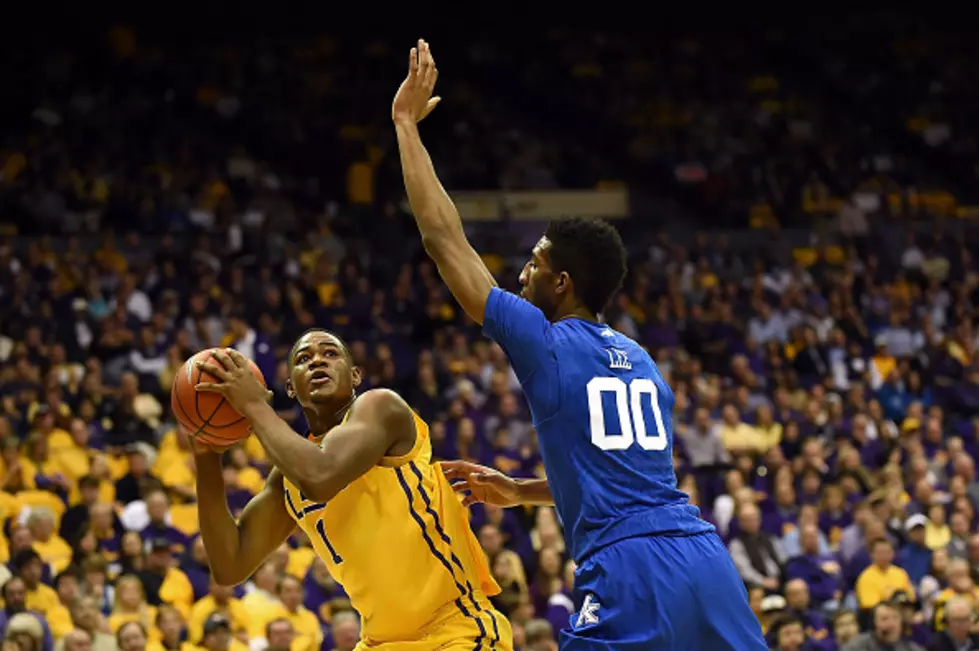 LSU Can't Quite Get #1 Kentucky in 71-69 Thriller
Getty Images
In front of packed and raucous crowd at the P-Mac, the LSU Tigers narrowly lost to the #1 Kentucky Wildcats 71-69 in a game that came down to the brink.
LSU started strong and led early 14-6, controlling most of the first half before getting to half-time with Kentucky leading 38-34. LSU played strong defense late in the game and came back from an 8 point deficit to lead the game 69-66 in the final minutes.  The top ranked Wildcats would score the games final five points and stun the sold out crowd in Baton Rouge.
LSU was led in scoring by Jarell Martin who had his 10th double-double of the season with 21 points and 11 rebounds. Keith Hornsby added 17 points and Jordan Mickey contributed 16 points, seven rebounds, and four blocks.
Kentucky was led by Willie Caulie-Stein's 15 points.  Four of Kentucky's players finished with double-doubles including freshman Karl-Anthony Towns who totaled 13 rebounds and 12 points.
It was a relatively star-studded crowd for the Pete Maravich Assembly Center attended by New Orleans Pelicans star, and former UK baller, Anthony Davis. Les Miles also took in the sights from down near the court.
LSU will prepare for Saturday's contest with Tennessee, the first of two straight road games.
Courtesy LSU SID: HEAD COACH JOHNNY JONES Press Appearance following the game
Opening Statement … 
"I thought our guys did a great job of coming out tonight. I thought our crowd did a great job of energizing us and getting us off to a great start; (going ahead) 10-2. Then, Kentucky, being the team that they are and how they have battled all year long, did a great job of composing themselves. They made a run of their own and got back into the game. I thought throughout the first half, our guys did a tremendous job of playing tough offensively. They were really gritty on the defensive end to get the stops while battling a tough basketball team. In the second half, Kentucky did a great job of coming out…they made a run. I thought our guys withstood that effort. They did a tremendous job of having a certain intensity level to fight back and regain the lead against a tough team down the stretch with about three or four minutes left in the game. We put ourselves in the position to possibly win a basketball game. I thought Kentucky did a great job of getting on the offensive glass late, which was what they needed. They got some timely offensive rebounds. Kentucky made some plays down there, which I thought eventually hurt us. They did a good job on the defensive end of getting stops, playing big with no driving lanes and getting the turnovers they needed there late in the game. I thought we had a shot there late to win it (with Keith Hornsby's three-point attempt). We had a look at it. Unfortunately, it didn't go down. I am really proud of our guys for the effort that they gave tonight."