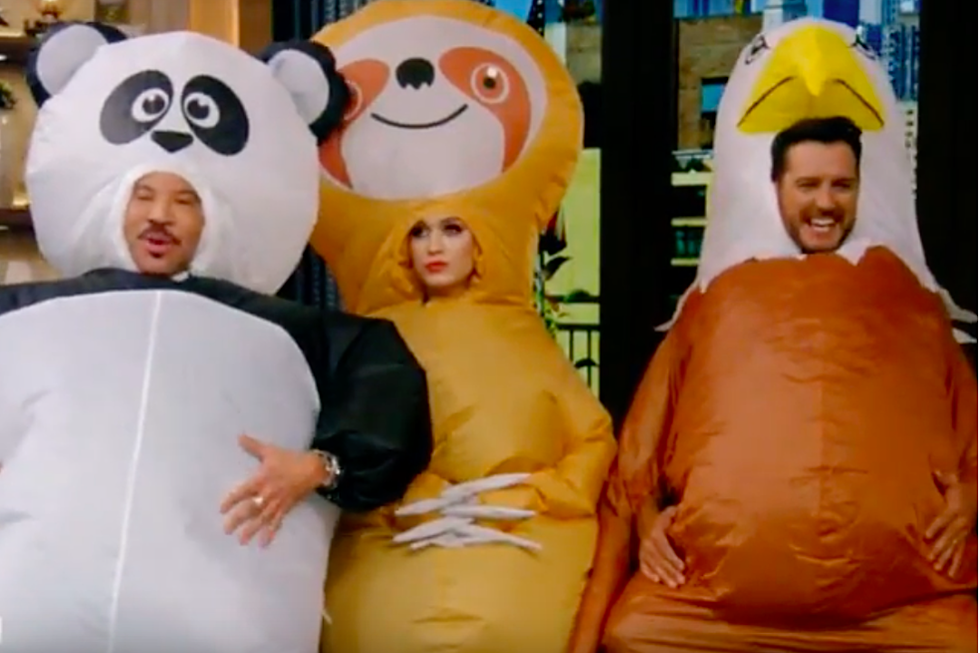 Luke Bryan + Fellow 'American Idol' Judges Don Hilarious Halloween Costumes on 'Kelly and Ryan' [Watch]
Youtube/Celebrity InterviewsInside
As Luke Bryan preps for his second season of American Idol in 2019, he decided to get the fun started a little early with his judging counterparts Katy Perry and Lionel Richie. On Tuesday's (Oct. 30) episode of Live With Kelly and Ryan, Bryan donned an eagle outfit for Halloween as he sat down for a hilarious interview with his fellow judges.
"We are doing this for Katy, because she said, 'I have an idea,' and Luke and I said, 'How bad can it be?'" Richie tells Ryan Seacrest while wearing a blowup panda outfit.
"This is what my late night online shopping looks like," Perry says with a laugh while donning a sloth costume.
You've Never Seen Morgan Wallen Quite Like This!
"This is just a window of what Luke and I go through during the show," Richie quips.
The three look awfully comfy together, considering that they didn't know each other very well before beginning the singing competition show. They judged the 2018 season of American Idol when it returned to television, and they will team up again for the upcoming 2019 season.
"I didn't really know Luke," Perry . "I had seen him hosting the CMAs and singing 'Huntin', Fishin'…'"
"She had seen some of my online shaking," Bryan says with a laugh.
But now they are so close that they often go to one another for advice.
"I call Lionel about my kids," admits Bryan. "I'm like, 'Lionel, what do I do now? What do I do with this latest thing?' Lionel has got all the knowledge."
Bryan's had a busy year outside of his American Idol gig. He recently wrapped up his touring year for 2018 with yet another sold-out show, closing out a year that saw him perform for 1.5 million fans. He also scored two No. 1 hits in 2018 with "Most People Are Good" and "Sunrise, Sunburn, Sunset," both from his most recent album, What Makes You Country. Bryan recently released the title song as his latest single.
Country Stars' All-Time Best Halloween Costumes: