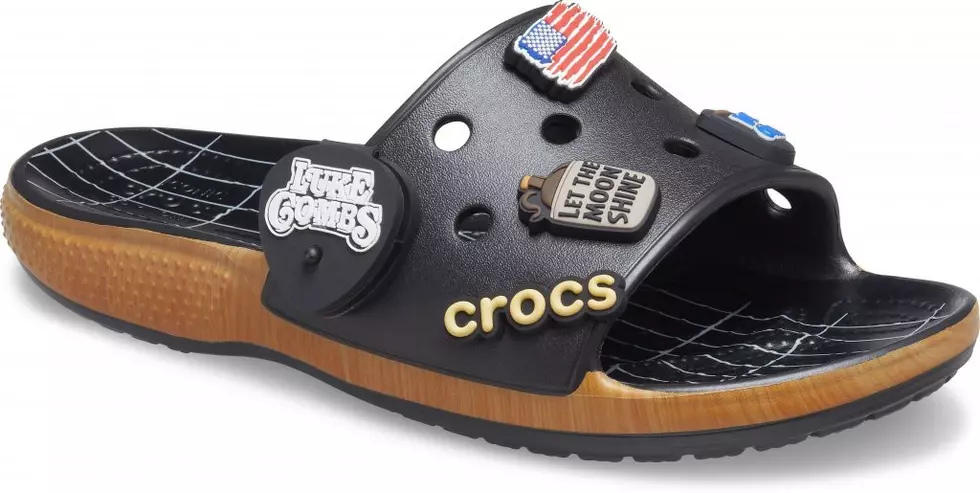 Luke Combs Crocs Collaboration Sells Out in Minutes
Crocs.com
It's no secret I am a big Luke Combs fan. That is, until I remember that he is a personal fan of the abomination that ares Crocs shoes. I just never found them that spectacular, unlike the people who own them. They make my feet sweat and slide around inside, and that little strap on the back just seems like it's gonna break at any minute.
Combs has partnered up again with the shoe brand to make a special edition. They're called the Bootlegger Slide. This makes it the third time the country superstar has gotten together with the foam shoe builder. The limited release also involved both Combs and Crocs donating to the Musicians On Call charity.
The "Bootlegger" name comes from the Combs fan base. That is the nickname for all of his fans. This edition is the first slide Combs has done with Croc, the others were the clog type with bottle openers on them. The added feature to these slides is the fancy Luke Combs guitar pick holder that is stuck to the shoe.
The shoes sold out almost instantly from the Croc Website. They were $40 a pair, so it's no wonder they sold so fast. You can still grab a pair for yourself, but you're going to have to pay way more than retail for them. One user on eBay is selling the limited edition in a size 11M for $110. Some prices are exceeding $150 plus shipping!
Enter your number to get our free mobile app
Essential Cajun Survival Kit