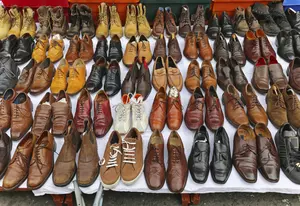 Safe Haven Animal Rescue Is In Need Of Your Shoes!
Baloncici
From now until January 31st Safe Haven Animal Rescue (S.H.A.R.E.) is collecting gently used shoes to to help support micro entrepreneurs in developing countries.
S.H.A.R.E. is looking to collect 2500 pairs of shoes by the end of the month. Once the shoes are collected they will be sent to funds2orgs.com and the money made from the shoes will go to the families of the micro entrepreneurs  in other countries. Plus, S.H.A.R.E will receive a $1,000 dollar donation!
Shoes must be in pairs and dropped off at Dewey's Lounge on Bonin Road in Youngsville by January 31.
For more information contact Safe Haven Animal Rescue on Facebook or give them a call at 337-258-8706.