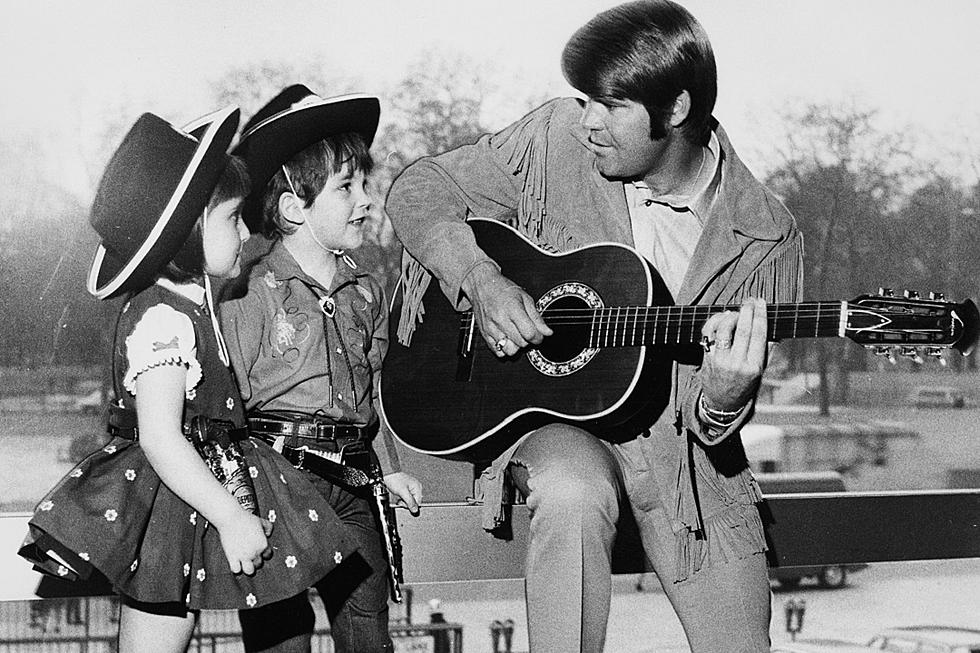 53 Years Ago: 'The Glen Campbell Goodtime Hour' Debuts on CBS
Central Press / Getty Images
Back when variety television shows were all the rage, few came out of central casting quite like Glen Campbell. His musical appeal and down-home personality crossed genre and generation gaps without compromise, pleasing fans of such varied talents as Bob Dylan, Johnny Cash and Andy Williams. Toss in the success of the Grammy-winning album Wichita Lineman and Campbell's film debut alongside John Wayne in True Grit, and an Arkansas farm boy made fiscal sense in 1969 as a prime-time television star.
And so, 53 years ago today, on Jan. 29, 1969, The Glen Campbell Goodtime Hour debuted on CBS. One of the era's numerous television variety shows, the program lasted a whopping 91 episodes and served as a national platform for a number of major country music moments.
Campbell earned his own variety show following his tenure as a successful summer replacement for The Smothers Brothers Comedy Hour in 1968. There's some irony in having the singer of "Galveston" as the safe pick to replace an anti-war folk act, but that was probably lost on CBS and much of the viewing public. It remained a non-issue as the show steered clear of polarizing stances.
The Glen Campbell Goodtime Hour made Campbell the latest in a long line of country singers to host a variety show, dating back to the 1950s, when live radio gave way to televised programming. As a former touring member of the Beach Boys and part of the studio musician collective the Wrecking Crew, Campbell never really stayed in his lane when it came to genre classification. Still, he remains associated with country music, and all in all, it was a huge win for the genre shortly after the pop-friendly Nashville Sound and the crossover success of Roger Miller and others introduced what was once dismissed as "hillbilly" music to a more cosmopolitan audience.
Campbell's hit single "Gentle on My Mind" became the theme song of the show, and his industry connections allowed him to book guests such as the Beatles, John Wayne, Tim Conway, the Monkees, Waylon Jennings, Johnny Cash, Roger Miller and Mel Tillis, among others, for his variety show. Campbell probably could've gotten away with a more countrified program at a time when The Beverly Hillbillies and other rural sitcoms enjoyed major network success, but instead, he hosted a variety show in the truest sense, mixing appearances by pop-country contemporaries with a very broad palette of special guests. There's even a handful of comedic skits featuring Campbell's cowboy co-star the Duke. This loose approach may have saved the show during the early '70s "rural purge" that eliminated programs like The Andy Griffith Show and Green Acres from prime-time lineups and forced Hee Haw into long-running syndication.
The Glen Campbell Goodtime Hour is credited with helping to launch the careers of Anne Murray and Jerry Reed, thanks in part to their appearances on the series. Despite its mainstream-friendly format, the show featured hidden gems waiting to be discovered by fans of older country music: For instance, the brilliant and eccentric banjo player John Hartford, writer of the series' theme song, enjoyed a high-profile on-screen platform during the show's run. Several one-off Campbell performances, including a few amazing duets with Stevie Wonder from a February 1969 episode share a different side of one of the 20th century's most dynamic artists.
The Glen Campbell Goodtime Hour ran until 1972, when the show was canceled by CBS; however, Campbell's days of being on in the spotlight were far from over. Following his tenure on The Glen Campbell Goodtime Hour, the musical icon starred in The Glen Campbell Music Show, a music variety show that ran for one season (1982-1983); he also starred in several movies and TV shows.
In retrospect, The Glen Campbell Goodtime Hour serves as a look back to when Campbell, fresh off his earliest successes and a few years removed from 1975's "Rhinestone Cowboy," stood shoulder-to-shoulder with iconic talents from Los Angeles and New York without watering down his country charm or hiding his quirky sense of humor. The show was nominated for numerous awards, including three Primetime Emmy Awards; a collection of highlights from The Glen Campbell Goodtime Hour is available on DVD via Amazon.
Campbell's final onscreen appearance came in his documentary, Glen Campbell: I'll Be Me, which chronicles his battle with Alzheimer's disease. The song "I'm Not Gonna Miss You," co-written and sung by Campbell for the film's soundtrack, earned an Oscar nomination for Original Song and won a Grammy for Best Country Song.
This story was originally written by Gayle Thompson, and revised by Angela Stefano and Bobby Moore.
PICTURES: Glen Campbell Through the Years