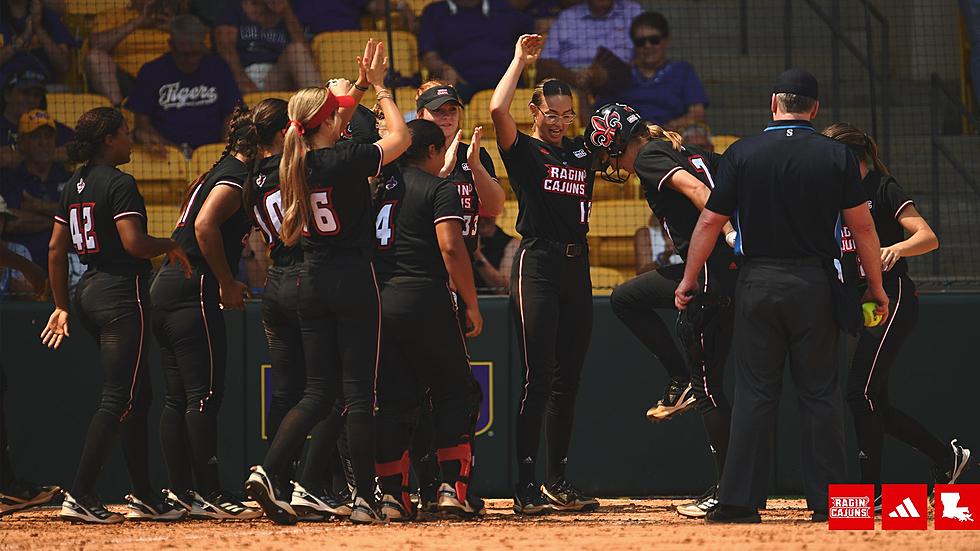 The Louisiana Ragin' Cajuns Start Regional Play with a Win Against Omaha
Photo Credit: Twitter/RaginCajunsSB
The Ragin' Cajuns are in Baton Rouge for Regional play looking to advance to the Super Regional. Game one was today against Omaha. The Cajuns defeated Omaha 5-0.
The bats were rolling in game one of the Regional. Stormy Kotzelnick came out to play today. Kotzelnick had 4 at-bats with 2 hits, and she batted in 2 runners. Karly Heath had to put her stamp on the game with a homerun to right-center field. And finally, both Sophie Piskos and Lauren Allred hit doubles to bring in a runner to score for the Cajuns.
When it comes to the pitching Louisiana did their thing. The Cajuns played three pitchers and they combined for 12 strikeouts. Sam Landry started the game and only gave up 4 hits and she threw 5 strikeouts. Meghan Schorman came in and contributed 4 strikeouts. And finally, Kandra Lamb finished the game for the Cajuns and threw a crucial 3 strikeouts. You can tell that these pitchers took the lack of accolades personally and it's working for the Cajuns perfectly.
The Cajuns will retake the diamond on Saturday to continue their push to the College World Series. Louisiana will face the winner of LSU and Prairie View A&M Saturday at 12 pm. Pregame will kick off at 11:45 pm. For full coverage of Louisiana Softball tune into 103.3 The GOAT.
NFL Records Held By New Orleans Saints Players
A number of current and former members of the New Orleans Saints hold NFL records.