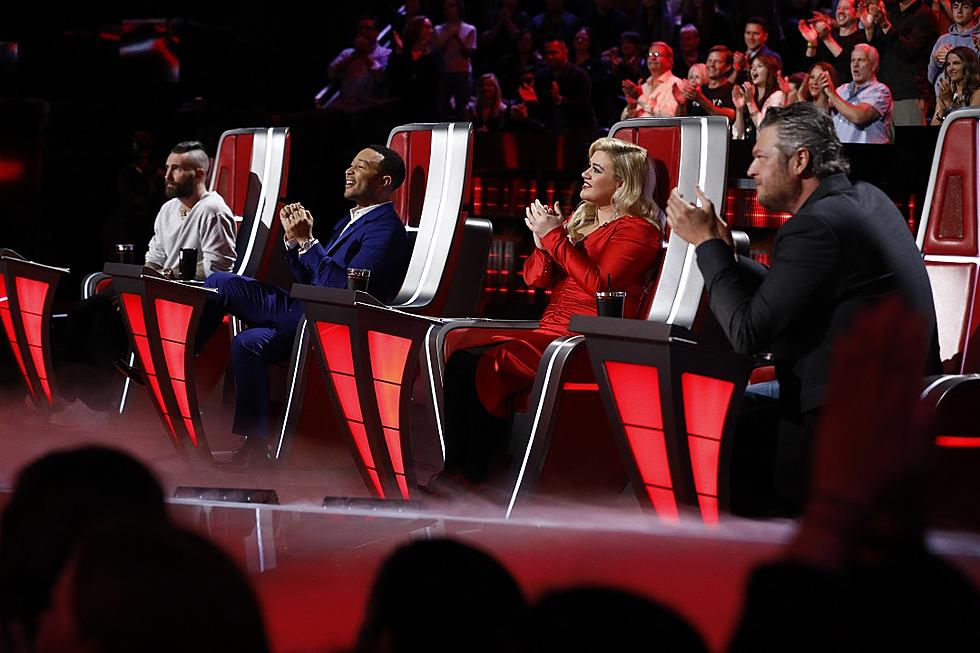 What Is the 2019 'The Voice' Winner's Prize?
NBCU Photo Bank, Getty Images
On Tuesday evening (May 21), the winner of the 16th season of NBC's The Voice will officially be crowned. However, after the celebration is over and the cameras turn off, what kind of prize does the TV singing competition's newest champ walk away with, exactly?
For starters, cold hard cash. The winner of The Voice is awarded a prize of $100,000, and that's just the beginning: The show's top contestant also receives a record deal with either Republic Records (a division of Universal Music Group) or the Nashville-based Big Machine Records, according to a 2017 report from HuffPost.
There are a few different reasons why that's been the case. For one thing, the music industry has simply changed since Clarkson and Underwood found fame. Clarkson won the first-ever season of Idol in 2002, and Underwood nabbed the top spot in 2005. Jennifer Hudson (who competed in the show's third season, but didn't win first place), Clay Aiken (the Season 1 runner-up) and Adam Lambert (the Season 8 runner-up) have all had successful music careers -- in addition to many more of the show's alumni -- but none of its winners have achieved quite the level of fame that Underwood and Clarkson reached in those early seasons of the series.
On the other hand, the show's Season 10 winner, Scotty McCreery, has had a successful career in country music since his stint on the show. His popularity hasn't brought him to quite the same "household name" status that Underwood and Clarkson enjoy, but his country career has risen since he took home the Idol trophy in 2011.
The following year, in 2012, Cassadee Pope won first place in Season 3 of The Voice, and went on to have a career fairly similar to McCreery's: She is successful in the country realm, with hits to her name, but not as mainstream as the early stars of Idol. The same could be said for Danielle Bradbery, who won The Voice the following year. In that sense, the difference between global and domestic stardom seems like it might have less to do with which show a singer competes on, and more to do with when they come of age.
Country Music's Most Successful The Voice Contestants
However, another point worth considering is the fact that neither Pope nor McCreery stayed on the label that they were assigned to when they won their recording contracts. McCreery released two albums -- his debut, Clear as Day, and the 2013 follow-up, See You Tonight -- under the umbrage of Universal Music Group Nashville, the label that signed him fresh off his win. After his second album, however, the label dropped McCreery, embroiling him in a legal entanglement that delayed his third project by five years.
In 2017, meanwhile, Pope left Republic Nashville, the label she'd been signed to since her 2012 win. The singer's 2019 project, Stages, was her first full-length album since her 2013 debut, Frame By Frame. That same year, Pope explained that the process of making her second album was different than it had been the first time around because "I didn't have a whole team piping in about what they thought it should sound like, or which songs would be best to cut."
Of course, artists part ways with their labels all the time, and creative input from a label team is far from exclusive to contracts that emerge out of televised singing competition winnings. However, as both Pope and McCreery can confirm, label re-shuffling delays the release of new music, which isn't helpful to artists' careers. Perhaps, due to the structure of the show and the fact that the record deal on offer exists before the winning contestant is announced, the show's prize is vulnerable to creating a deal that's simply a bad fit, for both performer and label.
For example, singing competition veteran Sundance Head has appeared on both Idol and The Voice, and won first prize in the latter's 11th season. The Texas country singer says that after his win, he was signed to Republic New York, a label home that wasn't necessarily the best creative fit for his style of music.
"When I won, I was contracted to Republic New York, which is a hip-hop label. They didn't know how to handle a country artist, and they couldn't find a Nashville partner," he explained in a 2019 interview. Determined to release a new album, but do it his way, Head left Republic and went through a series of other label partnerships before finally landing on Wildcatter Records to release his latest album, Stained Glass and Neon, in 2019 -- a full three years after his winning run on The Voice.
Still, it's important to note that The Voice doesn't claim to follow Idol's model; in fact, host Carson Daly tells Huffpost that the show was never intended to be a star factory. "We didn't really create the show to create a celebrity musician or make people rich and famous. That was never really the goal of the show," he says. " We are proud to say that so many of the artists who have been on The Voice in any capacity have quit their sandwich-making jobs and are doing well in music. At the end of the day, that's winning to us."
Top 6 Incredible Country Moments From 'The Voice'