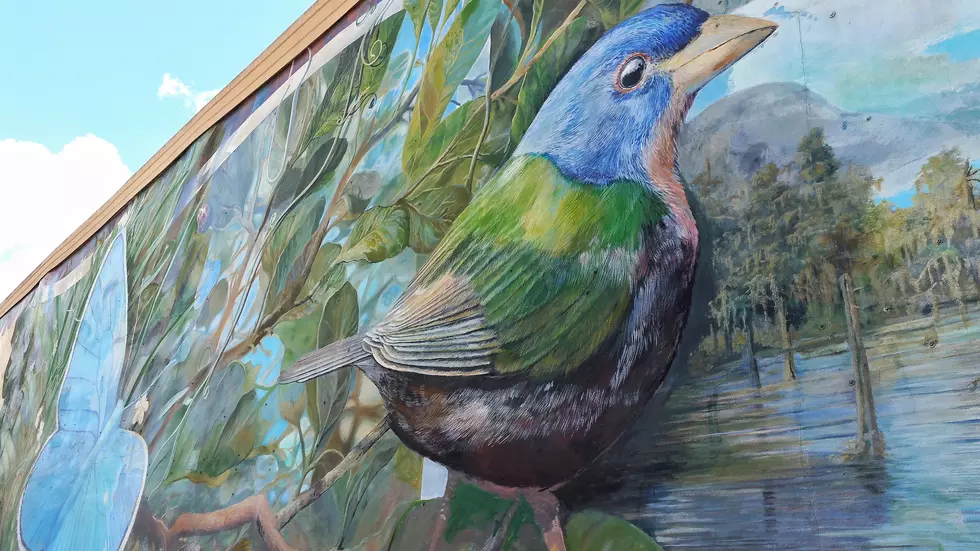 'Top 10 Things To Do In Lafayette' According To Tripadvisor.com
Staff Photo/Michael.Scott
Saying there's nothing to do in Lafayette is like having a kitchen full of food and saying there's nothing to eat. The problem is, there are so many things to do in Lafayette I forget about most of them. Luckily, because I'm so unimaginative and boring, tripadvisor.com has a ton of information, including the "Top 10 Things To Do In Lafayette".
Below are the top ten things to do in just Lafayette alone, and this list at tripadvisor.com actually goes all the way to 43. Some of these things listed I wasn't even aware you could do. A Cajun food tour? Sure, I know where all the spots I love to eat are, but this still sounds like a deliciously fun time for a local or a tourist.
If you look for the entire Acadiana area, you may never not have anything to do ever again!
1

A rain shower chased us out of the cemetery behind the church where we were seeing French names with birth dates in the 1600's and possibly earlier.
The tree, cemetery and Cathedral are accessible for those of us with mobility impairments.

2

vermilionville / facebook

vermilionville / facebook

This is a fantastic place to visit in Lafayette. It's a recreation of an old Acadian village
complete with a few "residents." Entry fees are nominal. There are traditional Cajun musicians in the schoolhouse, a wood carver in one of the homes plus gardens and a tow boat to cross a small pond. Very suitable for kids and interesting enough for adults to really enjoy.

3

973 The Dawg via You Tube

973 The Dawg via You Tube

If you are looking for something fun and different to do with friends and family book this tour. Even if you are a local, as we were, you will enjoy this tour. The restaurants were very gracious in accommodating our large group and the food was most enjoyable. This was a very well planned tour. Our guide Ginger was very knowledgable and the perfect host. Well worth the price

4

An unexpectedly good find,many of the host were in traditional costumes. We were lucky to go on a Saturday were they had a jamming session, it seemed if you played an instrument or could sing, you just show up and play. Good fun.

5

We were on a road trip and we needed a break ... check with TA to see what was available to see in the next town and Acadian Cultural Center came up.
This was wonderful because my husbands family is one of the families that was pushed out of Nova Scotia during that time in history. His father had talked about this during his life. It was very good. They have a movie every hour on the hour - it starts at 9 and the last on is at 3 - they close at 4:30.

6

Lake Martin is a favorite spot of old Cajuns, young lovers, and kids of all ages. As others has written, it is a natural rookery, and in Spring, the gathering of herons, egrets, and roseate spoonbills is a birder's delight. The bloom of the water hyacinth is lovely, and one must always keep an eye out for the gators.

7

Annalise Deshotel, Photo courtesy of Lafayette Science Museum

Annalise Deshotel, Photo courtesy of Lafayette Science Museum

All of the hand on activities provided a great deal of fun for both my husband and 12 year old stepson. They didn't even realise they were learning! A great variety of displays and topics are covered and it is a great way to spend a cold and rainy day.

8

CAJUNDOME & CONVENTION CENTER

Staff Photo/Michael.Scott

Staff Photo/Michael.Scott

Been to many shows and games.. Great seating and sound. Always good drinks and food

9

CHILDREN'S MUSEUM OF ACADIANA

Staff Photo/Michael.Scott

Staff Photo/Michael.Scott

What a great museum! The kids, ages 9, 6 and 2, each found something that occupied their attention for the entire three hours we spent at the museum. The grocery store, the restaurant, and the bubbles were particularly fascinating to all three. The staff is great and they answered any questions the children had for them. In Lafayette's climate, when it is too hot or rainy to go outside, then this is the place to take the kids for a morning or an afternoon. They will wear themselves out.

10

longfellow-evangeline-state-park

longfellow-evangeline-state-park

Although I live just a few hours away, I had never visited this area or really knew much about the history of the people. This park was so pretty and interesting. It did not take long to see everything but that left time to see everything we wanted in the area in one day.