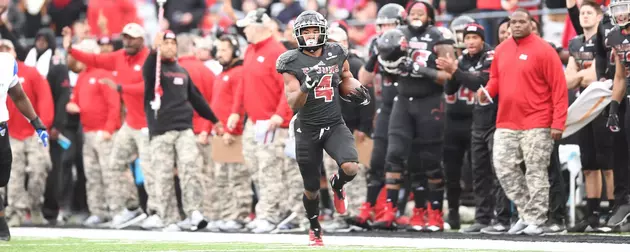 UL Football Projected To Play In Florida Bowl Game
Photo Courtesy: ragincajuns.com
Are the Louisiana Ragin' Cajuns headed to a college football bowl game in the Eastern  Standard Time Zone?
Well, at least one major media outlet seems to think so.
Steven Lassan, of Athlon Sports, projects Louisiana to play in the Cure Bowl, which is scheduled for Saturday, December 15, at Camping World Stadium in Orlando, Florida.
The Cajuns' projected opponent is Western Michigan, a school out of the Mid-American Conference.
UL is currently 7-5 on the season, while Western Michigan ended their regular season schedule with an identical 7-5 mark.
Louisiana takes on Appalachian St. this Saturday, in the inaugural Sun Belt Conference Championship.
The winner of that title game will represent the Sun Belt Conference in the New Orleans Bowl.
Currently, six Sun Belt Conference schools are bowl-eligible, butt only five schools are guaranteed a spot in a bowl game.
Also of note; Lassan and Athlon Sports project LSU to play in the Sugar Bowl, against Washington St., and project their 4-team College Football Playoff Field as being Alabama, Clemson, Ohio St., and Notre Dame.