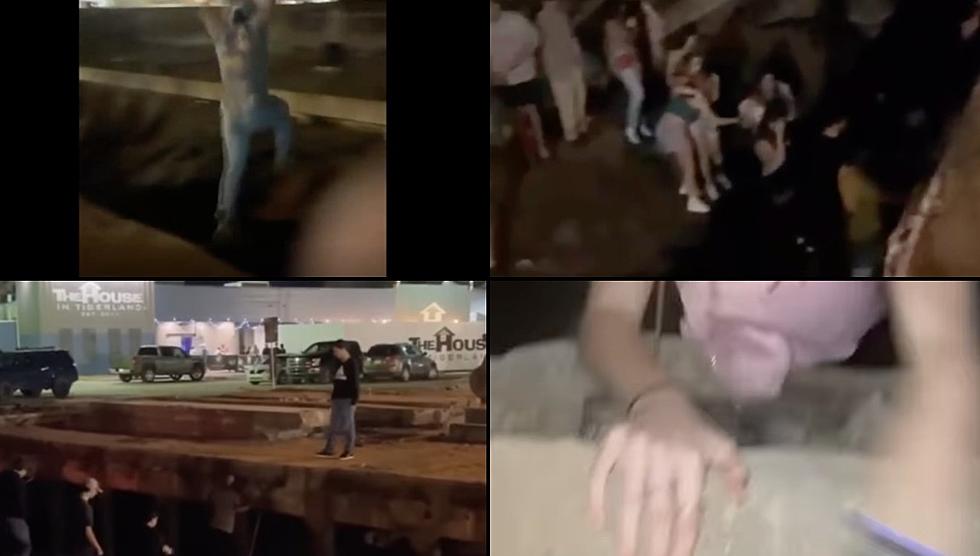 Viral Videos Show LSU Students Climbing, Falling Off of Closed Bridge Leading into Tigerland
Instagram, @LSUBarstool @LSUChicks
The bridge leading into Tigerland in Baton Rouge will be closed for the next few months, and on the first weekend of partying, multiple viral videos have surfaced that have many concerned.
The viral clips showed party-goers climbing onto equipment, using barricades as ladders to cross the threshold, and some students straight up falling off of the partially demolished Bob Pettit Boulevard bridge outside of Tigerland.
The bridge is 50 years old and in much need of repair, but the problem is that bridge is also the point of access for one of the hottest college party destinations for LSU students in Baton Rouge.
Tigerland plays home to party spots like Fred's, Reggie's, and other popular college bars.
The bridge crosses Bayou Fountain, and multiple videos have gone viral on the first weekend alone as young adults attempted to get into Tigerland by any means necessary.
At least nine videos posted on popular LSU student-run social media pages show droves of young adults attempting to find a way across the Bayou Fountain crossing. People were filmed climbing construction equipment, and several videos showed people falling from or leaping off of the bridge, which is more than 10 feet in air above the creek bed below.
There is another way into Tigerland, but it involves drivers and pedestrians having to enter from Brightside drive, and then take Alvin Dark Avenue through a neighborhood where the bars are located "at the end of a one-mile dead end."
Bar owners in Tigerland warned that this would happen.
Negotiations between the bar owners in Tigerland and the city-parish have gone on for months, but there was reportedly no money left in the budget to build a temporary pedestrian bridge.
The bar owners even offered to pay for a temporary pedestrian bridge to the tune of $100,000, but still ran into red tape due to it not being likely to be approved by the railroad in time for it to be built.
Council members have already received calls to shut down Tigerland after this weekend's incidents that reportedly sent at least a couple of the young revelers to the hospital.
But, in addition to the students who party at Tigerland, the bridge construction is also affecting residents that live in the Tigerland neighborhood.
While the city-parish is now "considering options" it is reported that they are being mindful of how they spend due to their responsibility to be "prudent on behalf of the taxpayers."
In the meantime (I can't believe I have to even say this) don't attempt to climb onto, jump across or do anything dangerous or risky near the Tigerland bridge.
LOOK: What major laws were passed the year you were born?
Data for this list was acquired from trusted online sources and news outlets. Read on to discover what major law was passed the year you were born and learn its name, the vote count (where relevant), and its impact and significance.