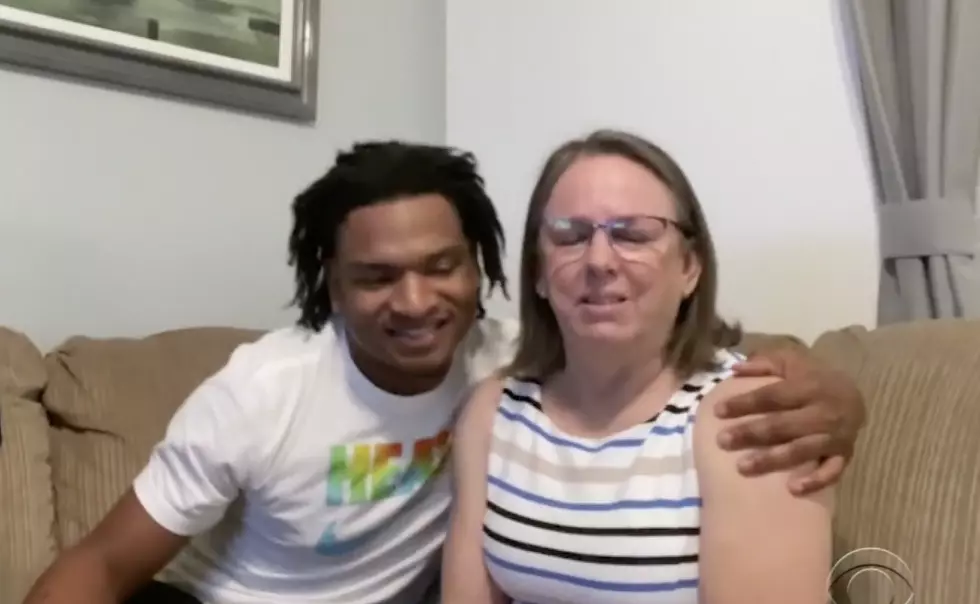 A Bittersweet Thanksgiving For Grandma And Teen Who Met Via 'Accidental Text' In 2016
CBS
They met by an accidental text invite in 2016, but this may be their most important Thanksgiving yet.
It's one of our favorite internet stories of all time, and for the fifth Thanksgiving in a row, we get to celebrate with the grandmother and the teen that she accidentally invited to dinner four years ago. Their story began when Jamal Hinton shared these texts from Wanda Dench.
Dench thought she was texting her grandson, but even after realizing the mishap she still invited Hinton, then 17, over for Thanksgiving dinner and he obliged. In 2017 Hinton joined Dench for another Thanksgiving dinner, this time after receiving an intentional invite. Then again in 2018. And again in 2019.
In 2017, Dench told the Republic she never expected an accidental text to turn into extended family.
For him to continue with the relationship, I'm just really pleasantly surprised. We're more of extended family and, best of all, friends.
This Thanksgiving, that friendship would mean more than ever.
Like many Americans, 2020 has been a year of struggles for 63-year-old Wanda Dench who lost her husband Lonnie to complications from COVID-19 and pneumonia back in April. Hinton shared the heartbreaking news on Twitter at the time, and Dench confirmed the news to local media.
There would be no large Thanksgiving dinner for either family due to the coronavirus pandemic, but Dench and her stranger-turned-friend agreed that they would continue their tradition with a small dinner.
Dench told CNN she wasn't looking forward to the first Thanksgiving without her husband of 43 years, but ultimately decided it was important to keep the streak alive—something that Hinton says Lonnie would have wanted them to do.
I always remember Lonnie looking at the bright side of things. He would want us to celebrate his life instead of hating COVID and hating everything.
In the end, Lonnie did join Hinton and Dench for dinner, as his framed photo and a candle stood in front of his chair at the table. In the end, Dench was glad she decided to keep the tradition alive.
I can't even explain how much joy I had, having good food with my favorite company. We laughed, we had a great time, we reminisced about the past. It was so good for all of us.
To date, this may be my favorite internet accident and I truly feel like Hinton will be more important to Dench than ever. Until 2021, Happy Thanksgiving!
Positive Things To Come Out of 2020