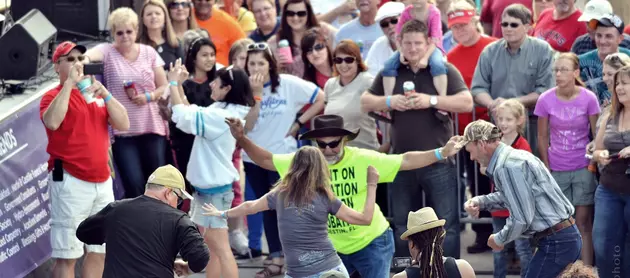 Acadiana Weekend Rundown — April 1-3
Boudin Festival
The weather is expected to be fantastic this weekend and with the superfluous amount of great events going on, the times we will pass are sure to be good, beb!
From festivals to monster trucks to family friendly events, this weekend is chocked full of amazing things to do.
Here are some of the highlights of great events this Friday, April 1st through Sunday, April 3rd throughout Acadiana:
MONSTER JAM - Metro PCS and your Southern Quality Ford Dealers present Monster Jam at the Cajundome in Lafayette Friday through Saturday. Show times are 7:30pm on Friday & Saturday and 2:00pm on Sunday. Tickets available through TicketMaster.com and the Cajundome Box Office.
BOUDIN FESTIVAL - The 4th annual Scott Boudin Festival is Friday through Sunday on the municipal grounds near City Hall in downtown Scott. Tons of great live music, carnival rides, the boudin eating contest, and of course lots of boudin and delicious cuisine. ScottBoudinFestival.com has all the info you need.
PARKS CRACKLIN COOK-OFF - Cecile Rousseau Poche Memorial Park near the beautiful Bayou Teche is the scene for the 2016 Parks Cracklin Cook-Off. The event will be Friday and Saturday and features live music, a poker run, arts & crafts, cracklin' cooking contest and more. Visit ParksCracklinCookoff.com for complete details.
ACADIANA POBOY FESTIVAL - Saturday from 11am to 6pm at Parc Sans Souci in downtown Lafayette, this is the very first Acadiana Poboy Festival. Over 20 vendors will be selling some of the best poboys Acadiana has to offer, refreshing beverages, kids activities and Roddie Romero & The Hub City All-Stars will be playing. AcadianaPoboyFestival.com for complete info.
CRIME PREVENTION & SAFETY FAIR - This family event will be held at Cajun Field parking lot on Saturday from 9am until noon. It's free and will features tons of attractions including fun and education displays from local police, fire departments, other public organizations and much more.
13th ANNUAL ST. JUDE MOTORCYCLE RIDE & BUZZARDVILLE BOUCHERIE - Benefit for the babies at St. Jude will be held on Saturday at Carencro Community Center. Motorcycle ride leaves at 9am. Then at the Center there will be great live music, wonderful food and you can even purchase your Acadiana St. Jude Dream Home tickets. $15 donation gets you food and music!
There are many more fantastic community events going on throughout Acadiana, and you can get details at our Events page. Click here!