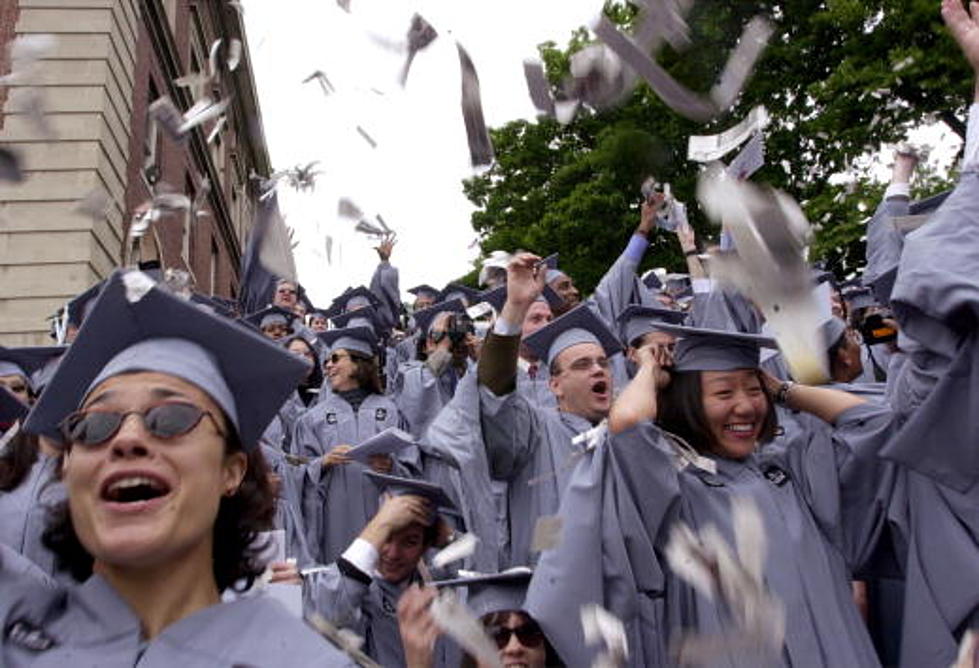 An Open Letter to Acadiana's High School Graduates
Spencer Platt/Getty Images
Author's note:  High school seniors from around Acadiana will be graduating this week.  My younger brother is one of them.  They will be receiving advice from relatives, teachers, and movie producers for the next few days.  I figured I'd throw my two cents in and give this year's graduates a few words of wisdom in this open letter.
Ladies and Gentlemen of the Class of 2013:
Congratulations on surviving the toughest four years of your life thus far.  You've passed every test (standardized and otherwise) placed before you to reach this point.  You have made proud your family, your teachers, and everyone else who believed in you and pushed you to excel in your academic and extracurricular activities.  Let's now take a moment to pause and give a round of applause to our graduates and everyone in their lives who helped get them to this point.
In a few short months—in some cases, weeks or days—you will embark on the next journey of your lives.  For most of you, that "next journey" is college.  For some of you, it will be entering the workforce.  Whatever that journey is, you are the captain of the vessel sailing the sea of life.  The good news is that for the first time in your life, you will have the ability to control and shape your destiny.  The bad news is, quite frankly, that the real world sucks.  A college diploma doesn't necessarily guarantee you a job any more.  What's worse, most of the jobs that are available won't make you rich.
I know after hearing this some of you are planning how you can live with mama and daddy for a few more years. Although the real world might not be the kindest place to be right now, college will help make the transition into it much easier—this is, if you do college right.  I'm not talking about majoring in a field that, in theory, will get you a job that pays well.  I'm talking about exploring the world beyond what you already know—visiting new places, meeting new people, studying a subject you know nothing about, and doing work you've never done before.
Most of you won't be leaving your backyard to go to college.  A lot of you are going to UL.  Many others are going to LSU or another state school.  For those of you brave enough to leave Louisiana, I commend you.  No matter where you matriculate, make time to travel.  I was fortunate to have the opportunity to attend school in the Northeast and visit points along the Atlantic seaboard during my collegiate career.  Whether you decide to take a road trip to Los Angeles or spend a semester studying overseas, leave your comfort zone at least once during your time in college.  The more your travel, the more opportunities you will have to experience other cultures and lifestyles that America and the world have to offer.  That worldly experience will come in handy one day when interacting with people.
Speaking of interacting:  Make new friends, but keep your current friends close.  You will meet a wide range of people as you continue your academic and professional endeavors.  Some of those folks will become friends in passing.  Others will become life-long pals, business partners, or significant others.  They will expose you to worlds and ways you might not have known existed.  Even with all of these new people in your life, do not forget about the friends who helped get your through the earliest years of your life. Most of you will still see your elementary and/or high school friends on a regular basis, but college has a habit of pulling even the best of friends farther away from each other.  With Twitter, Facebook, Skype, e-mail, and cell phones, there's no excuse to lose touch with those that mean the most to you.  Those friends are going to be the ones most likely to meet you at the bar, at home, or on the levee for a beer in ten years.
Most importantly, though, the next few years will allow you to experiment with life in ways that you cannot comprehend.  You don't have anybody to tell you what you can and can't do with your life, so seize it and make the most of it.  If you want to be an artist or an author, paint the next great masterpiece or write the next great American novel!  If you want to be a marine biologist, go for it!  If you want to work in TV or radio, marry somebody rich have at it!  Whatever you do, keep an open mind about your future.  After all, you never know when you'll get bored with your major or your job.  Work comes and goes, but dreams always stay.  Follow yours, and you'll never complain about being unhappy.  Always remember:  If someone asks you what you want to be when you grow up, it's okay to say, "I don't know."
While you may be ready to leave the hallowed halls of your institution, you will, believe it or not, miss this place.  One day, you'll look back at your high school life with pride and a sense of nostalgia that will bring you to tears.  You'll also be amazed at the wonderful friends you had, the memories you made, and the comical struggles that—at the time—seemed to be matters of life and death.  You'll also wonder why you didn't ask that girl out on a date, why you didn't try out for that sport, or why you dared to mouth off to that teacher your sophomore year.  Some of the regrets and memories you have of your high school years will stay will you for the rest of your life; others will fade.  Whatever you do, don't let the ones that stick dictate the rest of your life.
The best part of your life is ahead of you.  Savor it. Value it.  Cherish it.  You never know when it's going to be gone.  Good luck, godspeed, and best wishes to the Class of 2013.
Ian Paul Auzenne
Beau Chêne High School
Class of 2006