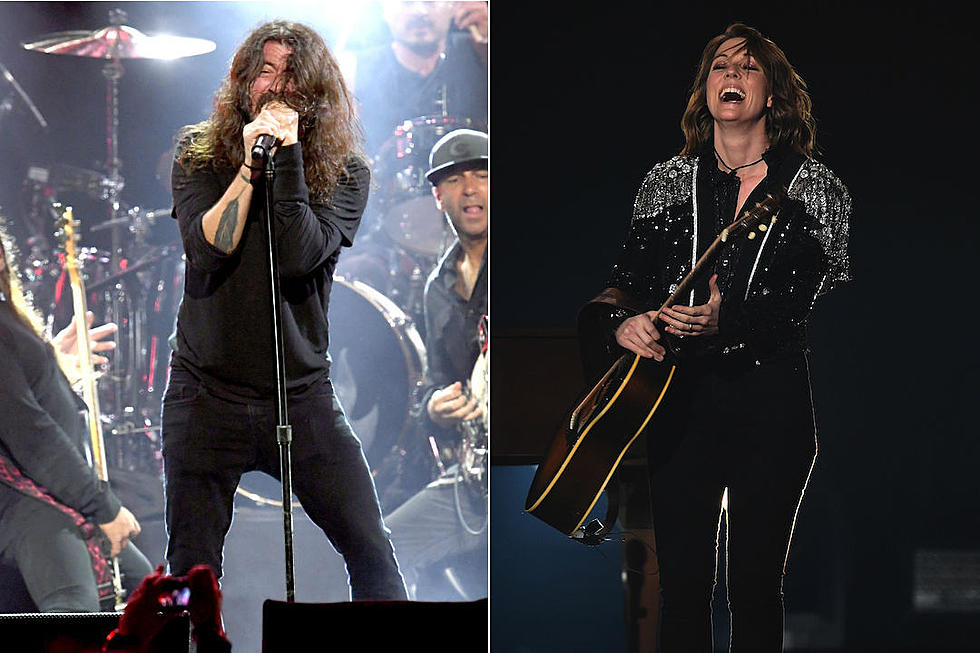 Brandi Carlile is Involved in a Top-Secret Dave Grohl Project
Kevin Winter (2), Getty Images
Expect to see more from busking partners Brandi Carlile and Dave Grohl. In an interview with Rolling Stone about her impromptu sidewalk jam, Carlile, a Washington native and Seattle resident, explained why she happened to be at Pike Place Market on April 20 with the Foo Fighters leader and former Nirvana drummer.
"I don't totally want to give it away, but he came out to my house to talk to me about something he's working on. It's more like one of his doc-series," Carlile told Rolling Stone. "We hung out and rode four-wheelers around my house all day, cooked dinner and did shots of tequila — just had a great time."
A potential documentary series, in line with 2014's Sonic Highways, might explain what's shaping up to be a relatively slow year for Foo Fighters tour dates. On a recent episode of Steve Jones from the Sex Pistols' radio show Jonesy's Jukebox, lead guitarist Chris Shiflett teased some downtime for the band.
As for busking alongside twin bandmates Phil and Tim Hanseroth and the Foo Fighter and rock giant, Carlile says it reminded her of much leaner times early on in her Grammy-winning career.
"It was really surreal, because I used to stand right there with all my hopes and my dreams and the two chords that I knew, trying to make gas money," she says in the same Rolling Stone feature.
See Brandi Carlile + Wife Catherine on the 2019 Grammy Awards Red Carpet