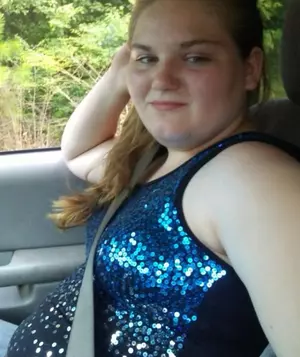 Endangered/Missing Child From Greensburg Found Safe (UPDATED)
Angel Mason, photo courtesy of state police
Update: Louisiana State Police say Angel Mason has been located and is safe. The advisory has been cancelled.
*************************************
The following is an important press release from Louisiana State Police:
Level II Endangered/Missing Child Media Advisory                                
Greensburg – The Louisiana State Police has issued a Level II Endangered/Missing Child Media Advisory on behalf of the Greensburg Police Department for 16 year old Angel Mason, who was reported missing on Friday, September 23, 2016.  Angel Mason is a white female with blonde hair and blue eyes.  She is approximately 5'4" tall and weighs about 160 pounds.  She was last seen in Greensburg on Thursday, September 22, 2016, at approximately 9:00 p.m., wearing gray pants, a red shirt, and a gray hooded sweatshirt. A recent photograph of Angel Mason is attached.
Angel Mason is believed to be traveling in a white 2003 Pontiac Montana minivan (stock photo attached) bearing Louisiana license plate YZL026.  The minivan has a large dent on the rear hatchback.  Angel Mason may be in the company of an adult white male who is described as being approximately 35 to 40 years old, 5'6" to 5'8" tall, with brown hair and weighing about 200 pounds.  The male is further described as having multiple tattoos on his arms, a moustache and a goatee.
Law enforcement has reason to believe Angel Mason is in immediate danger.
Anyone having any information as to the whereabouts of Angel Mason and/or the listed vehicle should immediately contact the Greensburg Police Department via the St. Helena Parish Sheriff's Office at 225-222-4413.