College Football Week 3 Preview — Can Auburn Rebound in the SEC?
Michael Chang/Getty Images
Can Auburn and the SEC regroup after a disappointing weekend? Can Notre Dame avoid the injury bug against Georgia Tech? Those are just some of the big questions this week in college football.
Can Auburn Turn It Around?
After being picked by many as a playoff contender this year, Auburn survived the scare of a lifetime last week, needing a last-minute comeback and overtime to survive what would have been the biggest upset in history against FCS school Jacksonville State. This week things get significantly harder with a road trip to Death Valley to take on No. 13 LSU.
Through two weeks, Auburn has given up nearly 200 rushing yards per game (97th nationally) and now has to work to slow down LSU's star sophomore, Leonard Fournette, who rushed for 159 yards and three scores last week against Mississippi State. Combine that with a pass defense ranked 81st nationally, and it appears Jeremy Johnson (373 yards, three TDs and five interceptions) and the Auburn offense may have to get into a shootout to pull off the road upset.
How Does the SEC Regroup?
While Auburn's near-miss was the biggest story of the weekend, it was a pretty rough week all around for the SEC. Tennessee choked away a 17-point lead against Oklahoma. South Carolina gave up a 98-yard two-point conversion in the fourth quarter to let Kentucky get away with its first road win in more than five years. Arkansas gagged its way to a 16-12 home loss to Toledo. And Florida's win over East Carolina will be remembered most for coach Jim McElwain's epic sideline meltdown at the expense of one of his own players.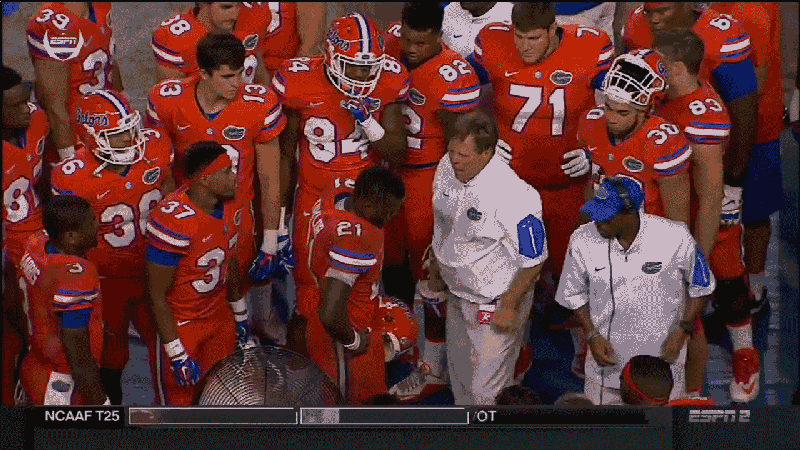 What made the SEC's week even worse was the crow-eating that came along with it. Earlier in the week, Arkansas coach Bret Bielema poked the football gods by mocking Ohio State's strength of schedule. And in the lead-up to the Oklahoma-Tennessee game, SEC homer-extraordinaire Paul Finebaum declared Bob Stoops to be "irrelevant."
After landing a record 10 schools in the AP poll just days earlier, Week 2 dragged the conference back to Earth, and it will remain to be seen if the SEC can regain its lost luster.
Is Notre Dame Winning the Battle but Losing the War?
Notre Dame backup quarterback DeShone Kizer saved the Irish's bacon with a game-winning touchdown pass with 12 seconds left against Virginia last week:
But, after losing their starting running back in Week 1 and starting quarterback in Week 2, is Notre Dame going to lose college football's war of attrition? With No. 14 Georgia Tech on deck and match-ups with No. 11 Clemson and No. 6 USC in the next month, we're going to find out very soon.
Can Anyone Right the Ship in Austin?
After just 22 months on the job, Texas Athletic Director Steve Patterson was fired on Tuesday. Patterson had a background in professional sports and may have had a handle on the financial side of things, but he couldn't have done a more thorough job of alienating fans and prominent U.T. boosters if he'd tried.
While the firing isn't so much an indictment of Patterson's hiring of football coach Charlie Strong, it does put Strong squarely on the hot seat. After last year's 6–7 season, it only took one game this year for Strong to make a change at offensive coordinator. While U.T. did get a win against Rice last weekend, the Longhorns' next four games are against 2–0 Cal, No. 25 Oklahoma State, at No. 3 TCU and against No. 16 Oklahoma, meaning Texas could be going into its Oct. 17 bye week with a 1–5 record and an increasingly narrow margin for error. Whoever Texas' next A.D. is will have no built-in loyalty to Strong and could well want to bring in "his guy."
Is This the Beginning of the End for Al Golden?
After failing to resurrect Miami's football dominance and a series of off-field incidents, Al Golden was a name high on any list of coaches on the hot seat coming into this season. And although the Hurricanes have started 2–0, the rumblings continue to grow louder. Things have gotten so bad, Golden couldn't help but notice the "Make Miami Great Again" banner flying over the stadium during last week's game.
We don't know if Butch Davis is the answer or whether this week's game against Nebraska is necessarily a must-win, but it's obvious that many Miami fans are quickly losing patience with Golden and a program that hasn't won a bowl game since 2006. A brutal upcoming stretch (six straight games against teams that won at least seven games last year, including No. 9 Florida State and No. 11 Clemson) could have the few Hurricane fans who still care breaking out the torches and pitchforks.