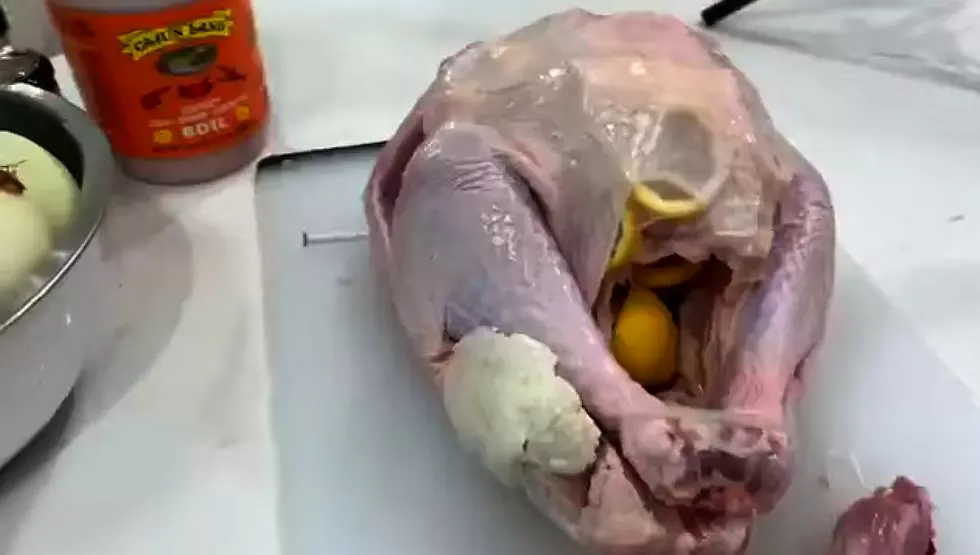 'Crawfish Boiled Turkey Recipe' Makes a Boring Bird Great [Video]
Taylor Moreno/Facebook
Do you like turkey, but really wish you could love it? If so, this Crawfish Boiled Turkey recipe might be exactly what you need to fall head-over-heels for the delectable genus Meleagris.
Taylor Marino posted this Crawfish Boiled Turkey recipe to Facebook three days ago and, judging by the thousands of shares, people are going crazy for it.
Marino says in his post that "this recipe will be your next favorite way to prepare turkey at any occasion or time of the year. I'm telling you that you won't ever want to bake a turkey ever again."
Looking at the ingredients and watching the video, I'm willing to say he is absolutely right!
Below is Marino's ingredients list and how-to video for making Crawfish Boiled Turkey. If you try it, please let us know how it came out...and also bring us some.
Ingredients:
13-15 lb Turkey (defrosted)
4.5 lb bucket of Cajun Land crab boil Seasoning
8 oz Cajun Land liquid crab boil
bag of onions
bag of lemons
3 heads of garlic
Steps:
1. Cut onions, lemons, garlic in half (Cut 2 lemons into slices)
2. Fill turkey frying pot to 1/2 full and light fire, turn the burner on full blast
3. When water is lukewarm, add dry seasoning and liquid crab boil and stir to dissolve seasoning.
4. Once dissolved add onions, garlic, and squeeze all lemons into the boiling water.
5. Bring the water up to a rolling boil and add your turkey
6. Once the water comes back to a rolling boil start your timer for 45 min (3-3.5 min per lb).
7. Turn off the gas and let soak for 45 min
8. Pull out the turkey, remove the skin, and cut off the meat
Enjoy.
What Are the Signature Drinks From Every State?