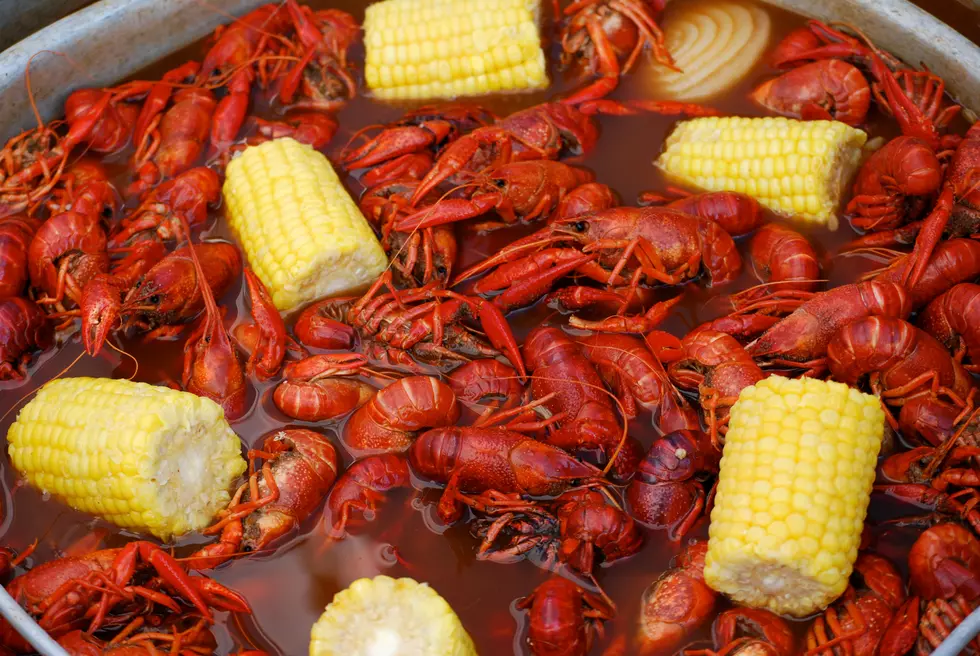 Crawfish Prices Coming Down Ahead of Super Bowl and Mardi Gras
David Lee, Getty Images/iStockphoto
It's not as if fans of delicious Louisiana crawfish need a reason to boil up a sack or two but if you "gotta pick a reason" then Mardi Gras or the NFL Championship game is as good a reason as any. One is filled with whimsy, make-believe, and hard-to-believe stories, the other is Mardi Gras. Both are perfect for the consumption of boiled crawfish. 
As we reported a few weeks ago, the people at Crawfish App, a smartphone application created to enhance the enjoyment of mudbugs across Louisiana, were suggesting that early season prices were way out of line. They weren't kidding. Some people in Acadiana were paying in excess of $200 for a sack of live crawfish. Even if they're big and beautiful and full of tail meat that's just too darn high.
The latest figures from Crawfish App as reported by the Louisiana Radio Network suggest that prices have moderated greatly in the past three or so weeks. Crawfish App is now suggesting prices for a sack of live crawfish are more in line with seasonal norms for this time of the year.
We did a quick snoop of prices around the Lafayette area and found the Crawfish App price speculation to be right in line with what we discovered. If you're looking at buying boiled crawfish at a restaurant you can expect to pay about $6.00 a pound. The live price is about $3.50 for medium-sized mudbugs. That means your sack price is going to be a little better than $100.
According to another crawfish connoisseur website the average person will eat about three pounds of crawfish in a typical setting. That translates to about half a pound of tail meat. This is why you need to make sure you throw in a few ears of corn and some potatoes too. A half pound of tail meat is good but it won't last too long, especially if there is dancing and drinking going on. And because this is Louisiana, there will be dancing and drinking going on.
The bottom line is this, crawfish prices are coming down. However, producers are still finding most of the catch to be medium-sized. So, if you like them large, you'll need to be prepared to pay a little extra at least over the next few weeks. Hopefully, by the time Mardi Gras rolls around, we'll be seeing better sizes and more quantity as the prices continue to level off toward seasonal norms.
10 Best Cajun/Creole Seasonings
There are lots of amazing Cajun and/or Creole seasonings around Acadiana. However, we asked you, and here are the top selections.