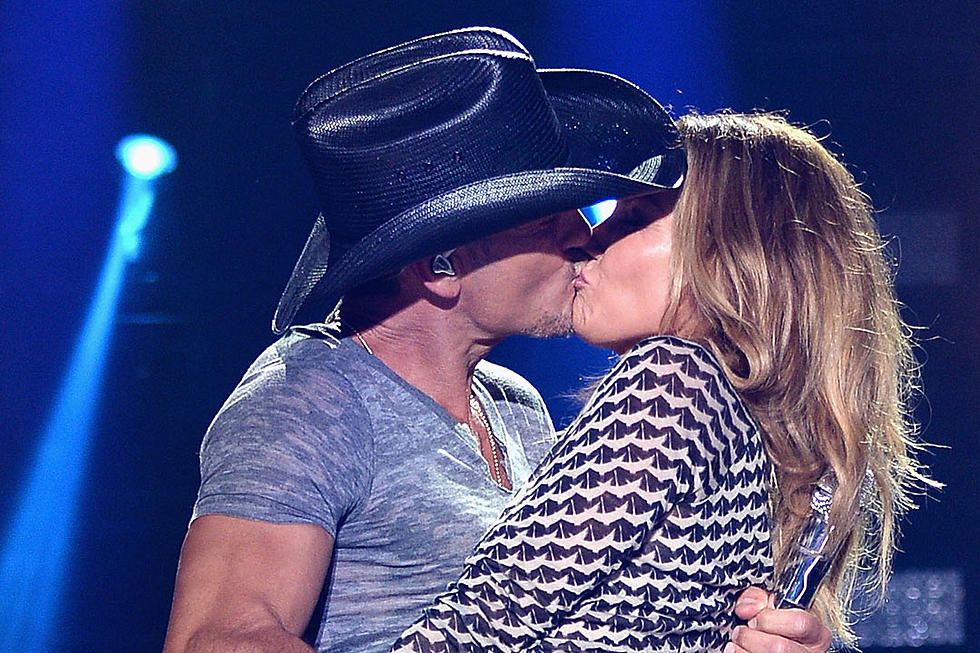 Forever and Ever, Amen: How Country Music's Happiest Couples Make Love Last
Larry Busacca, Getty Images
As we've seen in the headlines over and over, it isn't always easy for couples in the music business to work out their problems while living in the glare of the spotlight. But while several prominent couples have gone their separate ways, some of country's happiest unions are still going strong, thanks to true love ... and a lot of hard work.
Keith Urban and Nicole Kidman wed in 2006, and have since welcomed two daughters. In a question and answer session at the Country Radio Seminar in Nashville in 2015, Urban revealed that he considers his marriage the top thing on his agenda, even before his career.
"Someone said one time, 'If your marriage isn't your priority, you're not married,' and I thought, for me that's so true," he says (quote via Xpose). "So as long as I keep her as a priority, everything else sort of seems to work. And when I don't keep it as a priority, it's … Jenga."
According to Dr. Ann Wexler, celebrity couples experience a level of stress that other couples don't. A licensed psychologist, Wexler has practiced in Beverly Hills for more than 20 years and counseled many celebrities, including Kiss star Gene Simmons and actress Tori Spelling, in whose reality TV shows she has appeared.
"If you have too much pressure, it's really hard to function," she tells Taste of Country. "People in the public eye are under intense pressure ... everyone's watching them, and you can't have a bad moment privately. Everybody's counting on you to make it work — and maybe a lot of people are hoping you won't make it work. It's just a tremendous amount of pressure, much more than most people experience."
That plays out in the relationship in private, she says.
"They have to be on their best behavior all the time, they have to be in love all the time," Wexler points out. "There's the couple they are at home, and then there's the couple they are out in the world, and it can get confusing. They sometimes forget that it's okay to have a little squabble at home, it's okay to have a bad moment at home, even though in public you can't do it."
If you have a couple where both are celebrities and they're in the same field, they're always a comparison.
Brad Paisley and actress Kimberly Williams-Paisley have been married since 2003, and they seemed like an improbable couple at first — she's from New York City and was living in L.A. when they met, while he's a West Virginia native who moved to Nashville to pursue his country career. But they have built a strong and lasting relationship, actually attending therapy before they got married.
"We figured, the odds are against us because we're both in entertainment," Williams-Paisley tells Good Housekeeping. "And we know that it's really rare for couples to succeed. So we wanted to arm ourselves with as many strategies as we could."
When they do have marital strife, they work it out as quickly as they can. "She's really good about not holding grudges," the country singer says. "And he's really good about apologizing," she adds.
"I usually start with that," Paisley admits. "She says there's this whole phrase I could say in my sleep: 'I'm sorry. You're right. And I love you.'"
Vince Gill and contemporary Christian singer Amy Grant rebounded from failed first marriages to find happiness with each other, and part of the key to their union is just to live their lives.
"We are normal in every way, and we don't perceive ourselves to be anything but that, so we just go ahead to a restaurant, the market, without putting on airs or getting special treatment," Gill explains, adding that he does not feel any career competition toward his wife. "Marrying Amy made me re-prioritize some things" he admits. "When I'm with her, I always feel that all I want to do is lift her up and just be a kind foundation for her to stand on, you know?"
That attitude helps them overcome one of the primary stumbling blocks that Dr. Wexler has seen in marriages between two stars. "If you have a couple where both are celebrities and they're in the same field, they're always a comparison," Wexler observes. "Which one is a bigger star? Which one is more famous? Which one is more talented? And I think that's pretty tough on a marriage."
Grant adds that when the couple do find themselves in a disagreement, she works through it by asking, "What is the ultimate goal here? The ultimate goal isn't to win the fight, it's to build a life together."
For Luke Bryan and his wife, Caroline, getting as much time together as they can is key to keeping their union happy.
"We have coffee in the morning, just Caroline and me," the superstar tells Good Housekeeping. "It's my favorite time of the day; anytime we can have 30 minutes to talk, it's just great."
The couple also spend romantic nights out together, even getting each other's initials tattooed on their ring fingers one Valentine's Day, and as with other country couples, they work out arguments without screaming matches. "We don't have big throwdown fights," Bryan shares. "If we have a beef, we always talk it out instead of letting it snowball."
One thing Wexler has seen turn into a problem is when an unfounded rumor finds its way into a relationship. "For example, if it's printed that one spouse cheated, or maybe there's a picture, like a musician on tour, there's a picture of a musician with a girl, and it gets put in a magazine," she says. "So then he goes home to his wife, and his wife says, 'Who was that? What was that about?' It may have been an innocent picture, but because it was printed, it starts a fight at home, and a whole discussion about other women and cheating and all kinds of things."
Thomas Rhett grew up with his father, singer-songwriter Rhett Akins, in the spotlight, and he saw how that affected his parents' marriage, so he and wife Lauren put special measures in place before he even began his rise to fame.
"The rules and precedents I've set for myself out on the road really are the biggest things that kind of hold our marriage together," he tells Taste of Country. "No girls on the bus, no girls touch me during meet and greet and all that kind of stuff." He also says that he prefers not to get physical with the actresses in his videos, and even used a body double in the clip for "It Goes Like This."
"As strict as rules as they are, those kind of things have to be enforced for me to keep my guard up and for her to trust that what [I say is] going on on the road is really what's going on on the road," he states.
"When you're a celebrity, you're treated differently. It's not their fault, but ... they're pampered in a way that your average person is not," Dr. Wexler adds. "It's all about them. So when they go home and their husband or wife disagrees with them, or doesn't do something for them, it almost feels unfamiliar, like an attack. 'Wait a minute — everyone at work was agreeing with me and doing things for me, and now I'm home, and you're disagreeing with me and making things harder.' It makes it seem like they're in conflict, when they're just having a normal life, sometimes."
Thank goodness my wife is there to call me out every single time, so my head shrinks a little bit.
That's something Rhett is aware of, and he admits his growing fame has occasionally affected the way he behaves at home.
"I've even come home a lot of the time and talked about what I did on the road and what songs I'm gonna cut and then I realized I haven't even asked my wife how her day was," he tells us. "So I think this business can be very consuming for some people. But thank goodness that my wife is there to call me out every single time, so my head shrinks a little bit."
Tim McGraw and Faith Hill have battled all manner of tabloid rumors virtually since the day they got married, but have learned to survive despite all of the extra pressures those rumors can bring.
"I don't think there's a secret," Hill tells GAC. "You just have to love the skin you're in, basically. You have to walk this life together. There will be times, ups and downs, but you have to essentially like the person that you love. I think it's important to laugh a lot and have a good time. Life is so short. It sounds contrived but it's the truth."
Most Shocking Country Music Splits