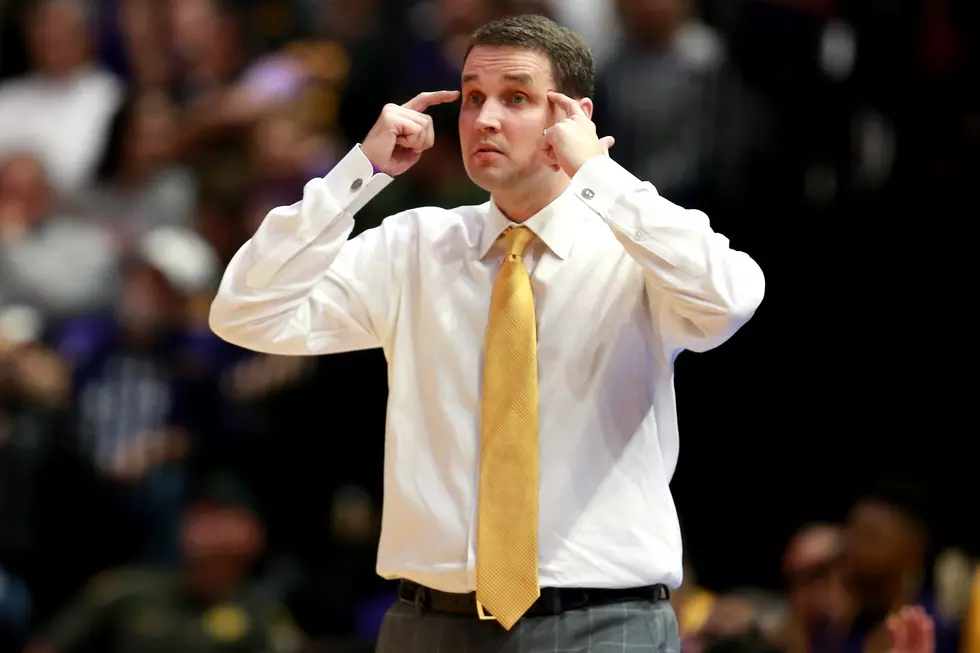 Former LSU Coach Will Wade Heads to Lake Charles, Louisiana to Lead McNeese Cowboys
Getty Images/Sean Gardner
Will Wade, who was the head coach for the LSU Tigers basketball team from 2017-2022, will take over the McNeese men's program, the university announced on Sunday.
Earlier this week, reports began circulating that Wade was being pursued by the Southland Conference school. On Sunday, they made it official.
The 40-year-old coach went 105-51 in five seasons at LSU before being let go amid an NCAA investigation into violations within the Tigers program.
Overall in his college basketball coaching career, Wade is 196-96 overall in nine seasons as a Division I head coach, coaching at Chattanooga and VCU for two seasons each before going to Baton Rouge.
The Cowboys, meanwhile, have gone 22-45 in two seasons under the recently fired John Aiken.
In a statement, McNeese Athletic Director Heath Schroyer said "I'm so excited to welcome Coach Wade, his wife Lauren and daughter Caroline to Southwest Louisiana and McNeese!
"This is a completely different job than it was three years ago," Schroyer continued. "McNeese Basketball is one of the best jobs in the nation in regards to one-bid leagues. We are funded at the top of the league, have the best facility, a passionate fan base and many other built-in advantages. I will not make excuses for why we can't win and win big. Quite frankly, there is no excuse.
"The days of us celebrating making conference tournaments or accepting mediocrity in all of our sports, let alone in basketball, are over," he concluded.
Rebounding After LSU
A year ago, Wade was let go after several serious NCAA allegations came to light.
Wade was cited for multiple Level 1 violations, and allegedly paid a recruiter for influence over a player's decision to come to LSU. According to the accusations, he made those payments through an account in his wife's name.
He also allegedly agreed to send money to a former player's fiancee to keep her quiet about the corruption.
In 2018, Wade denied any business dealings with a runner accused to steering players to certain universities.
But CBS Sports notes that, despite the controversy, this hire is a clear win for the university.
While there is inherent risk in hiring a coach who could still face punishment through the IARP process, the uspide is clear for McNeese State. Wade quickly turned around Chattanooga's program during his tenure there and is a well-known name who will generate interest in a long-dormant program.
LOOK: Here is the richest town in each state
Just saying the names of these towns immediately conjures up images of grand mansions, luxury cars, and ritzy restaurants. Read on to see which town in your home state took the title of the richest location and which place had the highest median income in the country. Who knows—your hometown might even be on this list.
LOOK: Baby names that are illegal around the world
Stacker
scoured hundreds of baby name databases and news releases to curate a list of baby names that are illegal somewhere in the world, along with explanations for why they're banned.