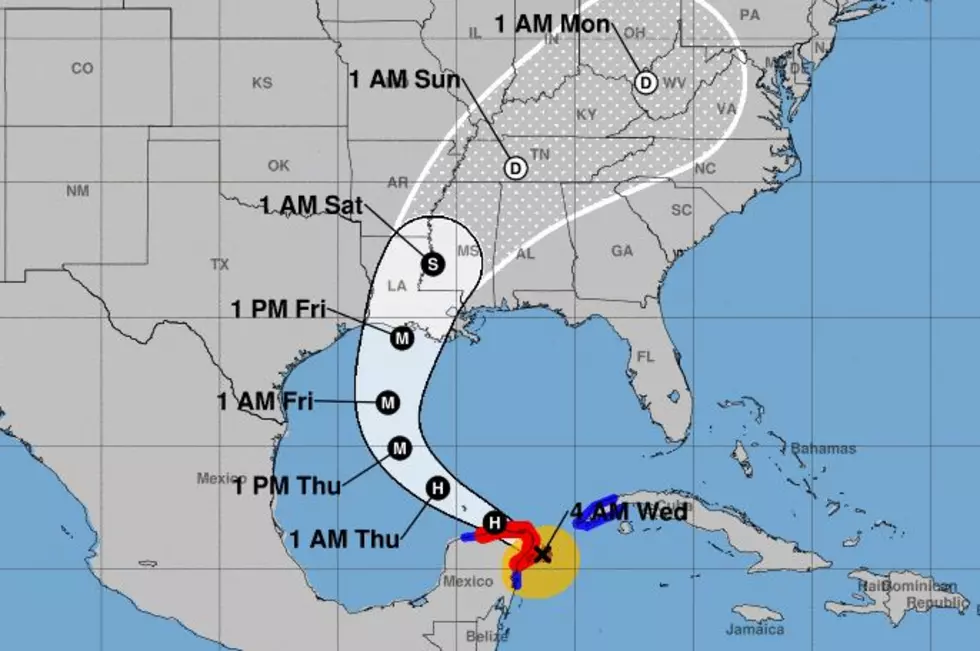 Hurricane Delta Moving Across Yucatan Heading Toward Louisiana
nhc.noaa.gov
The overnight advisories for Hurricane Delta offered a tiny bit of good news. The storm was no longer a category 4 storm but had weakened to a strong category 3. This as the center of the storm's circulation was approaching the island of Cozumel in Mexico early this morning.
Forecasters with the National Hurricane Center are suggesting that the brief interaction with land on the Yucatan Peninsula will weaken the storm a little bit more, but it won't weaken the system enough to stop if from becoming a major issue for the northern Gulf Coast.
Here is a satellite and radar image from Cancun. You can very clearly see where the storm is and what kind of a punch it is packing as it crosses the resorts and villages of Quintan Roo in Mexico.
As of the 0400 CDT Advisory from the National Hurricane Center, Hurricane Delta was about 35 miles east southeast of Cozumel Mexico. The maximum sustained winds were 115 mph. The track of the storm has shifted from a west-northwest direction to a more northwest direction at 17 mph.
The latest run of tropical guidance models shows that almost all of them are zeroing in on landfall in Louisiana late in the day on Friday. The model guidance is reflected in the official storm track forecast from the National Hurricane Center. This forecast does not bode well for Acadiana.
The latest guidance from the Hurricane Center puts the center of Delta just off the Vermilion Parish coast in 60 hours. That would roughly be four or five pm on Friday. Forecasters do anticipate the storm will still be a category 3 storm at landfall but should begin to weaken quickly once the center crosses the coast.
The Hurricane Center's guidance suggests Delta will be a major hurricane, a storm with sustained winds of 111 mph or more, just off the Louisiana coast west of Vermilion Bay on Friday afternoon. This position coupled with the strength of the storm could put a devastating storm surge along the coasts of Vermilion, Iberia, St. Mary, and many other coastal parishes.
Remember, this forecast track could change over time and a variance of 20 or 30 miles could make a huge difference in the kinds of impact you can expect from the storm. So, please stay close to us for the next few days. Download our app and make sure you have opted in for Breaking News and Weather alerts.
10 of Buc-ee's Best Snack Options for the Open Road