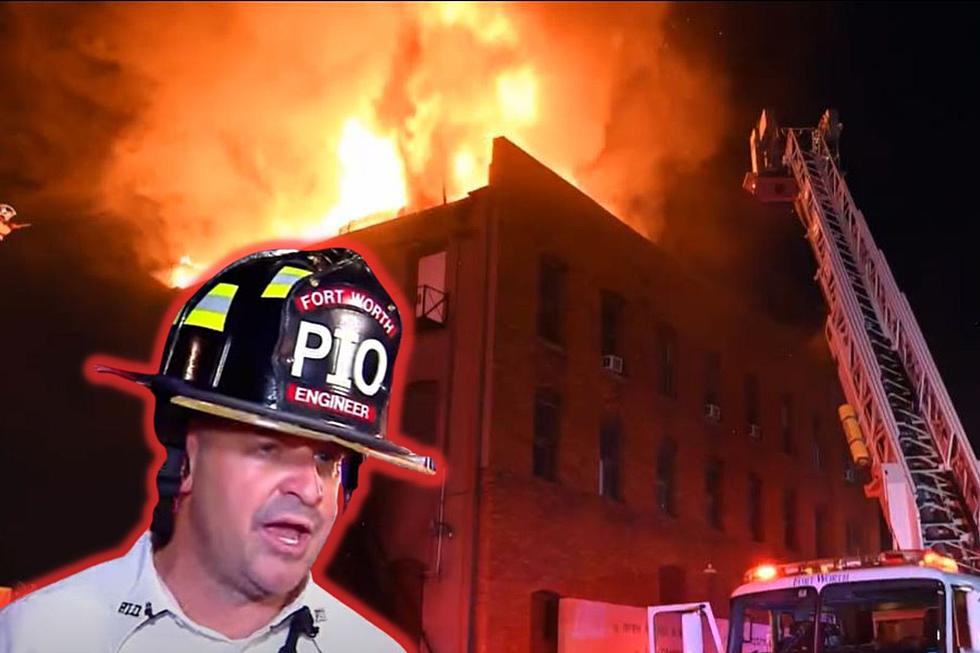 [VIDEO] Famous Cadillac Bar at the Stockyards Has Burned Down in Fort Worth, Texas
Screenshot from CBS Texas YouTube video and Fort Worth Fire Dept. Facebook video, Canva
A famous (or 'infamous') part of the Fort Worth Stockyards' history has burned down in Fort Worth, Texas.
It was last Saturday night at around 8:15 p.m. when the Engine 12 unit of the Fort Worth Fire Department was on their way back from another call and they noticed the back of the Cantina Cadillac Bar was on fire, according to a post that was shared on their Facebook page today.
After investigating, the Fort Worth Fire Department found a "broken gas line contributed to the fire making it difficult to contain." Because of this, "the crew immediately called for an alarm assignment bringing additional companies to the scene," according to their Facebook post. They are continuing to investigate the initial cause of the fire, according to their Facebook post.
How long did the Fort Worth Fire Department companies work to extinguish the fire erupting at the Cantina Cadillac Bar located at Exchange and Ellis in the Forth Worth, Texas Stockyards?
Once the various companies were summoned to fight the fire which was made all the more dangerous due to the broken gas line that contributed, it was more than 2 hours before they announced the fire was "under control."
There were some other factors, in addition to the broken gas line, that made this a more challenging fire to fight. According to the Fort Worth Fire Department, other obstacles played a role--including issues handling the traffic, crowded parking areas which made it more challenging for them to place their trucks where they needed to be, and a "poor water supply." Not to mention on a Saturday night in the Stockyards, there were lots of folks looking at the blaze.
The Fort Worth Fire Department had to employ 15 engines and 7 aerial ladders to fight the fire, with 5 fire chiefs leading the endeavor.
Their post shared that they were assisted by the River Oaks Fire Department, Saginaw, Sansom Park Fire Department, and the City of Lake Worth Fire Department.
Kudos to all who helped put out the fire. Sadly, although the damage was extensive to the iconic Cantina Cadillac Bar, the firefighters protected the surrounding historical buildings from major damage. And thankfully, there were no human injuries.
Firefighters contained the fire to the century-old (and very loved) Cadillac Bar and were able to prevent any extensive damage to other historic buildings.
Help 31 Texas Families Find Their Kids Reported Missing in July
31 Texas families reported their kids missing in July while one teenager from Lufkin has been missing since June.
Beautiful Home on 11.5+ Acres in Gladewater, Texas
This gorgeous home in Gladewater, Texas has so many amenities to enjoy you're going to love looking at these photos.
13 Fun Attractions That are Free to Visit in Texas
Here is a look at some really fun activities to enjoy with friends and family in the state of Texas that won't cost you anything.