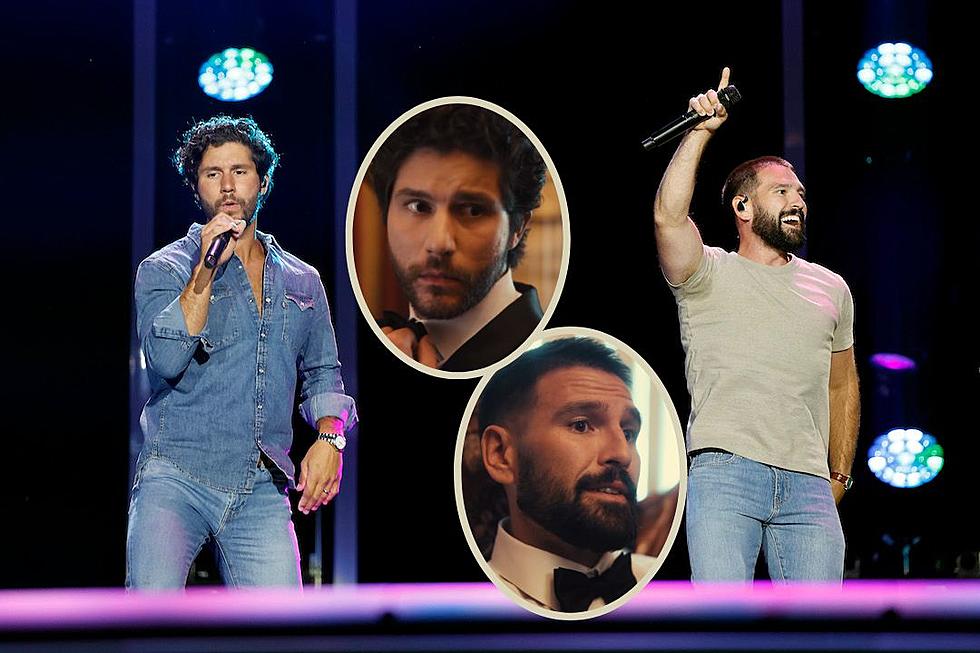 Dan + Shay Spoof Their Balladeer Status in New Song Tease [Watch]
Jason Kempin, Getty Images/Twitter
Dan + Shay are the wedding song guys, right? Well...maybe not. In a teaser clip for their next song, "We Should Get Married," the country duo seem like they're making a bid to prove they can make people dance, too.
The clip starts with Dan + Shay in their green room, straightening their bow ties and checking their reflections in the mirror before they go out to play a wedding. Cue the wedding planner, who walks in complete with headset microphone and clipboard, and gives the duo the run-down for how the event is going to go.
"You're gonna go out, you're gonna do that first dance. We need you to do your song and then be out of there, because then we have the DJ coming in to get people up and dancing," she explains, as Dan Smyers and Shay Mooney nod along. "I'm sorry — you're just not that band, right?"
As she blows out of the room, the band mates shake their heads in disappointment. "Everybody thinks we're just the ballad guys. First dance guys. So frustrating," Mooney says.
"We don't need a DJ to get people out on the dance floor," Smyers agrees.
"I think we should just go rogue and play the song," Mooney suggests. "The song?" Smyers asks. "The song," Mooney replies, before a brief snippet of "We Should Get Married" plays.
With wedding staples including "Speechless," "From the Ground Up" and "10,000 Hours" as some of the biggest hits in their catalog to date, it's not a huge surprise that Dan + Shay have a reputation as romantic balladeers.
But it also makes sense that they're looking to broaden their wheelhouse in their upcoming Bigger Houses album. The project was created during a time when Dan + Shay were writing with fresh, rejuvenated eyes: They'd just reunited after a rough patch that nearly broke them up, and they've said that the songs they wrote during that time are some of their best and most creative to date.
"We Should Get Married" will be out Thursday night (Aug. 24) at 11PM CT. Bigger Houses comes out in full on Sept. 15, and the duo has already released a handful of preview tracks, including "Save Me the Trouble" and "Heartbreak on the Map."
Pictures: See Dan + Shay Through the Years
Dan + Shay
celebrated 10 years making great country music in 2022. Here are photos of Dan Smyers and Shay Mooney from throughout their career together.
20 Hit Songs That Another Country Artist Passed On
Some of country's biggest hits almost sounded a lot different, all because some artists passed on tracks that wound up being big singles for others.
Here are 20 songs another artist passed on first. In most cases they regret it.