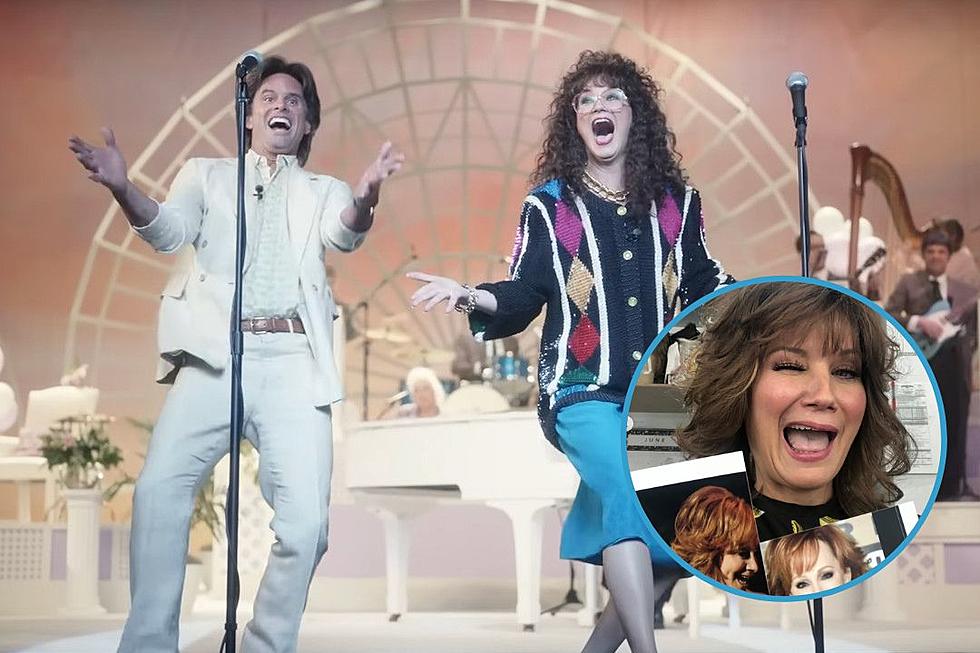 Jennifer Nettles' 'Righteous Gemstones' Character Has a Country Style Icon
YouTube/Instagram
The Righteous Gemstones — Danny McBride's comedy series about a megachurch and the dysfunctional family that runs it — returned for its third season last month, and Jennifer Nettles reprised her role as the late family matriarch Aimee-Leigh, who appears in frequent flashback sequences.
As the new season of the show began in June, Nettles shared a couple of photos from her chair at hair and makeup, revealing a little bit of the inspiration behind her character's look — and country fans who watch the show won't be too surprised to learn that Reba McEntire is Aimee-Leigh's hair inspiration.
"When your favorite role/character gets hair inspo from one of your biggest idols, well, art does imitate life, now, doesn't it?" Nettles writes.
In the carousel of photos, she's holding up two pictures of McEntire circa the mid-2000s, rocking a long, teased bob with bangs.
"[Reba] I love you, girl!!!!" Nettled adds.
Before she and her husband Eli Gemstone (played by John Goodman) became the leading couple of the enormous Gemstone church, Aimee-Leigh was a country-gospel child star who performed as one half of a duo with her brother, Baby Billy Freeman. Since Aimee-Leigh has some country roots — and megawatt vocal talent — it's no surprise that she'd take style cues from one of country music's greatest talents.
In addition to her country music career as a solo artist and as one half of the duo Sugarland, Nettles has been acting quite a bit in recent years. She also signed on for a role in the 2023 version of The Exorcist, and is the host of Farmer Wants a Wife, a Fox reality dating show that recently got picked up for a second season.
The final episodes of The Righteous Gemstones' third season aired on Sunday night (July 30), but HBO has already renewed the show for a fourth season.
12 Binge-Worthy TV Shows Country Music Fans Can't Get Enough Of
Every so often, a TV show comes around that unites country music fans. For decades, fans have enjoyed various sitcoms and dramas that have both warmed our hearts or gathered us together in the name of determination.
Recently, Taylor Sheridan has commanded the attention of country music lovers with his Yellowstone series and the prequels that have followed. However, fans of the genre have also found unity in comedies including Reba and King of the Hill, or reality series including Duck Dynasty and Fixer Upper. And who could pass up a drama like Nashville that puts viewers in the middle of Music City itself?