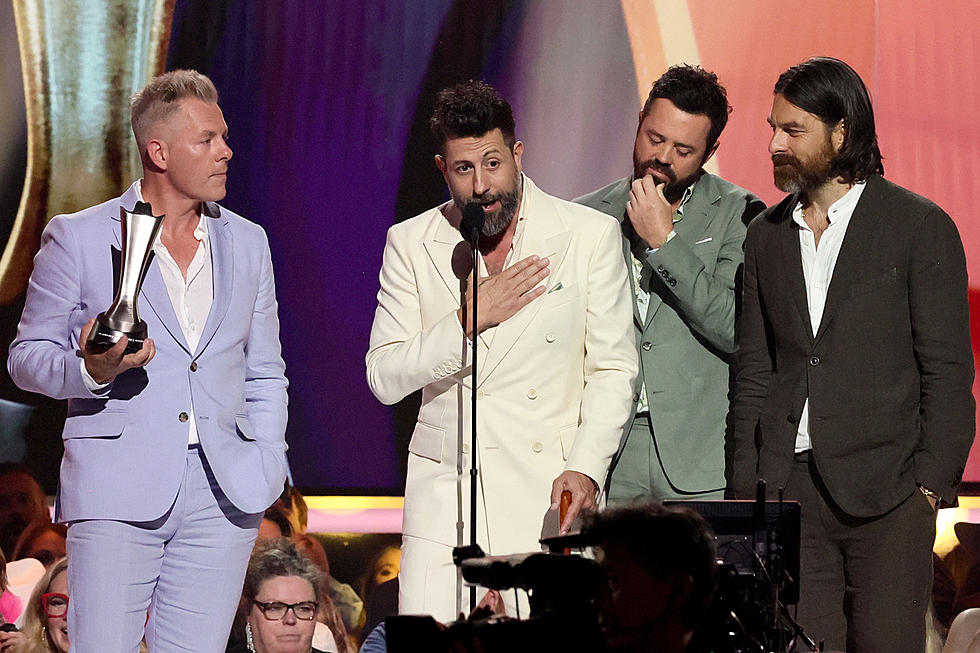 Old Dominion Win Group of the Year at the 2023 ACM Awards
Theo Wargo, Getty Images
Old Dominion have been named Group of the Year at the 2023 ACM Awards. They collected their trophy in person during the broadcast, which took place at Frisco, Texas' Ford Center on Thursday night (May 11).
"Thank you. This is, first of all, there's people in this room, like Garth Brooks, Dolly Parton, and Randy Travis. Somehow, we are included in this party still. I don't know how. It's an amazing thing that we are just mentioned in the same thing," singer Matthew Ramsey said. "But I also know that there are people obviously hurting in the world right now, trying to figure out how to make sense of divisiveness of shootings and things like that."
"We are so proud to be in a room full of country music fans and making country music for you people, but we are most proud to make music for people who are hurting right now. Thank you for including us in this party and allowing us to make music for whoever needs it," he continued. "We will continue to try and do so. Thank you to my friends here for holding me up when I need it."
Group of the Year is always one of the ACMs' toughest categories, and 2023 was no different. The winning band beat out Lady A, Little Big Town, Zac Brown Band and Midland to bring home the win.
Old Dominion aren't just reigning champs in this category — they're giants. They've now won Group of the Year at the ACMs for six years straight. A stalwart of the country field, this band toured with their longtime pal Kenny Chesney in 2022, and even collaborated with him on a fun version of "Beer With My Friends."
Though the group didn't put out a new album in 2022, they continued to tour and release singles off their 2021 effort, Time, Tequila & Therapy. The party continues in 2023, with the band launching their No Bad Vibes Tour and putting out a brand-new single called "I Should Have Married You," indicating that their next album might be well on its way.
The 2023 ACM Awards streamed on Amazon Prime Video, marking the second year the show has moved to a streaming-only format. Garth Brooks and Dolly Parton served as co-hosts.
Country Stars Step Out on the Red Carpet at the 2023 ACM Awards
See Dolly Parton, Jelly Roll, Ashley McBryde and more stars walk the red carpet ahead of the 2023 ACM Awards.