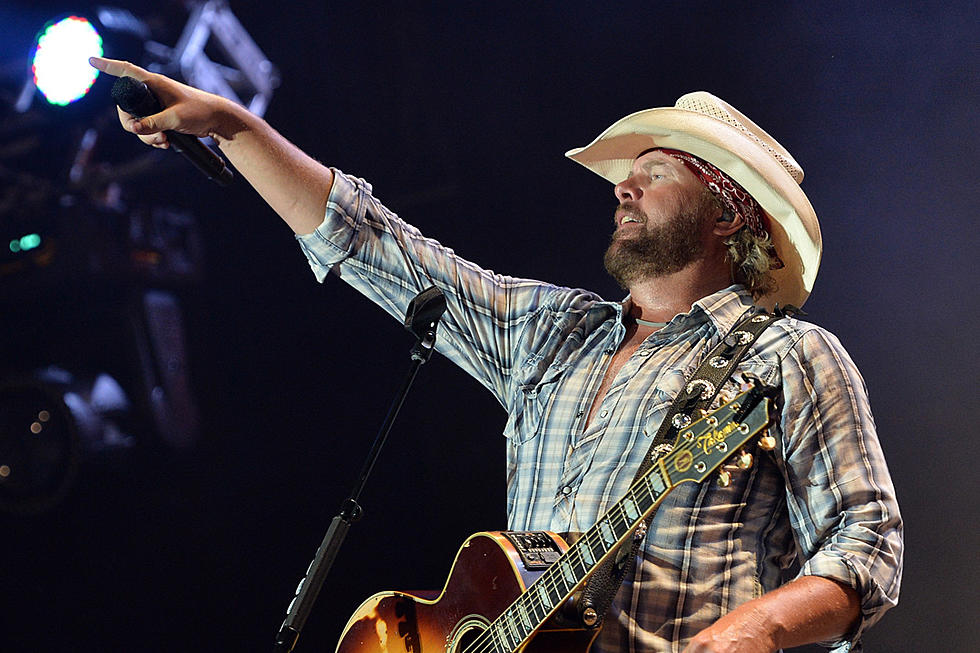 Remember When Toby Keith's 'I Love This Bar' Hit No. 1?
Rick Diamond, Getty Images
Toby Keith has had plenty of country hits, but they don't get much bigger than "I Love This Bar" — heck, the song even inspired a restaurant chain called Toby Keith's I Love This Bar & Grill!
On Nov. 15, 2003, "I Love This Bar" officially became the top song on the Billboard Hot Country Songs chart — a spot it would continue to occupy for the next five weeks. It was a big ol' hit that remains a staple country music drinkin' song to this day, despite the fact that it deals with pretty simple subject matter.
Related: Toby Keith Plots Live Shows Amid Ongoing Cancer Battle
"I Love This Bar" is a co-write between Keith and frequent collaborator Scotty Emerick, who also helped him write hits including "Beer for My Horses," "As Good as I Once Was," "I'm Just Talkin' About Tonight" and more. As the title suggests, the song's lyrics rattle off the qualities that make a particular watering hole the narrator's favorite spot.
"We got winners / We got losers / Chain-smokers and boozers / We got yuppies / We got bikers / We got thirsty hitchhikers," Keith sings in the first line. "And the girls next door dress up like movie stars / Mmm mm mm mm / I love this bar."
"I Love This Bar" was the leading single off of Keith's 2003 Shock'n Y'all album. Aside from inspiring Keith's very own full-service restaurant chain, the song's first lyric — "We got winners / We got losers" — also calls to mind the Nashville hot spot Losers Bar and Grill, which opened two years after Keith's song came out, and its corresponding Winners Bar and Grill. It's completely possible that "I Love This Bar" may have inspired not one, but two staples of the Nashville bar scene.
15 Country Stars Who've Never Won a Grammy, Ranked
These 15 country singers have never won a Grammy Award, but it's worse than that. Collectively, they're 0-92!
Morgan Wallen
fans may be angry about his lack of Grammy love heading into the 2024 Grammy Awards, but he's in very good company. This list includes two Country Music Hall of Famers and five more destined to get invited one day. Commercial success doesn't equal Grammy success. Remember that.
Gallery Credit: Billy Dukes