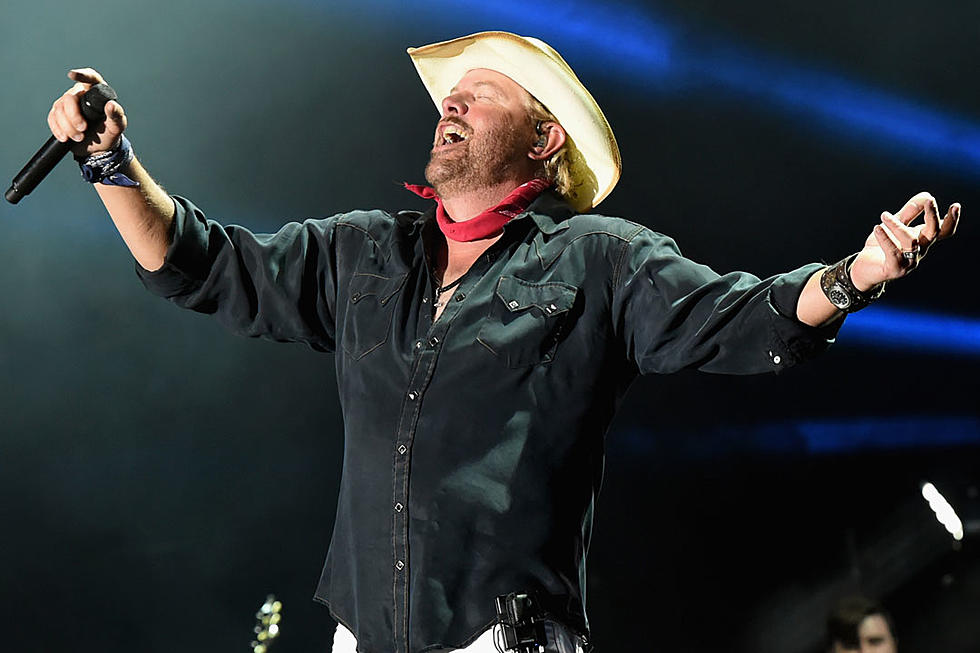 Toby Keith Plays a Second Pop-Up Show Amid Cancer Battle: 'Nights to Remember' [Pictures]
Rick Diamond, Getty Images
Toby Keith took the stage for a second consecutive night at Norman, Okla.'s Hollywood Corners on Saturday (July 1.) Both of the back-to-back shows were relatively impromptu, as the singer eases back towards touring after taking a break to focus on his cancer battle.
But according to photos posted on the star's social media account from Saturday night's show, Keith wasn't just able to perform -- he was having a blast doing it. The snapshots show him looking markedly thinner than he has in the past, but wearing a big smile as he performed for the crowd.
For his second night at Hollywood Corners, Keith enlisted longtime songwriting collaborator Scotty Emerick to join him onstage. Over the years, Emerick has helped pen several of Keith's hits, including "Beer for My Horses," "I Love This Bar" and "As Good as I Once Was."
"It felt so right, Toby had to do it twice," the caption on the post reads, below a carousel of snapshots from Keith's time onstage. "Two nights in a row at [Hollywood Corners.] Writing buddy [Scotty Emerick] joined Toby. Nights to remember! Toby's back!"
Keith's first show at Hollywood Corners took place on Friday (June 30) and reportedly lasted more than two hours, with the singer performing a span of his greatest hits for the audience. It marked one of the first times that fans have seen him perform in recent months.
The singer announced his cancer diagnosis in June 2022, saying at the time that he'd been undergoing treatment for six months. He wiped his touring calendar clean, explaining that he needed time to rest, regroup and fight the cancer.
Since then, public appearances have been sparse, but a recent interview with the Oklahoman delivered some hopeful news. Keith said that, while he's not out of the woods yet, his tumor has shrunk by a third, and that he's taking immunotherapy and working with a nutritionist as well as continuing chemo. Meanwhile, he's been feeling well enough to get the band back together for a few test run shows like his recent stops at Hollywood Corners, in order to determine if he has the energy and stamina for a full set.
"And if I do, [I'll] be out on the road this fall," the singer continued.
These Country Stars Have Battled Cancer
So many of country music's biggest stars have battled cancer. Sadly some lost that battle. Here is a list of some of the country artists who've fought the disease.