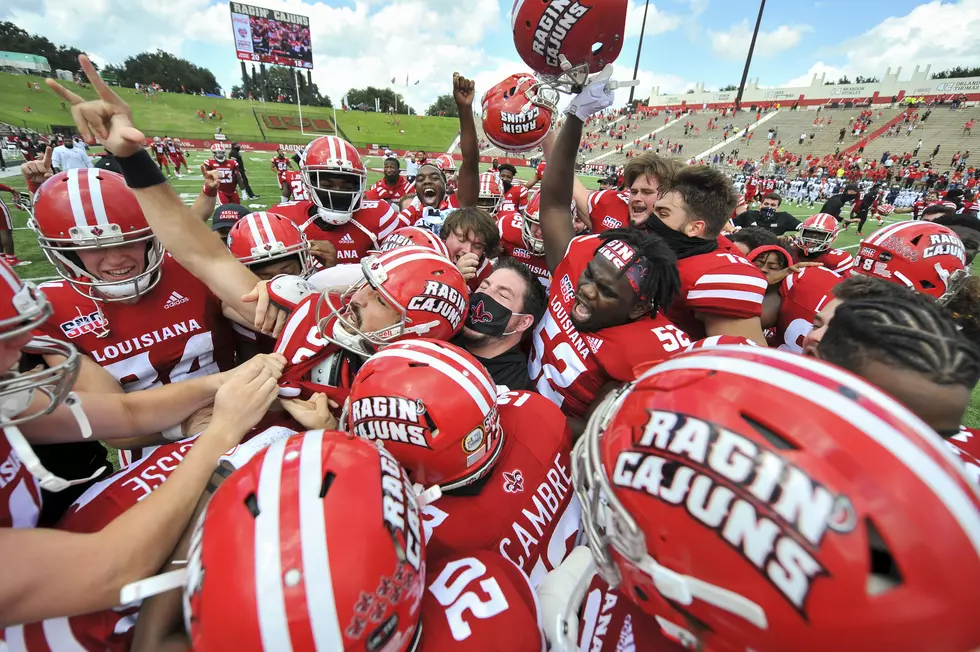 Ragin Cajuns Football Hype Video Shows They're Pumped, Game Day Info
Photo courtesy of Louisiana Ragin' Cajun Athletics
The first game of the Ragin Cajuns football season is slated for this Saturday.
Kick-off will be at 7:30 p.m. at Cajun Field. You can take part in all of the excitement for the game this Saturday against Northwestern State.
Click here for a list of all home football games this year.
The Cajuns are pumped for the first game of the season, and you can see it with the video they released this week.
Whether you need a little reminder or this will be your first time enjoying a Ragin Cajuns football game, there are activities slated for everyone. Tailgating is huge at Cajun Field, and you'll see your friends at the pre-game events:
Cajun Walk
At around 5 o'clock on game day, everyone lines up along Stadium Drive for the Cajun Walk. The players will be walking along Stadium Drive, and you get your chance to see them up close and cheer them on. The team comes off of the buses at Gate A at Cajun Field.
Drumline at Russo Park
While tailgating don't miss the Drumline at Russo Park which gets started at 5:45 p.m. this Saturday. It's inspiring and shows how supportive everyone is for the Ragin Cajuns. Your heart will be thumping.
Pregame Pep Rally at Russo Park
At 6:45 p.m. be ready to yell and scream for your Louisiana Ragin Cajuns at the pep rally before the game. The event happens right before the game. It'll happen in front of Russo Park.
Click here to purchase tickets to a game.
Ragin March
Make sure you don't miss the Ragin March of players that takes place at 6:35 p.m. on Saturday. Get ready and show your support for our Cajuns.
Kickoff
Make sure you get to your seat with your favorite refreshments and get ready for some great action. Kickoff is at 7:30 p.m.
What about Parking
General parking is available for free at the Cajundome as well as across the street from Cajun Field in the grassy area at the Lite Center.
Purses and Bags
Did you know that there is a "Clear Bag Policy" when you want to go to a football game? Be prepared to have your bag searched. The bag has to be this size or smaller than 12 inches wide, 12 inches long, and 6 inches high.
CHECK IT OUT: 100 sports records and the stories behind them